December 5, 2010 - 8:47pm
The following picture is of 100% whole wheat bread that I made tonight!!  I have been wanting to make 100% Whole Wheat Bread for a long time, and just haven't found the right recipe.  This is a recipe adapted from King Arthur Flour.  I grind my own wheat, and used a combination of Soft Spring Wheat, Hard Red Winter Wheat, and Vital Wheat Gluten!  It turned out beautifully, althought a little bit soft for our liking.  If you are needing a transitional bread from white to whole wheat, this bread is for you!!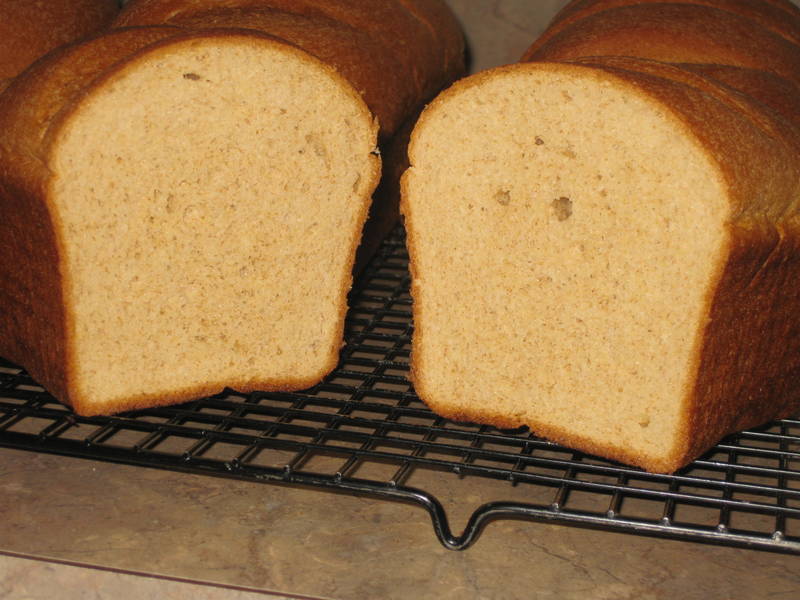 Adapted from KA Flour's Classic 100% Whole Wheat Bread.  I 4x's their recipe so the following recipe will make about 6.5 lbs of dough.
4 C Warm Water
1/2 C Honey
1/2 C Vegetable Oil
2 1/2 T Yeast
1 T Salt
3/4 C Vital Wheat Gluten
7 C Soft Spring Wheat
3 C Hard Red Winter Wheat
I use a Universal Bosch Mixer so the following instructions are using a Bosch.
Add warm water, yeast, honey and oil to mixer bowl, and let sit till it starts to foam.  Add the rest of the ingredients to the mixer except the 3 cups of Winter Wheat.  Start mixing and add the remaining 3 cups as needed to make a nice dough.  If you need more than the 3 cups, then add more, but you are looking for a soft pliable dough.  Mix on 1st speed for about 5 min and turn out onto a lightly oiled surface.  Divide dough into loaf sizes, and shape.  Score top of loaves and put into oiled bread pans.  Let rise till nicely above pans and put into a 350 degree oven till browned and hollow sounding.  (20-30 minutes).
Hope this works out if you decide to try it, and let me know if you have any questions!!