December 5, 2010 - 11:51am
Gingerbread sweet rolls, and cookies too
Hello,

This "cake" was made for a surprise Bridal shower, for a dear young lady (and cinnamon-bun over) I know who is getting married this month.
Instead of a cake, I baked three large cinnamon-buns and stacked them up, frosted with white chocolate cream cheese buttercream, and decorated with gingerbread cookies (the cookies spell out 'Bri and Ben 2010').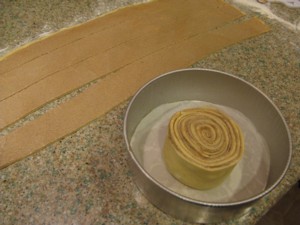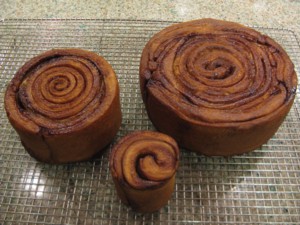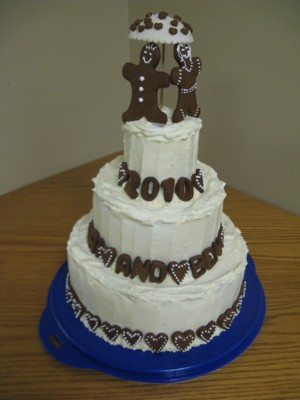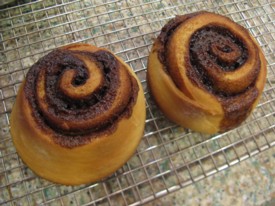 I made two batches of Ciril Hitz's Basic Sweet Dough.  This equates to about 2500 grams of dough, or a little over 5 pounds. I used 3" deep pans. 
In keeping with the December wedding-gingerbread theme, instead of the traditional cinnamon filling, I made a gingerbread-flavored filling for the sweet buns. Here is the formula I came up with for the gingerbread-flavored filling (this was my second try at the filling; this version added a bit more spice and molasses).
Note: the amounts below are for one batch; I doubled the amounts below to make the amount I needed for this project:
115
 grams 
brown sugar
5.5
 grams 
ground cinnamon
5.5
 grams 
ground cloves
8.5
 grams 
ground ginger
86
 grams 
molasses
17.5
 grams 
flour
102
 grams 
margarine
grated nutmeg to taste
The filling is not overly sweet, once baked. But the frosting added a nice bit of sweetness; an icing-sugar-glaze for these buns would work well too.
The frosting is a ratio of:
1.5 parts white chocolate, melted & cooled to
2 parts softened cream cheese to
1 part softened unsalted butter
With a bit of lemon juice blended in (.125 parts).
The cookies were made using a recipe I found in an old Food & Wine magazine. These are seriously good cookies and I make them every Christmas. I have to share the recipe here, in case anyone is interested!:

Gingerbread Cookies
4 cups (500g) flour
Measure into a mixing bowl.

¾ teaspoon baking soda
½ teaspoon salt
1 Tablespoon Dutch-processed cocoa
1 Tablespoon ground ginger
2 teaspoons ground cloves
2 teaspoons ground cinnamon
Sift together so there are no lumps and whisk into the flour.

1 cup (1/2 pound or 8 ounces by weight) unsalted butter, room temperature
1 cup sugar
In stand mixer, cream butter until the butter leaves little 'tails'.
Scrape down the sides of the bowl.
Mix in sugar 1 Tablespoon at a time and cream mixture until it's light and fluffy.
Scrape down the sides of the bowl.

1 large egg, room temperature
Mix into butter mixture.
Scrape down the sides of the bowl.

½ cup unsulfured molasses
Mix into butter/egg mixture.
Scrape down the sides of the bowl.
Add dry ingredients on slow speed and mix until just combined.
Cut dough in 1/3's, wrap in plastic wrap, and refrigerate at least 2 hours, or preferably, overnight.

The next day:
Preheat oven to 350F or 335F convection.
Roll dough 3/16" thick and cut out cookies.
Bake 8-10 minutes, depending on thickness.
Let cookies cool on the sheet until firm, then transfer to a cooling rack.
Decorate as desired...     :^)
Happy Christmas baking, everyone!  Regards, breadsong