December 1, 2010 - 8:37am
Advice needed on how to make a rye soaker
The other day I decided to include a hot rye soaker in my white sourdough.  I was hoping it would add a touch of sweetness.  To be honest, I didn't really know what I was doing and should have done some more research on the matter but just decided to wing it anyway.
My recipe calls for 450g flour,  300g water and 150g of starter with 2% salt.  I decided to make the soaker with 50g of rye flour and 250g of boiling water.  Not really knowing what to do I just dumped 250g of boiling water on top of 50g of rye flour.  It gelatinized the flour immediately and it became all lumpy. I stirred it for about ten minutes, but to no avail: it was still lumpy.  It didn't look right to me but I perservered with the recipe anyway.  I let it cool to room temp, added it to the 150g of starter, remaining 400g of bread flour and remaining 100g of water.
The first thing I noticed was that the dough seemed a lot drier than usual.  It behaved like a 65% hydration dough, rather than a 71%.  Anyway, I went ahead and baked it.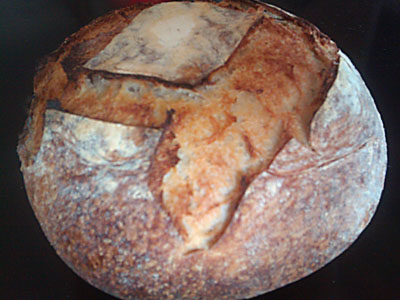 It came out nicely but to be honest, I didn't notice anything special about the taste.  It wasn't noticably sweeter than usual.  What did I do wrong?  What percentage of the total flour should the soaker be?  How much water in relation to flour?  I have read about cooking the mash and keeping it at a constant 66 degrees C but without a really finely calibrated, accurate heating source this isn't very practical.  I have also read somewhere about cold soakers with added salt.  Supposedly this method can produce even sweeter results.  Any advice would really be appreciated.
Syd