November 25, 2010 - 6:13pm
Jeffrey Hamelman's Pain au levain with whole wheat - a plain sourdough that not as plain as you think
Plain sourdough is not something I make often, though I intended to  but I seems to easily get distracted by multigrain and/or fruit breads. Somehow, I feel like one last weekend and I picked the Pain au Levain with whole wheat from jeffrey Hamelman's Bread cookbook.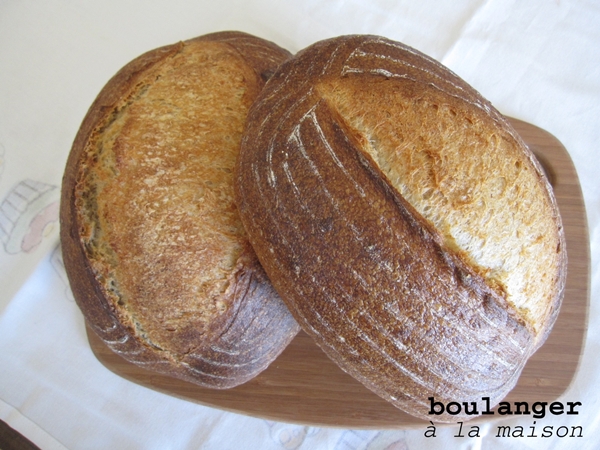 The recipe uses stiff levain build which is also a good timing that I can convert my liquid starter (100% hydration) to stiff starter (60% hydration) before I am going away in the next two weeks for a month and won't have chances to feed my lovely pet starter, Jerry. I was afraid that he would be starving (for flour and water) and pass away while I'm away.

Thanks to a post on The Fresh Loaf about the sourdough starter feeding. Apparently, stiff starter is more resilient than liquid one. It is more likely that it will survive after not being fed for a while. I only need to feed Jerry a few times when I'm back from holiday to wake him up and come back to his cheerful and active self.
This bread has a pronounced sour flavour, which I believe is the result of stiff levain build with mixed flour in it (mixed of rye and bread flour). The crumb is soft, open and chewy. It's a good complement to olive oil with a bit of dukkah.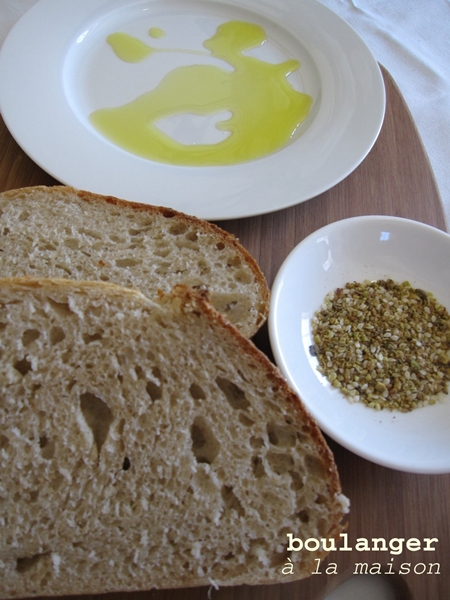 For more details, you can visit ;  
http://youcandoitathome.blogspot.com/2010/11/sometimes-all-you-need-is-plain.html
Sue