November 22, 2010 - 8:38am
Mexican Chocolate Crackle Cookies
Mexican Chocolate Crackle Cookies - Daisy_A
My, these were delicious and soo simple, too - no really!
I am no pastry baker but have been trying to produce a small, flavoursome treat to be eaten at the end of meal with coffee (a bit like the French mignardises), or to give away as gifts. I have been trying macarons, with greater and lesser degrees of success. However I longed for a break from their minxy ways and have realised that it is maybe not a great idea to start with macarons on rainy, autumn days, sigh…Enter the cheering Mexican chocolate cookie.
I have to say from the off that this is not an overly sweet biscuit. It is made with strong, dark chocolate, cut with ancho chile. Although the pepper brings out the flavour of the chocolate, rather than dominating it, the overall effect is of eating a rich, dark chocolate mousse, intense but not particularly sweet. Outside of baking days it takes us over a year to get through a bag of sugar so this is just the effect I was looking for. However it may not be everyone's cup of tea.
It makes me laugh when British food critics praise the pairing of chocolate and chile as a daring new combination. It's thousands of years old, a Mayan or Aztec food. I don't know if these cookies are made in Mexico. I'd be glad if anyone could enlighten me. However, following recent debate on Eric's post about spicy sugar, I think one could make them from Mexican chocolate, particularly the dark chocolate discs used to make drinking chocolate, which are infused already with flavours like chile, cinnamon, vanilla and orange. The formula I used lists chocolate and spices separately. For this bake I used Green and Black's Organic 70% cocoa solid Dark Chocolate with spices added to the dry mix. Would love to try this with Mexican chocolate, though.
I first came across a number of formulae for this biscuit on Tastespotting. I first used a Spanish version from the blog L'Equisit. That post drew on this formula in English from Kitsch in the Kitchen. Both were adapted from a recipe in Cindy Mushet's (2008) Art and Soul of Baking. Josim also adapted a similar recipe from Leanne Kitchen's (2008)The Baker on this blog, which makes key adjustments such as using brown sugar. I haven't had time to try that version but it looks good too! Thanks to Sonia, Taranii and Josim for bringing these cookies to my attention and into my life, :-)
This is the basic formula from Taranii's Kitsch in the Kitchen, 19 August, 2010. I used grams but halved the weights and made a few adjustments. as noted below. I've made some notes on method but fuller information is on the links above.
Formula for Mexican Chocolate Crackle Biscuits (adapted from The Art & Soul of Baking) makes about 20 biscuits
20g (1 1/2 tablespoons) butter
2 teaspoons coffee liqueur
85g (3 oz) bitter-sweet chocolate, roughly chopped
1 large egg
50g (1/4 cup) granulated sugar, plus 50g (1/4 cup) extra for coating, if desired
50g (1/3 cup) all-purpose flour
45g (1/4 cup) whole almonds, lightly toasted
1/2 teaspoon cinnamon
1/4 teaspoon baking powder
1/4 teaspoon anco chile powder 
45g (1/3 cup) unsifted icing sugar (reserve to coat the cookies before baking)
Adjustments and notes on method
The formula I followed this time did not have vanilla or orange zest in but I would certainly like to add those another time. I also didn't add cinnamon, despite it being a key ingredient. This is because I managed to make myself allergic to it when living in Granada, Spain by brewing a cinnamon tea so strong that it made my lips blow up bigger than Mick Jagger's. Cinnamon/canela is such a signature Latin spice, though, I'm sure it is well worth adding it if you can. To compensate, I added a tiny pinch more red pepper. I also added a tiny pinch of salt as I was using unsalted butter.
The formula calls for ancho chile, which is quite mild and sweet. It suggests regular chile powder as an alternative. Ancho chile is available at Mexican grocers in London but is not widely available elsewhere. However I think many regular store brands of chile would be too harsh for this recipe. I used a sweet and aromatic Spanish red pepper powder (pimentón dulce).
I didn't have coffee liqueur and didn't fancy stoking up the coffee machine for just one teaspoon so added a particularly aromatic artisan-made grappa that my dear pil brought back from Italy. Not a Mexican flavour but it worked well :-). I also added an extra edge of the knife's worth of baking powder to the dry ingredients and a tiny, tiny pinch of cream of tartar to the egg and sugar while beating the mixture.
I made half the mixture as a test run. This would normally make the measuring of tiny amounts of spices difficult. Luckily my kitchen drawer contains coffee as well as teaspoons. Given that these are around half the size of a teaspoon, if the formula calls for 1/4 of a teaspoon I use a 1/4 of a coffee spoon :-)
Another key change I made was to use almond meal rather than using whole almonds and grinding them. This was because my food processor doesn't chop nuts that well and I had meal around due to the previous macaron making. I realised when reading the recipe back that this meant that the almond wasn't toasted. Another time I would still use meal but toast the meal itself in the oven, as some bakers do to dry it for macaron making. However not having to use the food processor for such a small amount of almond flour made mixing the main dry ingredients that much easier. I put them all into a small jam jar, stirred them round, put on the lid tightly and gave them a good shake about until they were well combined. (Picked up that tip from Stan who does that to mix leaven and water - thanks Stan). In my version the dry mix was almond meal, plain white UK flour, baking powder, spices and a tiny bit of salt. The icing sugar was reserved for a coating.
I wasn't sure how much egg to use for half a 'large egg'. I ended up using 1 small to medium egg and this was fine. However the cookies were so yummy I'll use full measures next time.
First step is to combine butter, chocolate and liqueur in a double boiler or heat proof bowl over a pan with 2 inches of boiling water. Final mixture was lovely and glossy.
While that is cooling the egg is beaten with the granulated sugar for 5-6 minutes until light in colour. I added a knife's edge of cream of tartar to this mixture.
Chocolate mixture is folded into the egg mixture, then the other dry ingredients are added and folded in. At this point the mixture looks like a stiff and glossy chocolate mousse. I chilled it for 1 hour, but it can be chilled for up to 2 hours.
I halved a recipe for around 20 cookies so I was expecting to produce 10. I couldn't, however, work out how I could get 10 equal sized cookies by moulding them with a tablespoon, as advised, so got all bakerish and weighed them. This came out of macaron experiences, which made me realise that the best way to get delicate cookies to bake through evenly in a very short period of time is to make them the same size. It also avoids arguments over who got the biggest cookie!
I was unsure how big to make the original balls so went for 19-20 g. I got exactly 8 balls of that size out of the dough I had. Some recipes roll the balls in granulated sugar and then icing sugar; some icing sugar only. I went for the second option. I think I could have rolled them a bit more lightly. I felt I had to really press them to get the sugar on but I suspect now that this is not necessary. The icing sugar started to absorb into the surface after about a day, although enough lingered to maintain the contrast. I don't know if adding granulated sugar as well would minimise this? Didn't do it as I didn't want such a sugar rush. If using the cookies for gifts or for a dinner party it's also best to move them with a slice. Picking them up leaves fingerprints - ask me how I know! Only did it once...
The balls looked like little truffles going into the oven. Once in, though, they spread out and crackled quite a bit, ending up the size of small, regular cookies. They were great! However if I wanted a smaller size to go with coffee, I think I would have the confidence to start a bit smaller next time.
Baking
While baking In the oven, the mousse-like mixture spread, developing lovely-looking cracks on the outside, which were highlighted by the white icing sugar. The method I used advised cooking for 11-14 minutes at C160 (Gas Mark 3), turning the cookies once. I went for a time in the middle - baking 6 minutes, turning, 6 minutes more. I used a stout steel pan and a 'bake-o-glide' sheet, in the middle of the oven. After 12 minutes the biscuits released from the paper and seemed done.
I then read other recipes, which called for a baking time of up to 25 minutes and was worried that my biscuits would still be mousse-like in the middle. However, you can see from the 'crumb shot' that they were fine. I have to say though, that correct cooking is probably an oven by oven thing. I am beginning to suspect that my oven bakes higher on the lower Gas Marks than advertised. Can't currently check this as my internal oven thermometer bit the dust.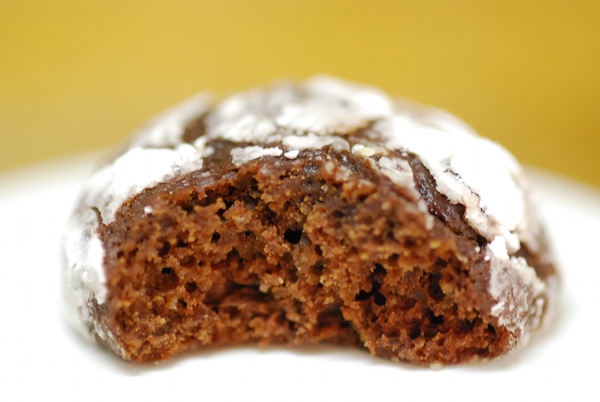 The cookies cooled down, got glammed up. had their pictures taken and then got eaten - SUPER YUM!
Apparently they will keep for a week in an airtight container (like they'll go that long without being eaten), so one poster suggested making them for Christmas presents. Their other name is snowball cookie. Aren't they just so Christmassy, like little, edible baubles?
© Daisy_A 2010 FIrst published on The Fresh Loaf, November 22, 2010 at 16.36 GM time. I love to share bread stories and read other bakers' posts about bread. If you republish this page for 'fair use' please acknowledge authorship and provide a link to the original URL. Please note, however, I do not support the unauthorized and unattributed publishing of my text and images on for-profit websites..