November 21, 2010 - 1:06pm
This bread is a variation of a recipe for Dinkelvollkornbrot by Nils' from Ye Olde Bread Blogge. The original recipe, found in his excellent book, calls entirely for spelt. I've made quite a few recipes from this book and each has been extraordinary. Nils' formula produces a moist bread with mildly sour undertones. I enjoyed it with cucumber sandwiches and also with a thin smear of plum butter. The formula needs no modification, and I wouldn't have bothered if I hadn't run out of spelt meal.
My goal was to make a more assertive bread without compromising all of the original's pleasant qualities. My variation is to omit yeast, use blackstrap molasses, use extra water, and use rye meal. I actually made this bread twice. The extra water necessitated a longer baking time, but I underestimated the first time and ended up with a rather gummy center. In addition to giving it a longer bake at a lower temperature, I let it rest for an additional 12 hours before slicing. These simple steps cured the gummy center.
Formula - Sunflower Seed Spelt 
Spelt Sour
75g whole-spelt flour
45g water
1 tsp mature 100% rye sourdough
Soaker
75g sunflower seeds
25g flaxseeds
150g rye meal
340g water
Final Dough
170g whole-spelt flour
130g water
15g Blackstrap molasses
10g salt
Method
Prepare the soaker and spelt sour, let sit for 15-20 hours. 
Mix all ingredients until smooth and knead lightly in bowl for around 5 minutes, or until gluten from spelt develops.
Bulk rise for around 2 hours, pour into a loaf pan lined with parchment, and proof for an addition 1-2 hours.
Bake under normal steam at 450F for 5 minutes, reduce to 400F for 20 minutes, and finish off at 375F for 55 minutes. Wrap tightly in cloth towels and let cool for 36 hours before slicing.
Nils' recipe calls for yeast, which I omitted. My rye starter is not as happy to feed on spelt, so my rising times were probably a little longer than what I've indicated above.
This bread was excellent with Turkey, cream cheese, sprouts, and cranberry sauce. (Vegan versions for me, but I'm sure it's just as good with the regular stuff).
This is a poor picture due to sloppy slicing and a bum exposure. The crumb is actually denser than the photo would indicate.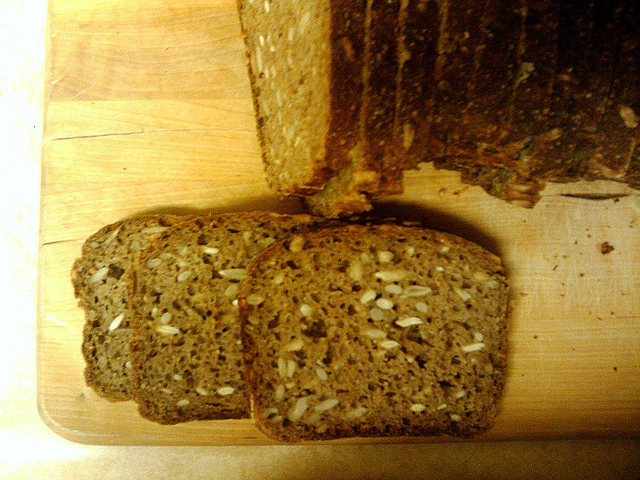 Cheers.