November 14, 2010 - 1:52pm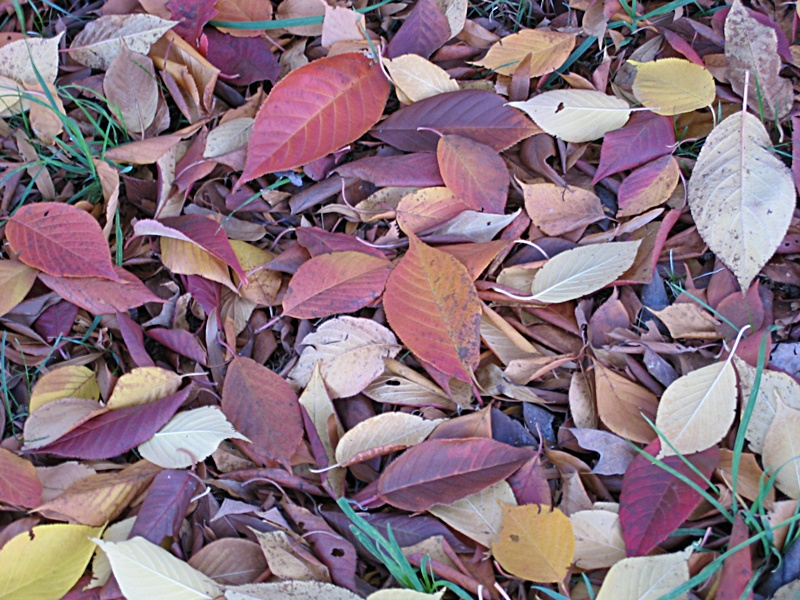 One downside to working as a baker is that it doesn't allow me time to bake during the week.  So now everything gets crammed into weekends.  And frankly, sometimes after a week at the bakery, I really don't feel like spending a day off baking more.  And yet, inevitably I find my two starters staring at me ruefully, and so on a beautiful Fall day when the temperatures felt more like September than mid-November, I decided to do a series of bakes.
Below, from the upper left moving clockwise: a 72% rye with soaker, Vermont Sourdough, a batard and a boule of Polish Country Rye.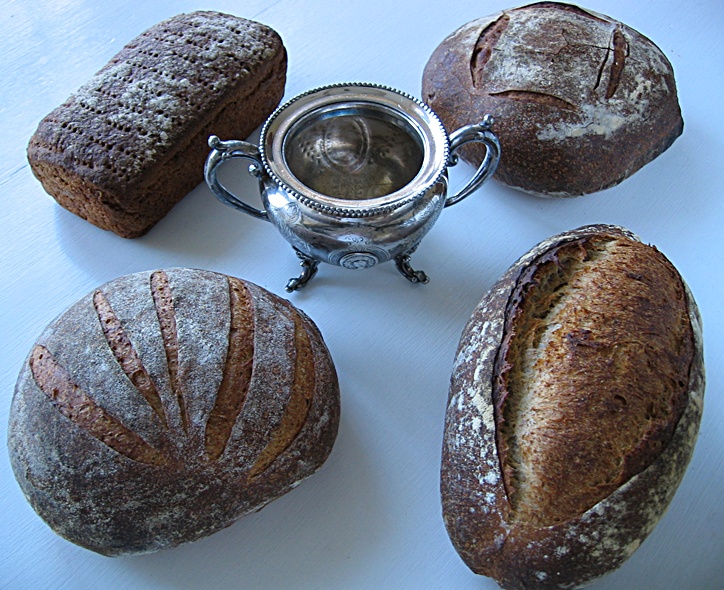 On Saturday I got started by mixing and then retarding overnight Hamelman's Vermont Sourdough.  I've discovered that even with giving the bread an hour and a half proof before final retarding, it still needs an additional three hours the next day at room temperature to finish proofing.  But, the finished loaf rose nicely in the oven.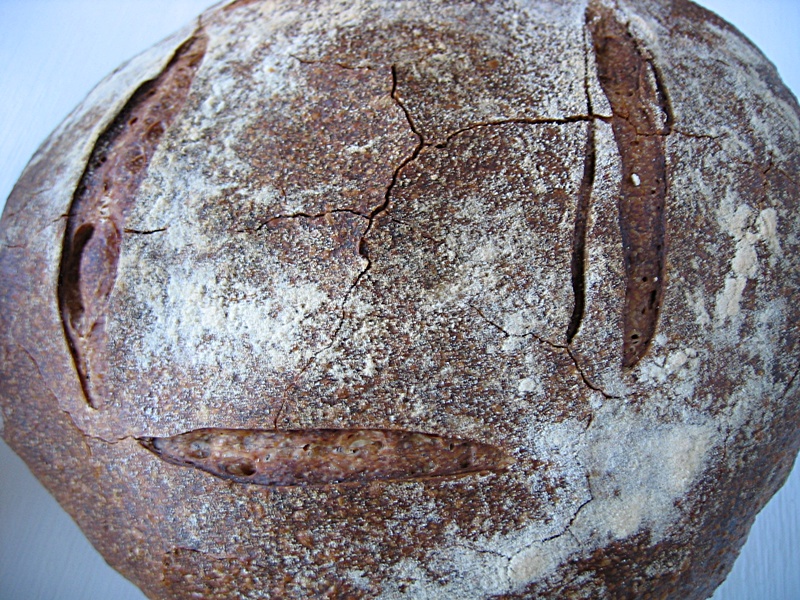 Here's a couple crumb shots of the Vermont sourdough: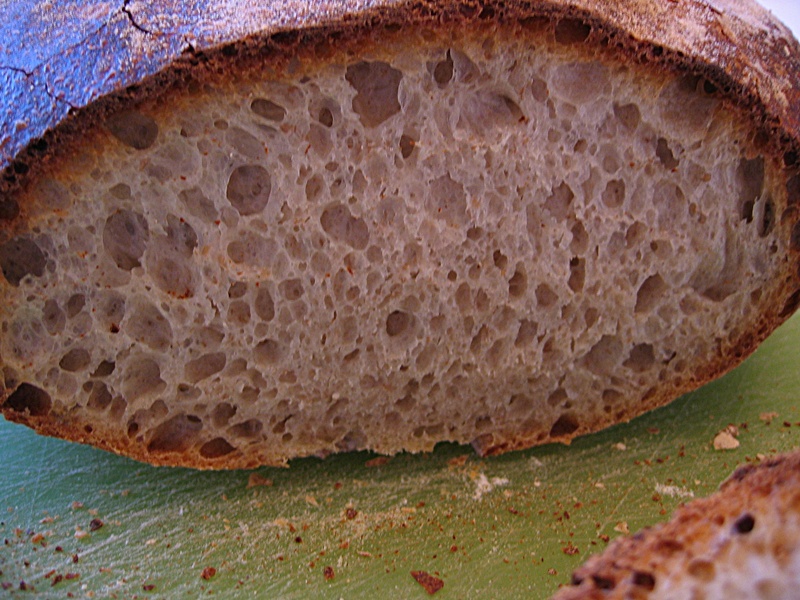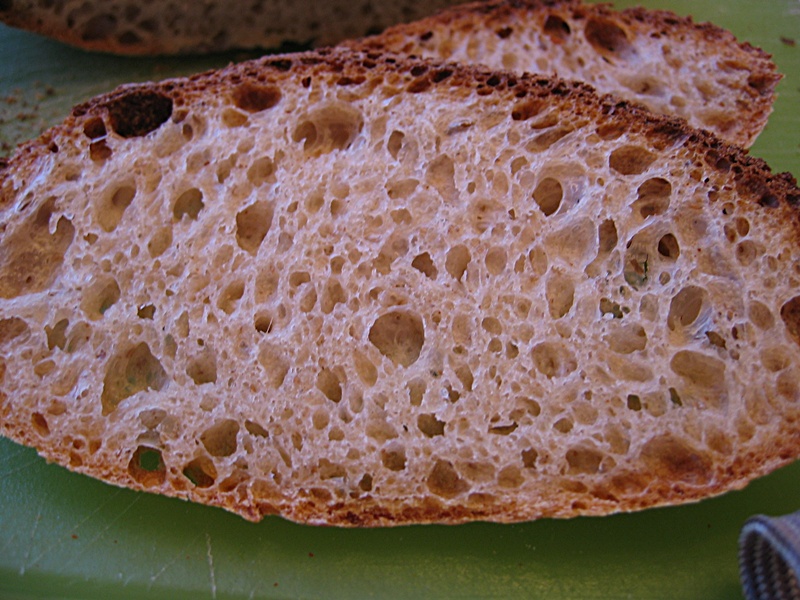 Saturday evening I prepared the rye levains and soakers for the 72% rye and the Polish Country Rye.  I've become so fond of the added sweetness imparted by soakers, that they are now a routine part of my rye preparation.  However, a couple weeks back I had my first experience with the dreaded 'starch attack' and this has led me to now add either part of all of the salt in my rye formulas to the soakers as a preventative measure.
This morning while the Vermont sourdough finished its final proofing, I began with the 72% rye because I knew it would have the shortest floor time before final shaping and baking.  In using a high proportion of the water for the recipe in the levain and soaker I unintentionally created a problem I had not foreseen: my kitchen was cold this morning, and I found that the flour temperature and those of the levain and soaker were only about 68° F.  But there was so little water to be added to the final mix, that it was not possible to arrive at a DDT of around 80°.  This necessitated both extending the bulk fermentation from 30 minutes to 50 minutes, and setting the dough container on top of my then-warming oven to increase its internal temperature.  Note to self: it's important to retain a sufficient amount of water for the final mix to adequately adjust DDT!
In any event, the jury-rigged proofing worked, and once the loaf was air-shaped (the hydration was at 80%) and placed in a pyrex baking dish, it required a little under 50 minutes before it was ready for baking.  I baked if for 60 minutes, starting out at 450° and dropping the temperature by 25 degrees every 15 minutes, so that the oven temp at bakes end was 375°.
Here's the final result: it will sit for 24 hours to completely set and then I'll add some crumb shots.  But it's already got a pleasant sweetness about it.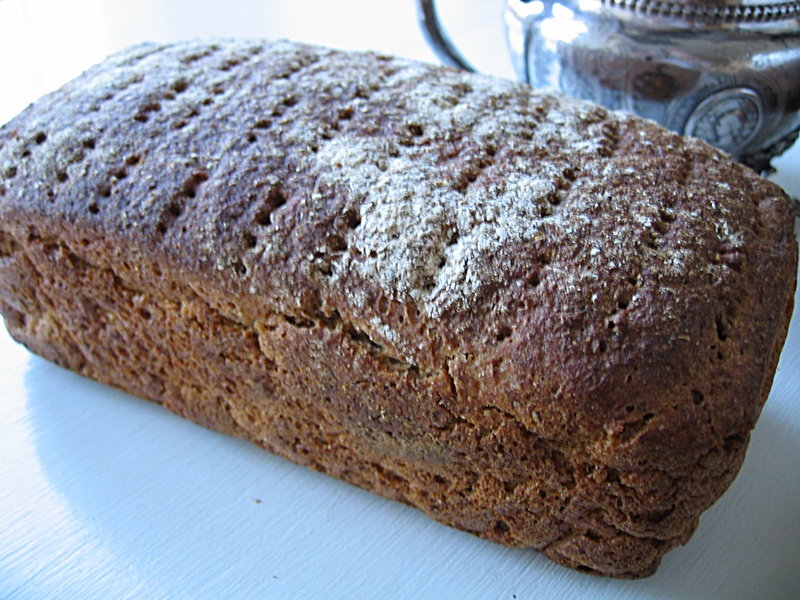 The Polish Country rye I altered slightly by upping the percentage of rye from its usual 15% to 30%.  Even with that, this is a most agreeable dough to work with - it has the gluten development and consistency of wheat-based doughs, so there is very little of the stickiness associated with high percentage ryes.  Final proofing after shaping one into a boule and the other a bâtard was about two and a half hours and it baked at 440° for 45 minutes.  Here's some more shots of the final result - crumb shots to follow.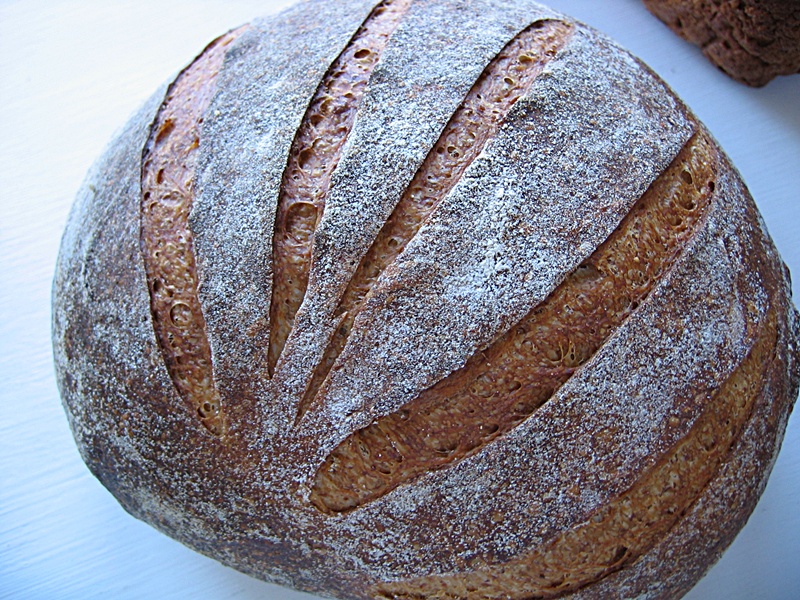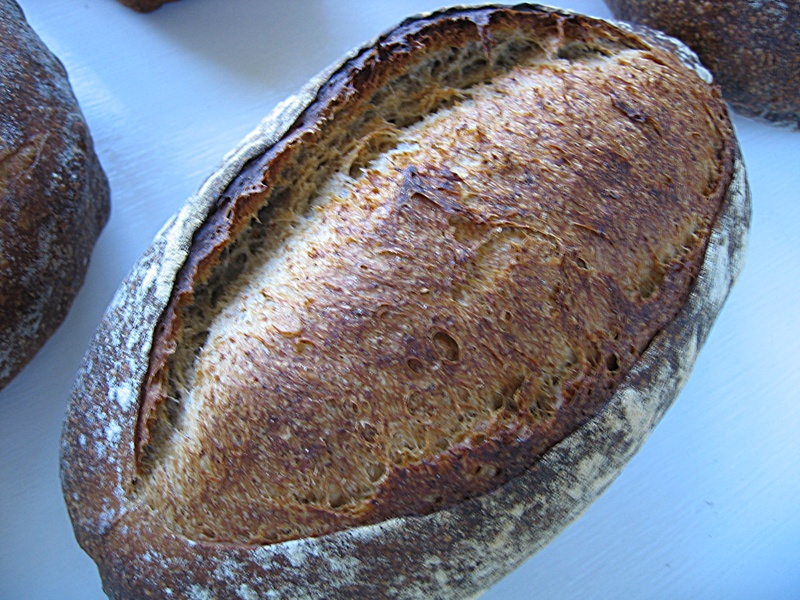 All three breads were baked using a combination of SylviaH's wet-towel-in-a-dish method and my lava rocks in a cast iron frying pan to generate steam.  As the loaves and cuts indicate, I cannot say enough good things about Sylvia's simple yet effective work around for those who, like me, struggle to maintain steam in our steam-venting gas ovens.
So, at the end of a beautiful Fall day I sit at my kitchen table surrounded by a week's worth of wonderful and varied sandwich breads, along with a rich rye loaf that will accompany some good cheeses and spreads.
Not a bad way to unwind after all.
Larry
EDIT: crumb shots of 72% rye and Polish Country rye below.