November 13, 2010 - 8:11pm
Pain Ordinaire with Rye and Spelt
A few days ago our son announced he had bought a scale, and he needed a straight dough formula for non-sourdough (his preference) "french bread".  He has been baking "French Style Bread" from "Beard on Bread" for a couple of years, and he wanted a weight-based formula for a similar bread.  I gave him some tips on how he could convert his cups-and-teaspoons formula to weights by baking to volume and weighing everything, and I also gave him the flour/water/salt/yeast basic formula for a 65% hydration straight dough bread for a loaf of about 850 grams.  I have not heard back from him yet on what he chose to do or how it came out.  He did, however, get me interested, and thanks to the influence of my recent experience with the Rubaud flour mix, I've taken a new interest in spelt as well.  I decided to try putting them together.
I put together what is, loosely interpreted, Pain Ordinaire...  Ordinary bread.  The formula is my own concoction relying on a basic hydration of 68%, and flour mix of 75% Pendelton Mills Power (Bread) flour, 10% BRM Dark Rye and 15% Montana Milling Whole Spelt (Thanks Stan!) flour.  I started with a 5 hour poolish of 160 grams of water, 160 grams of flour mix, and a scant 1/8th teaspoon of instant dry yeast.  Because the arthritis in my wrists has been bad lately, I assembled the dough, including the poolish but holding back the salt, in my Bosch mixer.  I mixed the ingredients for about three minutes, then left it to sit for 30 minutes (autolyse).  I then added the salt and "kneaded" the dough till it was well developed (8 or 9 minutes).  Considering the amount of spelt flour in my formula I think this came back to haunt me later.  I think spelt does not tolerate over-kneading well.  Here is the specific formula I used:

Flour  1158 grams     100%
Water  787 grams       68%
Yeast    17 grams       1.5%
Salt       20 grams      1.7%
Total Dough Weight:  2000 grams  (I planned for 2 1Kg boules)
After kneading I moved the dough to a dough bucket for bulk fermentation, noting that I had 2 liters of dough.  It hit 4 liters in less than two hours.  When that happened I decided to go ahead and shape the loaves and retard them overnight in the refrigerator to bake this morning. I hoped that strategy would slow down the yeast and help develop some flavor.  I preshaped the two boules and let them rest, then tightened them up and put them in my large round floured baskets, covered them with oiled plastic wrap and into the refrigerator.  I put them on the bottom, coldest, shelf in hopes of being able to hold them off till late afternoon or evening Saturday.
I looked in on them about bed time, four or so hours later, and they were obviously not very retarded!  I knew I was in trouble, but it was far too late to try to bake them before retiring.  Instead, I set my alarm for 6:30 AM, an inhumane hour for me for a Saturday morning.  When it woke me I got up, started the oven, and checked the bread.  Yup.  In trouble.  It had over proofed, even in the refrigerator.
Because of the size I baked them one at a time, directly from the refer with no bench time at all.  Even so, they fell badly when I slashed them.  There was some oven spring, but not a great deal.  I have a good deal to learn about spelt I'm afraid.  The loaves did not come out "bad", but rather, they look like their namesake:  ordinary. 
I got little oven spring because the dough had little left to give.  I got a great crust thanks to the roaster-pan-lid steaming method and a liberal spritzing with water before covering.  The crumb is dense, as would be expected from loaves that were over proofed and fell significantly on slashing, but supple and chewy.  Maybe even a bit "rubbery", probably because of the high gluten flour.  The flavor is very pleasant, and the poolish made a very positive impact.  I also like the flavor of the spelt and rye together.  It was not a disaster by any means, and it was a good lesson, but I look forward to trying again.  I will be much more careful of my timing next bake, especially if I use as much spelt flour again.
Here are some pictures to illustrate my points, beginning with the loaves.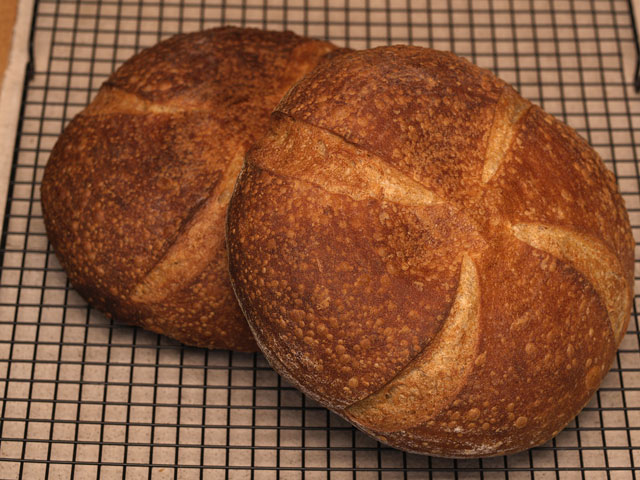 And then the crumb shot:

As you can see, I even botched the slice, leaving a jagged surface.  And I did it twice.
This is not a candidate for the "Ugly Bread" thread, but there is plenty of room for improvement.  I'll bet it makes good French Toast for breakfast tomorrow or Monday though!
OldWoodenSpoon