November 12, 2010 - 6:02am
I know I've been concentrating on going low (on yeast) and slow (on the ferment) with my breads to improve the quality/flavour.  Sometimes, though, life intervenes.  I managed to use some of what I've learned here and elsewhere to get a reasonable quality bread ready very quickly.
I found out a friend of the family was in the hospital, waiting to fly out of town for surgery, and I wanted to do something.  My sweetie dropped by, and she got to talking with my friend's partner about my bread.  My friend's partner said he'd heard of my olive-cheese bread, and my sweetie committed.  Problem:  plane's leaving day after next!  Had to have a batch ready from a standing start after work by the end of the same evening for next-morning drop-off.
While I know it will be considered sacrilege to the "low and slow" doctrine, I had to speed up fermentation, so I cranked up the instant yeast from my usual 0.5% for a slow overnight ferment in the fridge to a wild-and-crazy 2.5%.  To counteract at least some of the flavour effects of the quick ferment, I threw in some old dough I keep in the fridge (70% hydration).  Here's the final formula I used (PDF) in both grams and ounces.
I mixed, autolysed, kneaded and fermented for about 75-90 minutes at about 70 F/21 C.  I then divided the dough into 2 x 750g/24 ounce loaves, rested, shaped and proofed for about 60 minutes at about about 70 F/21 C.
Into a steamed oven at 510F for 8 minutes, followed by 400F for 45 minutes, or until internal temperature is about 205F.
Here's the result: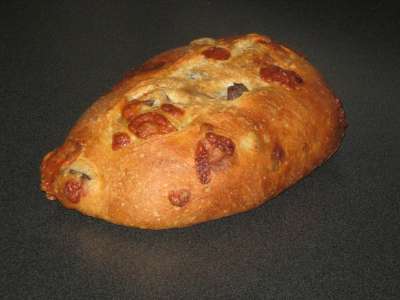 Crust was outstanding and crumb (batteries ran out before I could get the crumb shot) was great.  I couldn't detect any yeasty taste in spite of the extra yeast I added.  I think that's because of the old dough and the strongish flavour of the add-ins (I used green spicy olives and smoked Gouda).
I'm told my friend's partner enjoyed the bread - mission accomplished, especially if it distracts him a bit from his sweetie's suffering and waiting.
Sometimes you have to break the rules to meet the needs of real life,  If you know the rules reasonably well, though, you can find ways to make the best of a less-than-perfect situation.