November 11, 2010 - 3:26am
san francisco sourdough (now with how to video's)
Okay, there must be at least a dozen or so, pictures of this specific bread lurking around the site since it is such a famous loaf, but hey; I'm new and it is my first SFSD, so.... I need to show off my results a little, so here they are, whether you like it or not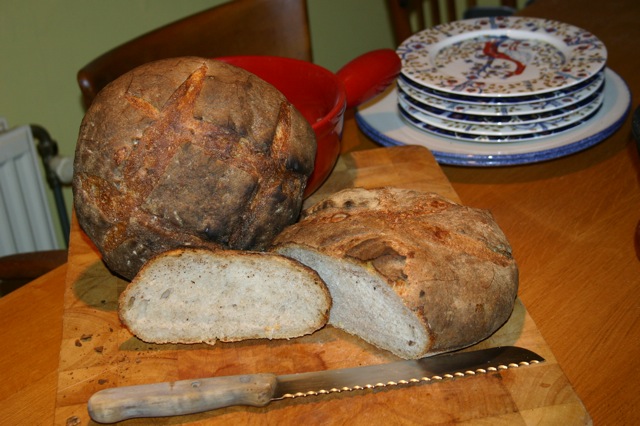 Upon searching Youtube and various other video sites for a comprehensive "how to" for artisan breadbaking in Dutch, i realized there is very little to be found in my (more or less) native language. So I decided to pull out the DV-camrecorder and made a (hopefully) comprehensive step by step video in Dutch. I will be posting it here once it is edited. The San Francisco Style Sourdough is too nice NOT te be made in other languages than English :-)
Okay, let's move in a little closer on the loafs I produced this morning: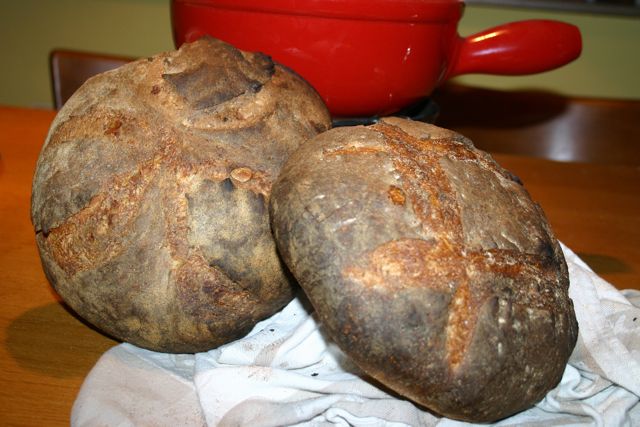 I find photographing bread, at least in indoor conditions (and after all, that IS where most of us bake our breads) to be very tricky. I am just a poor amateur trying to improve, so if you guys and gals have any tips for me to make my breads stand out a little more; let me know, I would really appreciate it!
Here a close up after cutting the loaf: I probably should have cleaned the crust off after cutting the bread, 'cause now it looks a little "dirty"...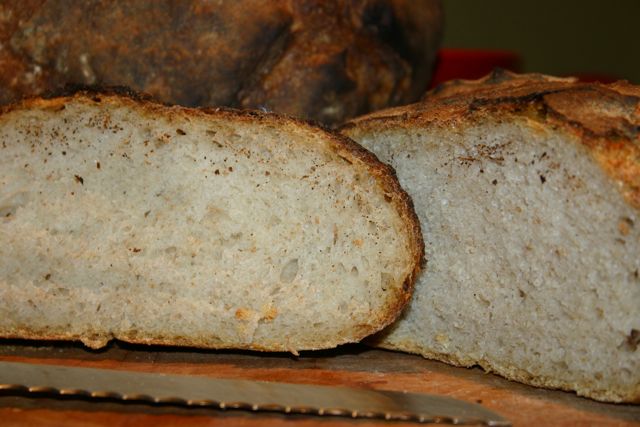 It was a lot of work, that San Francisco Style Sourdough, but the result is phenomenal; even though I had expected the loaf to be a little darker on the inside with the whole wheat and the rye, the taste and texture worked really nice. Usually I take my loafs out of the oven just a tad before it is time, because I think they look prettier on a picture when the crust is more golden than caramelized, but I managed to keep these loafs in until they had a rich dark chewy crust. Not so good for the picture, great for eating though :-)
The crumb is decent, but nothing to write home about I think; I used Reinhart's shaping technique for boules, and although I tried to work as swift and elegant as the master himself, I fear that some of my airpockets left me there and didn't come back. But my SD-starter made up for a it; a medium sour, tangy flavor!
Hoping you photo-buffs out there will provide me with some good tips, thanks for taking the time to react!
Update: Here are the "how to video's" (part I has english captions, I'm working on doiing the same for Part II, gimme some time :-)
Freerk