November 8, 2010 - 1:40pm
Rye Stories: Daisy_A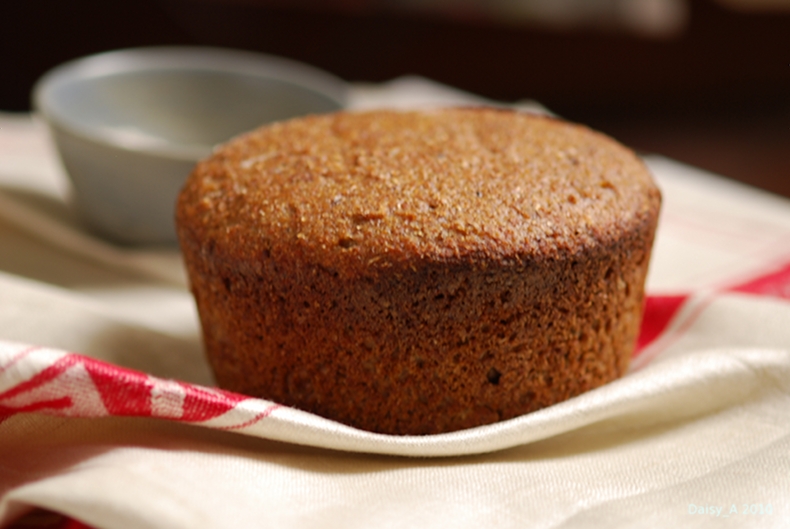 I love rye bread and I'm not alone. When faced with a continental buffet my dh will make a bee line for the pumpernickel. As far as rye in mixed grain breads go I always feel there's room for a little more. So it's odd that it's taken me so long to try a 100% rye. I've been working my way towards it but had heard rumours that it might be troublesome. I was worried that it might implode or explode, either crack all over like 'a wedding cake left out in the rain' (as the poet W.H. Auden so famously described his own face), or fall in on itself like the ground over a hidden stream. 
Over the last few weeks, however, I have tried 3 100% rye formulae, the Borodinsky and seeded ryes from Andrew Whitley's Bread Matters and Mini Oven's favourite 100% rye (Bread Matters pp. 168-171, pp. 167-168; Mini Oven here). In the end, given that my rye starter is much more stable and strong than my wheat starters, these ryes have probably given me less trouble than the average sourdough. 
I did not adapt the formulae substantially so what follows are a few notes on method and taste. Bakers wanting to look into the Melmerby Borodinsky outside of Whitley's text might follow up on Andy/ananda's post here about the different Village Bakery versions, including an 85% rye. Andy's post includes a formula. There is a great discussion of Mini's formula on her original thread and in other TFL posts. 
The first 100% rye I baked was the Borodinsky from Bread Matters. When I made this I was running down my stock of Dove's Farm rye to try Bacheldre Mill but could not immediately source the latter. I had to make multiple calculations in order to keep my stock rye going and put together the formula without running out of flour and was congratulating myself on stretching my pea brain maths to the limit when I blanked out and went over on the water. Well that taught me to bake at the end of a long day…
The loaf came out a lovely golden brown but I thought I would have to spend the night on the couch waiting for it to bake out. After cooling the top sagged ever so slightly, like a cotton clothesline, due to the slight overhydration,  but the taste was superb. 
The second Borodinsky was made to share at an art and bread tasting event. Happily every crumb was eaten but I was so preoccupied with getting it to the venue without a hiccup that I forgot to take shots of it. So the elegant still life below is courtesy of event photographer Julian Hughes - thanks Julian.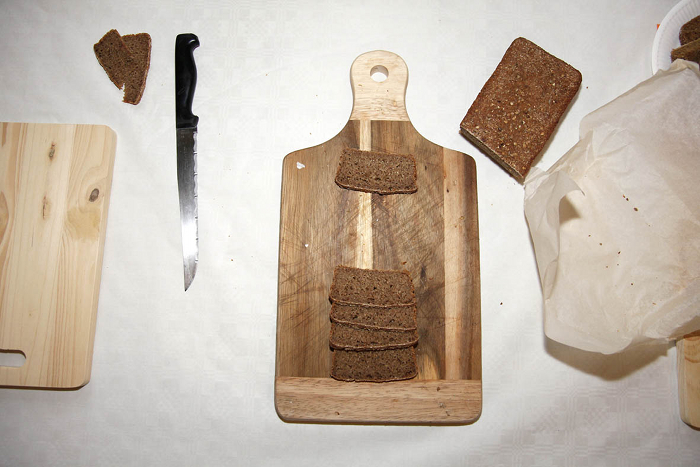 © Julian Hughes, 2010
The second time I made this bread and after reading up on ways to manage rye, I added 40g extra water and 40g extra rye to the sour after 12 hours.  This was in part to add sweetness to the final bread and in part to allow the high hydration (1.6.3.), sour to mature for another 12 hours without becoming too acidic.
After the first Borodinsky I was able to swap to Bacheldre Mill. This is a much stronger flour than the Dove's Farm and I've found it suits the high hydration of Whitley's formula well. Crust and crumb have baked out well in all loaves made with the Mill flour. I find the crust tends to have a grainy finish due to the high bran content but I like that look, particularly as the crust also tends to be very golden. The flour has a beautiful, nutty flavour.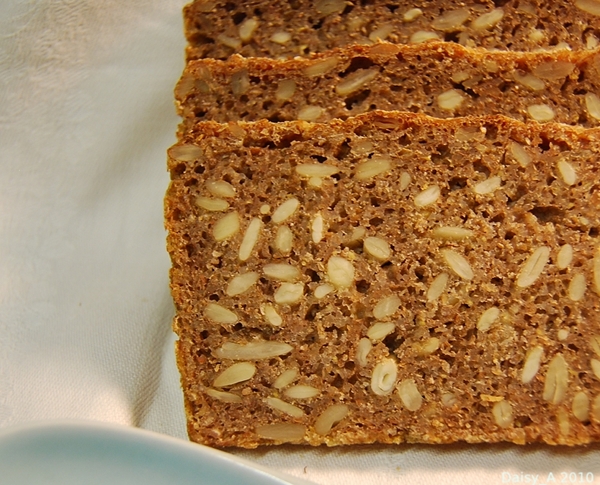 The next bread I attempted was the seeded rye from Bread Matters. I did make some adjustments to this.  I used 100% sunflower seeds instead of sunflower and pumpkin. This was largely due to availability. I hope to be able to dry seeds from the autumn squashes to use in bread but had none at hand when I made this. Having struggled to keep the coriander seeds on the Borodinsky rye while turning it upside down regularly to check internal temperature I also felt creating a sunflower seed coating for the seeded rye, as Whitley suggests, was beyond my skills. I omitted it but think it would actually be a nice touch.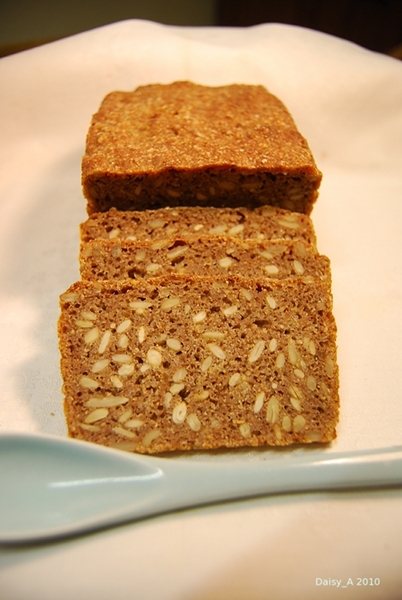 I also added a teaspoon of organic blackstrap molasses because I had just bought some at the whole food coop and wanted to play with it. I though this might soften the edge of quite a sour rye but given the sour notes of blackstrap itself it probably made it taste even sourer!  I have used malt syrup or honey since.
The second time I made this bread I also included a second build of 80g of flour to the sour after 12 hours to allow it to go the full 24 hours without becoming too acidic. I then reduced the flour in the final batter by the corresponding amount. The flavour was amazing, similar to that of an aged Manchego cheese. 
My slightly adapted version of Andrew's formula was:
Rye sour
160g of rye sour at 1.6.3 (fermented 12 hours then 80g more flour added)
Final batter
All rye sour   240g
Rye flour     160g
Sea salt           5g
Molasses          5g
Sunflower seeds 100g
Water 140g
Total 650g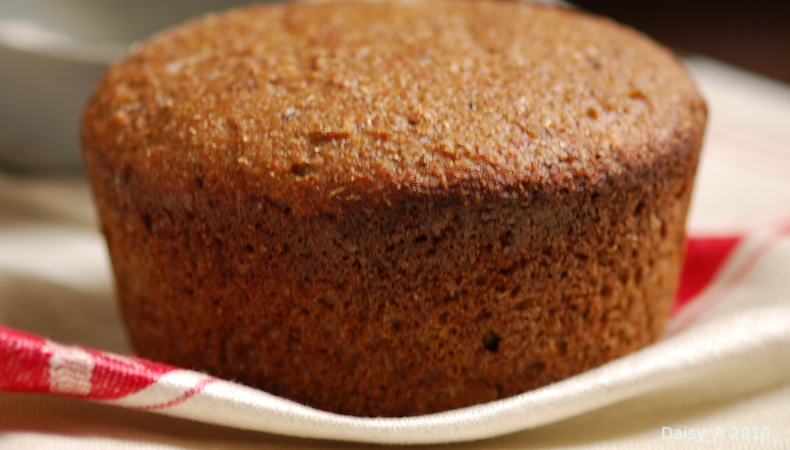 Mini Oven's favourite rye. What can I say? It is a super-delicious formula. When I first joined TFL I used to gaze on Mini's post in wonderment. Even though Mini describes the process extremely clearly I couldn't imagine myself attempting the bread. Having and reread read posts on rye from Mini and other TFLers, including Andy, Hans Joakim, Karin, Nico, Khalid and Larry, among others, I finally felt I could attempt it and it went fine! Thanks all for your postings - they were very helpful! Sorry if I've missed any other 'ryesperts' - you were helpful as well!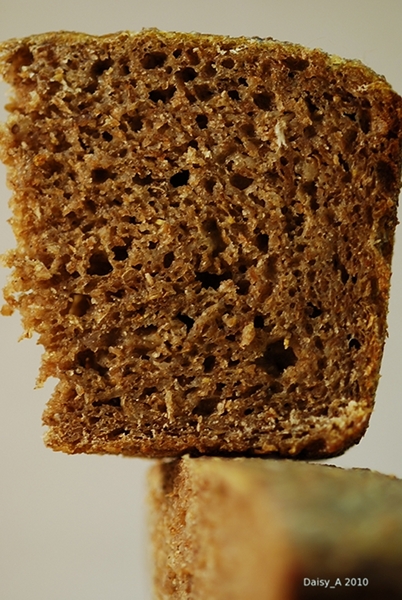 I started with a small loaf, working the formula up from 60g of starter and added 2 tablespoons (5g) of mixed seeds, with an emphasis on caraway. Based on Mini's (1:3.5:4.16), formula this gave me a nice round 210g cold water, 250g flour to the 60g starter, for a final loaf of around 570g. I also added altus for the first time in any recipe - 20g of mixed grain sourdough with I dessert spoon of warm water and I tsp of honey. I mashed this into a paste in a pestle and mortar then folded it into the final batter. This formula yielded a loaf that was beautifully golden, with a gorgeous aroma, which was sweeter than those from Bread Matters. I will definitely do a larger loaf next time. We managed to wait 24 hours to try it but it was gone in just over a day! Thanks Mini, it was gorgeous! 
© Daisy_A 2010 I love to share bread stories and read other bakers' posts about bread. If you republish this page for 'fair use' please acknowledge authorship and provide a link to the original URL. Please note, however, I do not support the unauthorized and unattributed publishing of my text and images on for-profit websites..