November 5, 2010 - 11:26pm
WFO On Hold and Baking in the Kitchen
The wood-fired oven project must go on hold till Spring comes.  It is located in a very wet area of the back yard and I don't have enough dry days left free to do anything about it, or to protect it if I press on.  So, it is under cover for the winter, and I'll pick up with building of the new dome once the rains have passed.  That could be January, or it could be May.  I'll just have to wait and see.
Here is the WFO then, bedded down for the wet.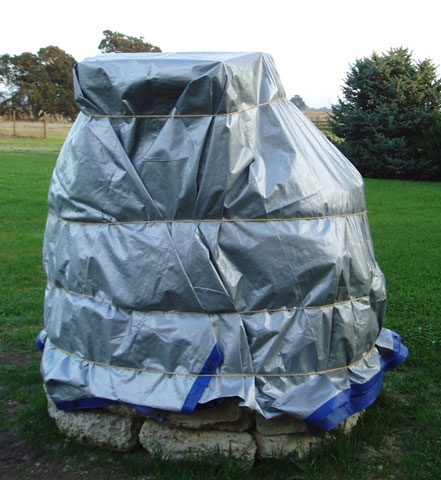 It is not all a bad thing though.  We heat with wood in the house, and the kitchen heat from baking always helps keep it toasty, so I don't mind that much baking in the kitchen all winter.  It is the 100F and hotter summer days with 75F and warmer nights when baking indoors is a lot less acceptable.
So, I've been baking in the kitchen...  I have been intrigued by the work of Gerard Rubaud as beautifully rendered on Farine, MC's bountiful blog.  I only learned of him through the tributes to him here on The Fresh Loaf by respected bakers such as Shiao-Ping, David Snyder and others.  I have baked some real bricks in attempting to emulate their success, and finally decided to back off a bit, and take it a bit more slowly.  That's more my speed anyway.
Two weeks ago I backed way off, and completed a single instant-yeast, straight dough boule using only "the Rubaud flour mix".  Instead of re-describing it myself I gratefully stand on the shoulders of my predecessors here and direct you to the excellent work of David Snyder again, in the form of his tables for the blend of flours for this bread.  You can find them here:  Gérard Rubaud formula in a single table, FYI
The straight dough effort was a success, and thus I gained enough confidence to revisit it in sourdough.  I'm still holding back though, because at this point I am using my own "standard procedure" to prepare the dough at 72% hydration using the Rubaud flour blend instead of my usual, more mundane concoction.  Inspired, I made two boules this time, although only one survived intact for the camera.  The other will be acceptable only for crumb shots since we were eating it by the time I remembered pictures.  So, first, the pictures...
The one remaining intact boule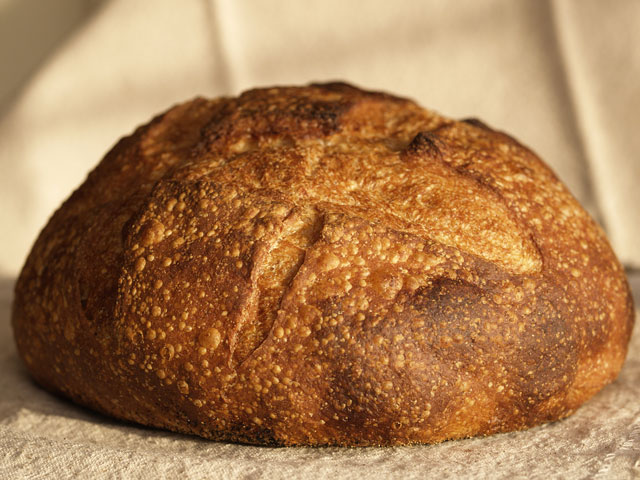 A shot of boule and crumb together...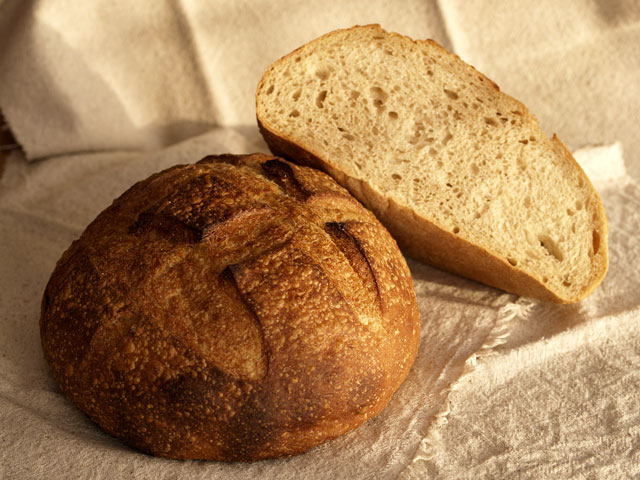 And finally, a closeup of the crumb.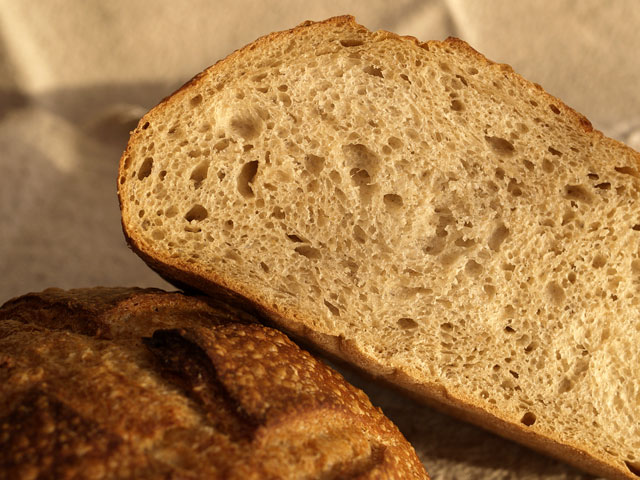 I mixed this dough as I do my usual sourdough, with an initial autolyse period of 30 minutes followed by 2 x 40 stretch-and-folds in the bowl at 45 minutes intervals.  I then did one tri-fold on a lightly floured board and was able to pull a very nice window pane so I put the dough into a bucket and into the refrigerator to bulk ferment.  I did not want it to go very sour because I wanted to be able to taste the flour blend, so after 6 hours I pulled it out to rest on the bench for about an hour before pre-shaping.  It had more than doubled after the six hours in the fridge.
I pre-shaped the loaves into two round boules of about 800 grams each.  In shaping I learned that this flour mix produces an amazing, pillow-soft, supple dough that is such a great pleasure to handle.  After 10 minutes of bench rest I pulled them tight and put them in floured linen lined round collanders to proof.  Because I planned to bake both loaves in my La Cloche clay baker I needed to serialize their proofing, so I moved one loaf back to the refrigerator for an hour to slow it down while the other proofed normally on the counter in my 68F kitchen.  This delaying tactic of cooling one loaf immediately worked perfectly this time.  It has not always been so successful, but this time it was.
After scoring, I misted each loaf while on the peel before slipping it into the La Cloche, baked at 525F for 10 minutes, then turned the oven down to 475F.  After 5 more minutes I quickly removed the cover on the La Cloche baker and continued to bake at 475F till done (internal loaf temperature of about 205F).  The overall baking time was approximately 35 minutes, with the first 15 minutes under cover, ie: with steam.
These loaves smelled wonderful when done!  None of my other bread baking has produced such a pleasing aroma in the kitchen.  I read in the noted sources that Msr Rubaud's bread is known for it's pleasing aroma and if my own experience is of any relevance it must be so.  It has to be something special in the combination and proportion of grains in the flour blend that makes it so.  The flavor was pleasing as well, but I was less struck by the flavor than I was the aroma.  My wife disagreed with me and thought the flavor was superb.  The crust came out thin and crisp, and crackled all over the counter when I cut into the first loaf, showering crust flakes everywhere.  The crumb is soft and tender, and almost has an "enriched bread" consistency to it, although there was nothing but flour, salt, wild yeast and water in the dough.  That the crumb is not more open is owing to my still clumsy handling, but I am getting better with lots of practice. I do wish I had let the dough spend the night in the cooler though.  I'm certain the not-quite-stupendous flavor is the result of insufficient development of the acidity.  It needs to be sour more, and then it will be better yet.  Make no mistake though:  it tastes great!
Next time I revisit this I shall try the multi-stage build again as Msr Rubaud himself makes it, but probably not yet going all the way to the firm starter he uses.  I still feel the need to sneak up on that more slowly for a while, and in a much smaller batch of course.  That way I get to bake more often.
Thanks for stopping by.
OldWoodenSpoon