November 2, 2010 - 5:38am
I made this bread this weekend and was so pleased with it I had to post some pictures and thank David for sharing his recipe.  It is a great bread.  The substitutions that I made was I used Gold Metal Better for Bread for the white flour and Bob's Red Mill Dark Rye for the Rye flour.  I had been getting my starter ready by feeding it every day for about a week.  Another change I made was the way I did the strech and fold.  I've been looking every where for those plastic scrapers and so I do not have one.  I did the strech and fold just by getting my hands wet and picking up the dough and using gravity to do the streching and I would do the folding.  I was very tempted to use Richard Bertinet's method, maybe next time.  David's directions were great with time intervals listed so I followed them pretty closely.
On bake day I was begining to wonder if my starter was working well enough, but the oven spring I got was amazing!  I tried to score the bread as David said and since this is a wet dough was having trouble but I got close.
The Crust.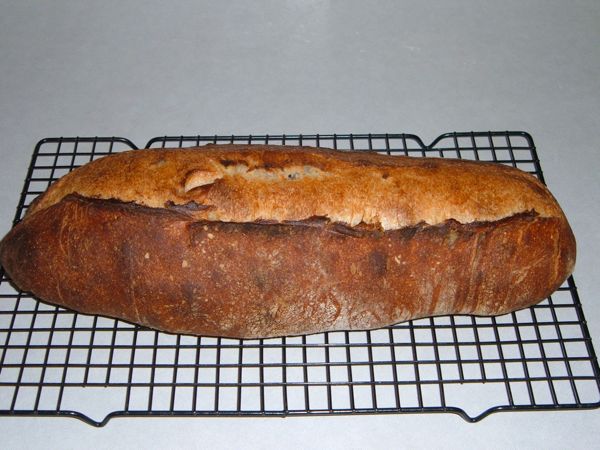 The crumb.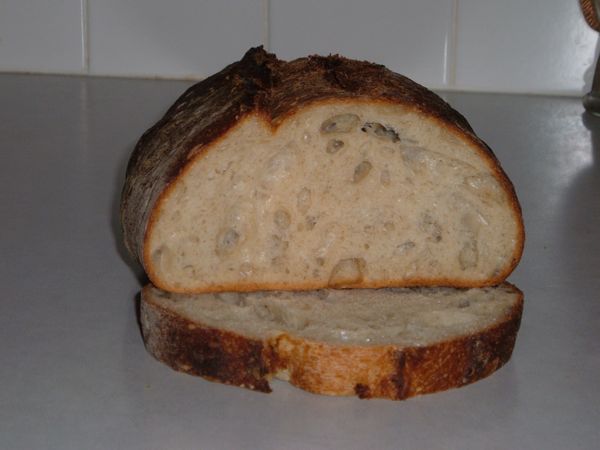 This turned out to be one of the best looking loafs that I have made.  It was also the first Batard.  The flavor was great.  I was a bit dissapointed that it was not more sour but that will be another research topic - how to get your starter to yield a stronger sour flavor.  We had it toasted for breakfast and it was so good.
Again, Thanks David!  I will be making this again.
Dwayne