October 31, 2010 - 11:05pm
Flaky Turnovers made with Cream Cheese Pastry
Hello, I tried making a cream cheese pastry dough, rolled with 3 turns, to make some turnovers.
The recipe I used was 'Lemon Turnovers' from Pastries from the La Brea Bakery by Nancy Silverton.

I was thinking, because of how these turnovers are made, they might be a good thing to make ahead and bake from frozen. This might come in handy with the holiday season approaching, so I thought I'd post about them.

I want to respect copyright so don't want to reproduce her recipe verbatim, but this recipe for the pastry is close (may be a bit heavy on salt, though): http://www.epicurious.com/recipes/food/views/Cream-Cheese-Pastry-Dough-101585
To make 12 turnovers, each made from a 4" square of pastry, you'd need to double the recipe in the link above
(this would be, by weight, 8 ounces softened cream cheese, 8 ounces softened unsalted butter, 250 grams unbleached all purpose flour, 1/2 teaspoon kosher salt).
(Butter and cream cheese not super soft, say, 65-70F).
I mixed all except flour in Kitchen Aid on slow speed just until combined, added flour, mixed slow just until combined.
Lined a 13x18 sheet pan with plastic wrap, rolled out the dough to roughly fit the pan, transferred dough to sheet pan, rolled and patted until flat. Covered with plastic wrap, chilled in fridge overnight.
The next morning, warmed enough to roll out, and rolled out on a floured Silpat mat to 12x20. Did a business letter turn.
Rolled out again, same size, then second business letter turn.
Rolled out again, same size, then third business letter turn.
Wrap in plastic wrap, back to fridge for a few hours to firm up.
Here's a cross-section of the dough after three turns: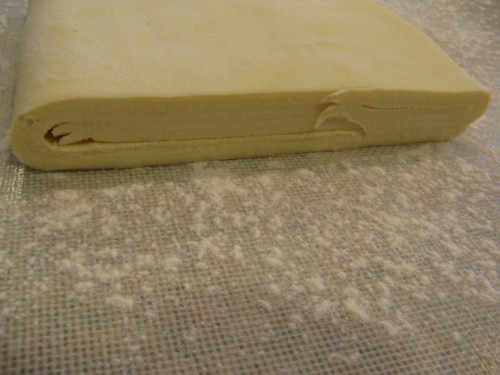 After the pastry had rested in the fridge, took it out of the fridge and let it warm up a bit to make it easier to roll out, to about 14x18.
Cut 4x4 squares, filled, sealed, then placed on parchment lined sheet pan, covered in plastic wrap, froze 1 hour before baking.
*Make and freeze ahead at this point?
Cut steam vents in tops, brushed with whole egg wash, sprinkled with sugar, baked 375 convection & started checking for doneness at 28 min.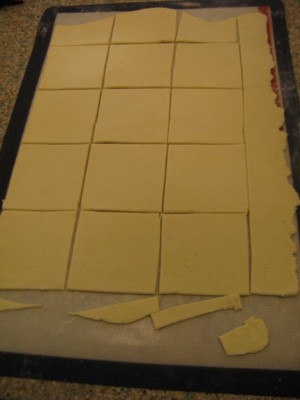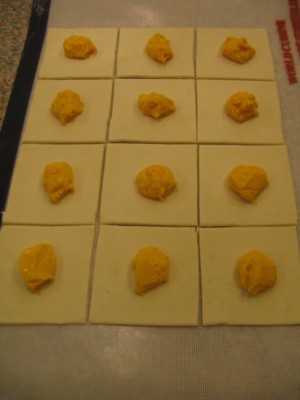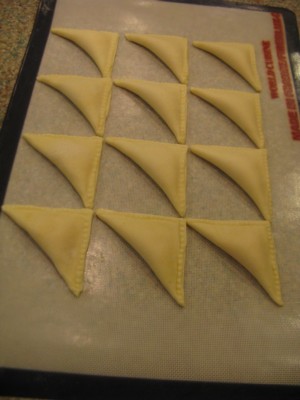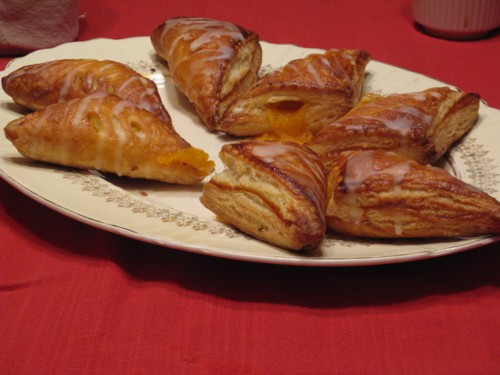 12 baked....7 left on the plate...didn't take long for these to start disappearing!
Can't wait to try these with a fruit filling, although the lemon was fabulous.
I think this pastry would work well with savory fillings as well.

Happy baking everyone! Regards, breadsong