October 31, 2010 - 1:19pm
some of My favorite breads
Again, I want to introduce some breads that I make over and over!   My family loves these bread as I can tell is they don't complain to me that they are tired of these bread. They ask me more slices of these often.
First, This bread was posted by Daisy_A ( http://www.thefreshloaf.com/node/19923/bread-art-heritage-katy-and-rebecca-beinart039s-work-and-simple-white-sourdough-tin-loaf)  I posted this bread before, but I got a lovely letter from one of  my husband's coworker who loves bread. She said that this was the best bread I ever had! she and her mother ate every bit of crumb until it was completely gone!    I was really happy to hear that they enjoyed this loaf.  I love this bread, too.  I can't count how many time I made this.   It is sourer that I usually attempt for the other bread. This bread shloud be the way, and this has a lot of flavor, too. 
I used 125% sourdough culture this time. It was difficult to put it in the tin but it was worth it! It has more moist in the crumb!
Thank you, Daisy and Katie and rebecca!
Second, Franko posted this recipe but he used 100% spelt flour that is more challenge for me. http://www.thefreshloaf.com/node/20057/loaf-my-wifefinally   Although I posted it this recipe using 100% whole wheat, and 80% whole wheat.  this time, I used white sourdough culture instead, and 50% white bread flour, 50% whole wheat flour and some wild rice and oats for the soaker.   I also decreased the water amount down to 9% as like I made the other mutilgrain bread before.   I have shopped some stuff for baking recently.. I can't still afford to buy spelt flour.... I will buy it and other flour that I want to try  for other recipe when I can spend more money for extra.
I sprinkled some toasted sesame seeds and oats on the top. I got this idea from Karin who posted a fabulous Straun on Khalid's blog. Thank you, Kharin. It tasted really really good!  Thank you, Franko!
In the end, This is the first time to post this bread that was posted by Hansjoakim. http://www.thefreshloaf.com/files/u9564/PaL_rye_formula.jpg I have made some of his rye bread that were excellent.  This is his pain au levain. I love this bread.  I tasted sour and sweet on the first day when I sliced them when it was slightly warm yet. I regreted that I did.  As RobynNZ suggested me that I should have waited until it was completely cool. I always appreciate her help. Many thanks to you, Robyn.    The next day, the taste was wonderful. We ate toasted 2 slices of this bread each with butter for this breadfast!  Yummy!!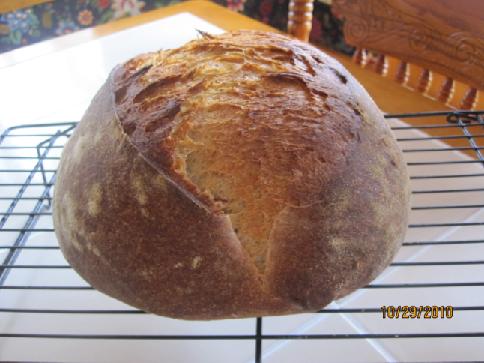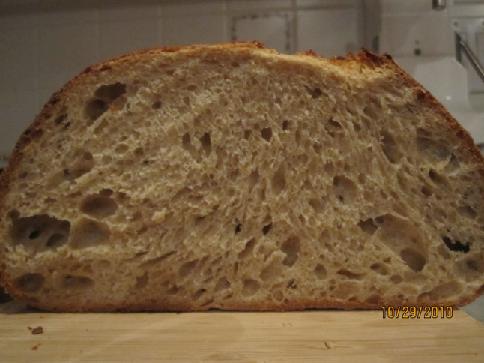 Thank you, Hansjoakim!! 
I am really appreciate for all of you and Floyd who keeps the website peace and safe.   Thank you, everybody.
Akiko