October 28, 2010 - 11:19pm
SFBI Baguettes - Weekend Workshop
Hello,  I recently attended a weekend workshop at SFBI where we made six different kinds of baguettes. This workshop was a lot of fun and we benefited from excellent instruction from our talented, organized, extremely knowledgeable and hard-working teacher Frank!
On day 1 we made three kinds of baguettes (straight dough, sponge dough, poolish dough).
On day 2 we made teff, then wheat germ, then sunflower seed baguettes.
All were good, with the poolish, teff and sunflower seed baguettes being my favorites flavor-wise.
We were using an 11.8%, hard winter wheat flour for these baguettes.
I tried to take pictures showing what the dough looked like as it developed, and showing how the dough was shaped, as we progressed.
Some pictures are a bit blurry due to my poor photography skills, and the speed at which our instructor's hands shaped those baguettes. 
There are some really nice pictures for this baguette class from an earlier post by txfarmer:
http://www.thefreshloaf.com/node/18489/sfbi-baguette-weekend-workshop-photo-report
This was our very well-equipped working area (those OVENS!):
The hand mix, gluten developed after hand mix, gluten developed after machine mix (Frank demonstrated machine mixing for us on the second day)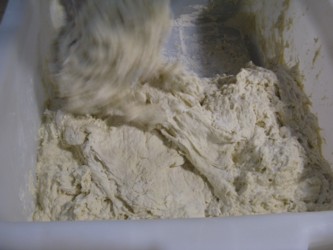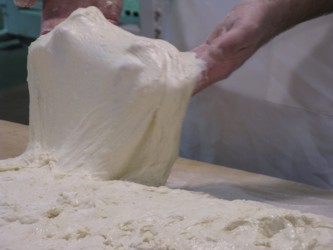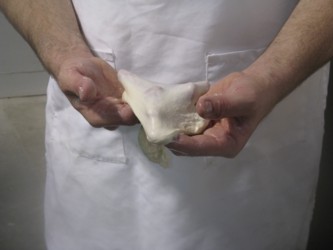 The dough after 3 stretch and folds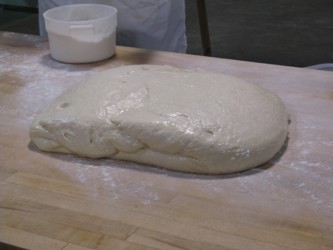 Dividing the dough into square shapes, for preshaping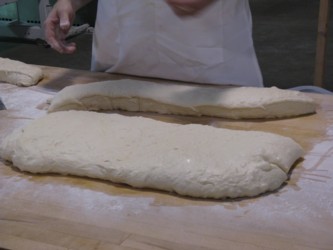 Preshaping (after gently degassing, first roll, then three pictures showing the second roll)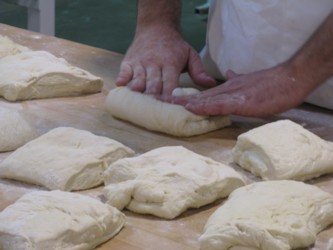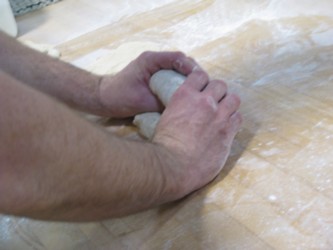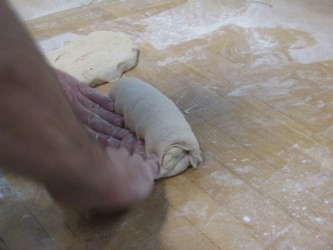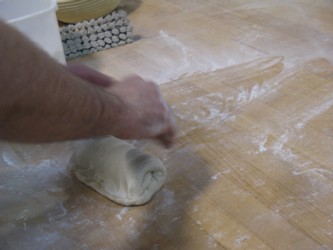 Shaping (after gently degassing, first roll, reversing the roll, second roll, then five pictures showing the last roll & seal)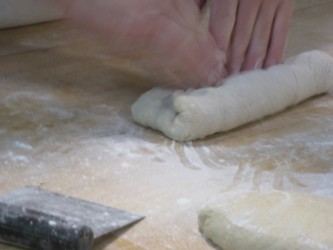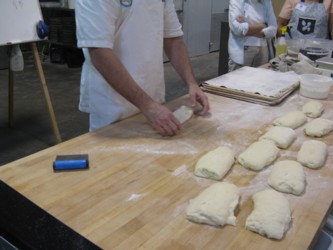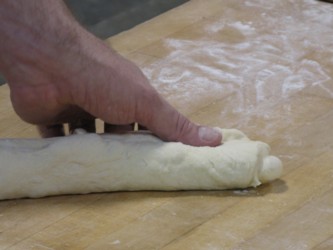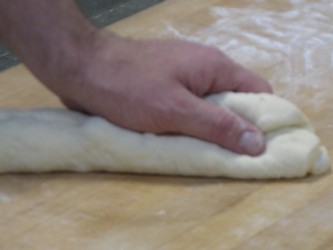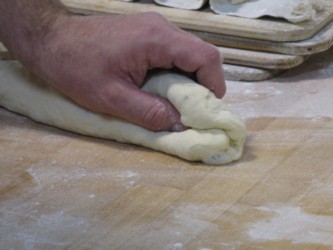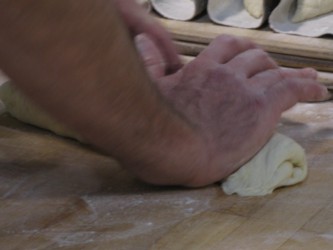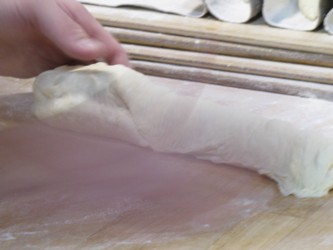 Extending (Frank's hint: press down and move hands outward while rolling, but don't stretch the dough sideways)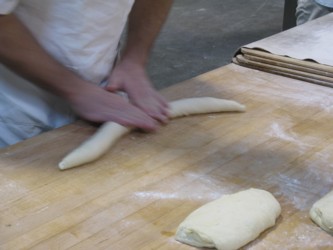 Frank's expertly shaped baguette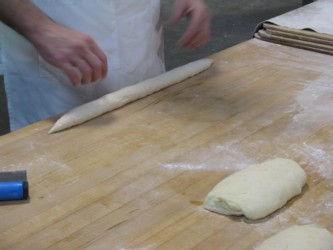 Proofed baguettes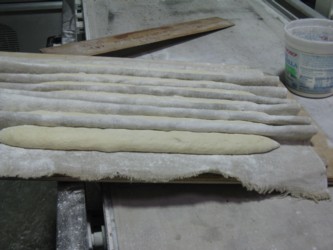 Frank demonstrating scoring and my straight dough baguettes ready to bake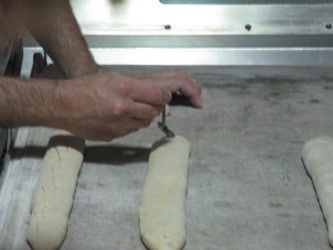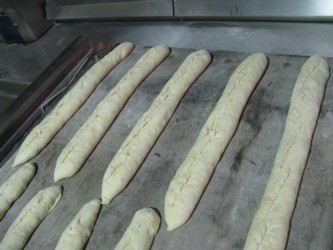 My first baguettes out of the oven!, the results of day 1 and a crumb shot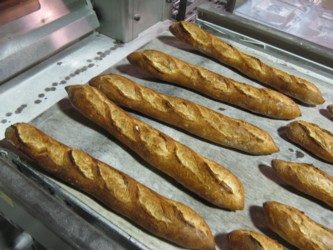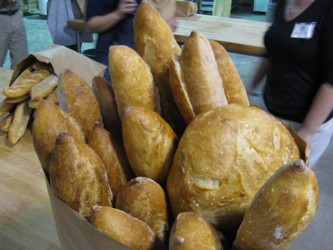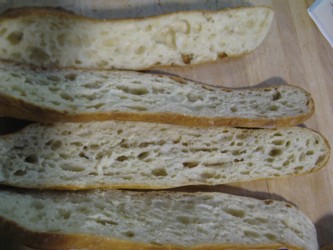 The results of day 2 and a crumb shot (this was a teff baguette)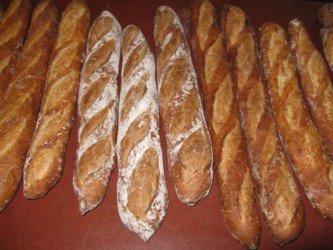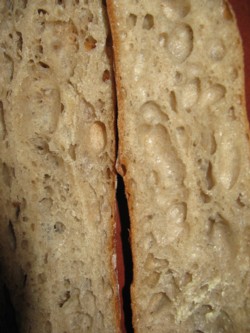 While the dough fermented and proofed, Frank taught us about ingredients and fermentation among other things, upstairs in the classroom.

Frank also demonstrated how we might produce the same baking result in a home oven:
Cast iron pan with cast iron ball bearings heating in the bottom, fire bricks for top and bottom radiant heat, 550F temp!
Load bread, place perforated pie pan filled with ice cubes over cast iron pan, close the door, watch the steam pour out!
(I think Frank tried to plug the oven vents with tin foil but lots of steam escaped from the oven anyway, as the ice melted and dropped onto the hot cast iron)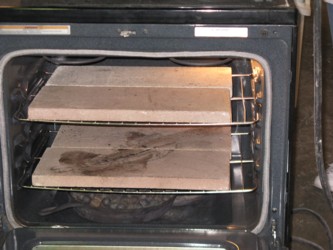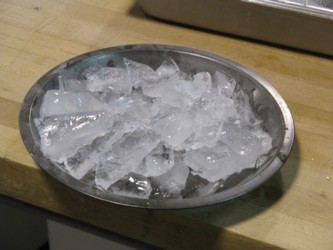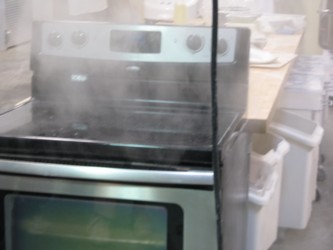 This was a really, really good class. My classmates were all super nice people and enthusiastic learners who all made lovely baguettes!
The quality of Frank's instruction was superb, and thanks too to the bakers who took care of us and spoiled us with beautiful breads and pastries at breakfast, and wood-fired oven pizza for lunch on our last day!  
I hope you like the pics everyone.  Regards, breadsong