October 28, 2010 - 8:32am
Panmarino from The Italian Baker
I just got this book by Carol Fields, and it seems pretty nice.  If anyone has it, I would love to know your favorites.
This past weekend I made "Panmarino"   - very simple recipe, excellent flavor.   My Breville oven doesn't allow me to generate steam properly, so the crust doesn't look as beautiful as it would with a nice steam going, but still it turned out excellent, a real keeper
Here is the recipePANMARINO (ROSEMARY BREAD)
(adapted from Carol Field)
2 tsp active dry yeast
1/2 cup warm water
1/2 cup milk, at room temperature
4.5 T olive oil
1.5 to 2 T fresh rosemary leaves, chopped fine (or 3/4 T dried)
10 g salt
450 g all purpose flour
1 tsp coarse sea salt for sprinkling over the bread
Mix the warm water with the yeast in a large bowl, wait for a few minutes until it gets bubbly. Stir the milk and oil with the paddle blade. Add the rosemary leaves, flour, and salt to the bowl. Mix gently until the flour is moistened, change to the dough hook and knead on low speed for 5 minutes. Remove the dough and knead by hand for a couple of minutes.
Place the dough inside an oiled bowl, cover, and let it rise at room temperature until doubled, about 1.5 hours. Carefully remove from the bowl, shape into a ball, and let it rise for 45 to 55 minutes, but don't allow it to double in size.
As you wait for the final rise, heat the oven to 450F. Slash the bread with a razor blade forming an asterisk on top, then sprinkle coarse salt inside the cuts. Bake 10 minutes with steam, reduce the oven temperature to 400F and bake for 35 minutes more. Remove the bread to a rack to cool, and don't cut it for at least one hour.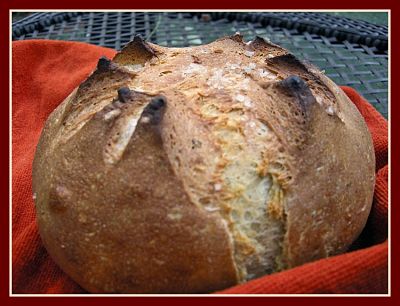 If anyone is interested in a full description, you can jump to my blog here