October 26, 2010 - 2:19pm
N.W. Basic Sourdough @100
Oh the freezer was empty of bread.. I baked up some good old basic sourdough @100.  The recipe from the http://www.northwestsourdough.com  site.  Where Teresa now has her free download book available!
 They turned out nicely, though these loaves tended to get what I considered a little man-handled in the shaping, a dull razor slashing, and some sticking to my woven baskets, the linen ones work fine, no sticking.  I will just have to use more flour/whiterice in by baskets, until I get the midas touch, Txfarmer has it for dusting her baskets....maybe she'll loan me her magic dusting wand ;) Just having a little fun Txfarmer...thank you so much for your helpful advice!
I don't want to carry on about the steaming method I've been using with wet nuked towels in the 2 loaf pans...But Oh Man, I'm so very pleased/happy with the fantastic results and especially how all around much easier this is for me from previous methods I've tried.
Mike said, he loved the flavor and this was his favorite bread...I replied....your just a country sourdough man at heart, ..so many lovely recipes on my to do list for country sourdoughs.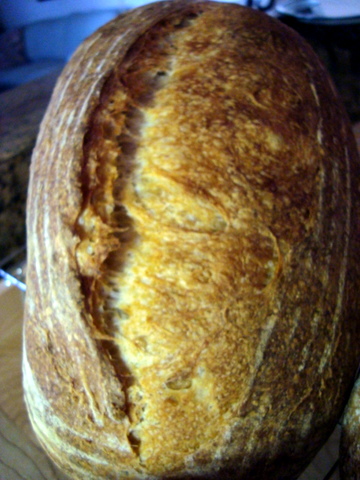 4 - 1 lb. Loaves - one holding up the Oval loaf -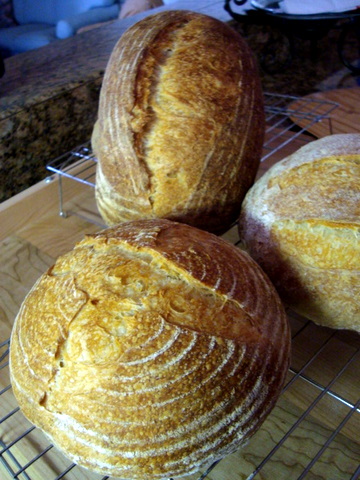 Crust and Crumb with a little bolder bake- IMHO a noticably thinner bold baked crust, crunchy, crispy and a cracks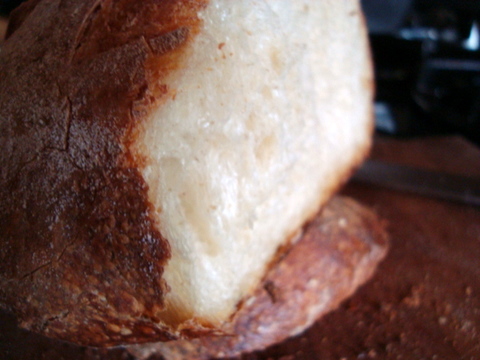 Sylvia