October 12, 2010 - 10:12am
http://www.evatoneva.com/index.php?option=com_content&view=article&id=234:mediterraneanbreads&catid=6:pitki&Itemid=8
This recipe for Mediterrainean Rolls looks really good. I haven't made them yet but I finally have what I think is a good translation to English.The original recipe is at the above link. The amount of yeast looks high so I'd cut that down. The salt looks low but parmesan is salty so it's probably okay. Thought you might want to have the translation.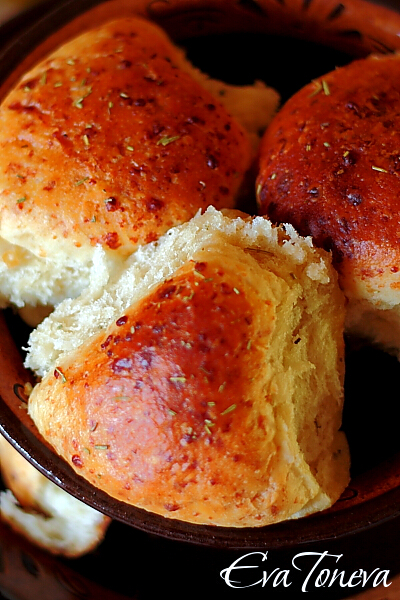 Mediterrainean Rolls
400-450 g flour
300 g  water
100 g Parmigiano Reggiano Cheese
7 g instant yeast
2 tsp honey
1 tsp salt
1/2 tsp rosemary
50 g olive oil (about 4 T)

Dissolve yeast and honey in 150 ml of warm water, cover and leave in a warm place to rise for 10-15 minutes.
In a bowl sift flour and salt, add the finely grated cheese, stir.
Make a well and pour the yeast and remaining water, Knead to a soft dough.
Shape it into balls and place in a greased bowl, cover it with cloth and leave in a warm place to rise until doubled in volume.
Pour the risen dough on work surface, cut it to 8 equal parts.
Shape rolls, place them in greased or parchment paper covered baking tray.
Allow rolls to rise for 20-30 minutes.
Brush them with olive oil, sprinkle with rosemary.
Bake them 20-30 minutes in preheated oven to 350 degrees F.
Mary