Herb and Cheese Pull Apart Bread
This was my bread project last weekend. I really enjoyed making it and it was delicious! I slightly modified the recipe found here. I didn't do the sponge; I added the sponge measurements to the dough ingredients and halved it. Next time I will omit the red pepper from the herb & cheese mixture (the following includes the adjustment). Here is what I did:
Dough:
2 ½ tsp. Fleischmann's RapidRise yeast
3 - 4 ¼ cups all purpose flour
1 tsp fine sea salt
1 tsp black pepper
1 Tbsp Italian seasoning
1 ½ tsp garlic powder
½ tsp crushed red pepper
1 Tbsp parmesan cheese, grated
1 Tbsp plus 1 ½ tsp olive oil
¾ - 1 ½ cup water (3/4 didn't seem like enough. I ended up adding 1 ½ but it was a little too much, next time will try 1 cup)
Mix together yeast and water in a stand mixer bowl. Let set for 5 minutes. Add remaining ingredients (starting with 3 cups of flour) and mix on low speed until combined. Add more flour as needed until dough is soft and slightly sticky. Knead on medium-low speed for 5 minutes. Let rise 1 ½ - 2 hours or until doubled in size.
Herb and Cheese Mixture:
1 cup mixed cheeses (I used Asiago, Parmesan, Romano and Provolone. Truth be known, it was probably more than a cup because the more cheese the better, right? :-)
¼ cup parsley, chopped (I used a combination of fresh and dried)
½ large onion, chopped
2 ½ cloves garlic, minced
¼ cup sundried tomatoes, chopped
1 Tbsp plus 1 ½ tsp Italian seasoning
½ tsp garlic powder
1 ½ tsp black pepper
1 tsp sea salt
1 ½ tsp dried oregano
1 Tbsp pesto
1 ½ tsp truffle oil
1 Tbsp olive oil
Combine all ingredients in a bowl. Mix well, breaking up any chunks.
Assemble and Bake:
Lightly sprayed Bundt pan with non-stick spray (probably not necessary since it's a non-stick pan and you do drizzle olive oil over the top which runs down the sides)
The original recipe states to roll out the dough but I just stretched the dough out a little on a floured surface and cut into equal pieces with scissors. I covered the pieces with herb & cheese mixture, rolled into balls and put in pan until all the dough was used.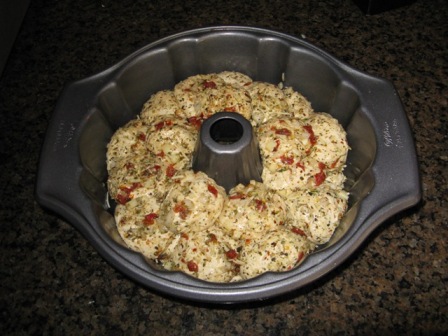 Let rise for 1 hour.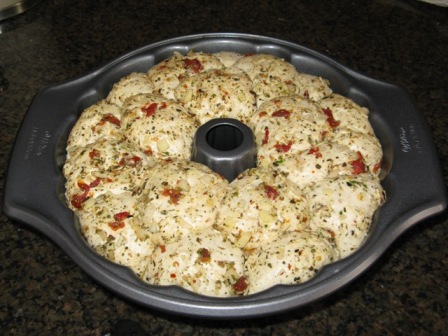 Preheat oven to 400 degrees during last 30 minutes of rise.
Drizzle tops with olive oil. Bake for 25-35 minutes or until browned and crispy on the outside.