Bread, Art, Heritage: Katy and Rebecca Beinart's Work and a Simple White Sourdough Tin Loaf
Picture Triptych: Katy at the community oven 1, Oxford, UK; Bread made by Daisy_A with Katy's starter and sourdough tin recipe, against English lavender; Katy & Rebecca Beinart, 'Borscht and Black Bread', Performance, March 2010. Photo: R Beinart. Live event at Malmesbury Museum, Western Cape, South Africa, with kind permission
I have been baking so much I have a backload of blogging. However I need do justice to this really interesting art project, that centres around bread and baking. 

In May we were privileged to catch up with artist Katy Beinart who was taking part in a festival in a community garden in Oxford, UK. As part of her art practice Katy has been tracing her ancestors' migrations from Russia, Belarus and Lithuania to England, Australia and South Africa via their stories, but also the parallel movement of plants and bread cultures. 

For the festival Katy introduced plants to the garden, which are familiar in the UK but which hail originally from Eastern Europe. These were then linked with the stories of individual family members. Beetroot (Beta vulgaris), for example, represented Moishe/Morris Schreibman, (born 1884, Pinsk, Belarus, died 1929, London, UK). Katy records that he came to London to find work as a carpenter, sailing from Bremmen on the "Sperber" and staying briefly at the Poor Jews Shelter in Whitechapel, in London's East End. He married Sarah Gitovich and they lived off Brick Lane, where he also ran a cabinet making business. Katy notes that Sarah, also known as Zlata (born Gomel, Belarus, date unknown, died London, UK 1975), left her country of birth with an uncle to escape pogroms. She never saw her family or the family dairy farm again and when Moishe/Morris died she brought up 8 children on her own. Sarah was represented by Dill (Anethemum graveolens). 

On the day of the festival Katy was also baking bread in a dirt oven that her sister Rebecca Beinart (also an artist), had built along with community garden members. The loaf baked was a white sourdough tin, from a Eastern European recipe that Katy had sourced. 

The bread baking is a fascinating project, part of Katy and Rebecca's wider recuperation and representation of family ties and migrations on their father's side in the Origination project. More information is available on this link.

As part of the wider art project Katy and Rebecca followed a family migration route to South Africa, taking their 'bread-making suitcase' with them on board the transport ship The Green Cape, crewed by predominantly Polish sailors. They chose to sail because this is what their forebears would have done. The transport carrier was the main type of craft now sailing from the UK to South Africa. Katy used their starter to bake bread on board ship, which the sisters shared with the crew. 

Breadmaking suitcase; Katy & Rebecca Beinart, 'Breadmaking', Action, 2010. Photo: Rebecca Beinart, with kind permission; Rebecca Beinart, 'Sal Somnia Omnit', Action, 2010. Photo: Douglas Gimberg, with kind permission.

Once in South Africa the Beinarts baked and shared bread with newly-encountered family members. In some cases they also tried to recreate meals like those their ancestors may have eaten and ate in the places they occupied, including a bare salt pan that once formed part of a family business!  As part of the continuation of the project in the UK, Katy was facilitating her starter's 'migration' to other bread makers. This is how I came to leave Oxford with a small pot of Katy's starter and a recipe to bake in my own home. 
Rebecca, whose practice links art, ecology and politics also has a project involving sourdough cultures called Exponential Growth. Developed as a commission for the University of Loughborough it charts the local, national and global networks into which Rebecca's Loughborough born starter is dispersed. More information is available on these links Radar Arts and Exponential Growth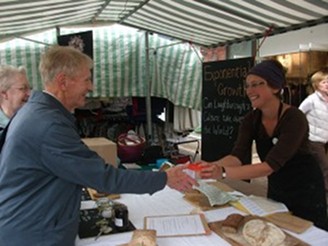 Rebecca handing out starter culture on Loughborough Market; c.Rebecca Beinart/Exponential Growth 2010, with kind permission
Please note: important information on Exponential Growth and an invitation to contribute to a Bread Fair in Loughborough, UK on Saturday 23 October 2010, and/or to contribute to the mapping of the culture's journey as an international baker is included at the end of the blog in bold type. It would be great if some bakers from TFL could take part! Let's push out the boundaries - info on this link  and below.
Reflections
These initiatives seem to me to touch on so many themes on TFL, including the migration of breads, recipes and starters between countries and the way in which bread is such a strong link to memory, family and place. 
It also touches on the question, raised regularly on the board, of the degree to which starters change when transplanted.  Does a San Francisco starter remain the same in Oxford, Toronto, Tokyo, Madrid? Katy noted that her relatively new starter behaved very differently in the hot South African climate. 
The Beinarts' Origination project also delicately raises wider questions about how people change and adapt when they migrate from one place to another, while also striving to retain familiar characteristics and practices  Much of this human culture can also be traced in bread baking practices. What changes, what remains the same? How far can migration routes be traced by the emergence of similar recipes in different countries? How intense is the link between early memories of bread and personal and family histories? 
This last question is something leading bakers also reflect on. Jeffrey Hamelman, for example, recalls 'My earliest memories may be of bread. One of my grandmothers was Polish or Russian, depending on where the ever-changing boundary line happened to be drawn at a given time […] Gram always had bread' (Bread, p. 5). In the opening paragraph of his book Artisan Breads Jan Hedh relates 'My mother made nearly all the breads, biscuits and cakes for the family, and I remember the lovely smell and the wonderful flavours that awaited me as I returned from school'. (p.13)
On TFL bakers also strive to recreate for themselves, friends and family.much-loved breads enjoyed in childhood or remembered from another country. Some bakers share or seek recipes from their countries of origin or foreign countries they lived in when younger. Others reflect on why certain national recipes are well-known abroad whereas other have not travelled, even when their some of their original bakers have emigrated. Bakers also celebrate well-loved bread recipes that have taken root and are developed and enjoyed in a new place: Stan and Norm's project, which I have read about with great interest seems a great example of this. In the best cases the culture just keeps on growing, in all senses of the word.
Baking the bread
When I took on a sample of Katy's starter as part of the involvement of other bakers in this project it behaved very differently to my own. A year after her return from South Africa Katy's starter was much more stable than my own, which were still young and unruly. Whereas my starters tore through dough when well fed on the bench and lay down and refused to move after a stay in the fridge, Katy's raised dough well and reliably and regained strength much more quickly after refrigeration. Katy's starter was kept around 125% hydration. It also had a different scent and flavour, with a keen tang like a good cheese. 
When used to bake the recipe given to me by Katy, the starter raised the dough well and produced an even crumb, aerated with small, well spaced holes. At this point in my baking I had had a breakthrough with using an oven stone and steam to produce a good crust. I also used Marriage's strong white bread flour which I have found to be very good for artisan bread. The bread came out with a strong, golden crust.  The crumb was as shown in the picture at the top of this blog:
The flavour of the bread was milder than I am used to with mixed grain formulae, yet it was pleasant, with a lovely mouth feel. It kept well and we enjoyed it with both savoury and sweet toppings. 
When we met Katy again at a talk she gave at Modern Art Oxford, she added that she was moving on to try rye in loaves, as used in other bread-making traditions in Eastern Europe and that she was happy for bakers to adapt her original recipe. However, given that this was the very recipe that she used while on board ship and in South Africa, I wanted to follow in that line. 
The lean sourdough tin recipe used by Katy and Rebecca is given below: 
Very simple Wheat Sourdough
Makes two large loaves
Stage 1: Evening
200-250g Wheat Starter Culture (use a little less if your culture is very bubbly & active)
450g white bread flour
700ml water
Mix together in a bowl into a sloppy dough. Cover and leave overnight somewhere warm.  Now feed the original starter mix with 150g flour and 150-200ml water to replace what you took out.
Wheat sourdough takes less time than rye. If it's in a warm place, stage 1 can take just 5-6 hours, so you can start it off on the morning and bake in the afternoon if this fits your schedule.
The next morning
450g white bread flour (or add half wholemeal flour
2-3 teaspoons salt
Mix the flour and salt into the existing bowl of dough that you left overnight. Knead it by hand in the bowl – it is a very wet and sticky dough, but it should feel elastic. If it feels too wet, add a little more flour. Work on it for about 10 minutes until it's smooth and elastic. Rest it for 10 minutes. Mix it again for another couple of minutes.
Oil two large bread tins well, then dust generously with flour. Divide the dough and put into tins, they should be just over half full. Cover tins with an upturned bowl, leaving space for the dough to rise. Leave it to rise in a warm place. Depending on the heat and the liveliness of the culture this will take between 2 and 5 hours.
Baking
Once the dough has risen to the top of the tins, you're ready to bake. As you get to know the timings you can be cunning and pre-heat the oven so it's hot at the right time.
Place the tins in the oven at 220◦C/ Gas 7. Bake for 30 minutes. Then remove the bread from the tins and bake for a further 10-15 minutes to form a good crust. The loaves should sound hollow when you tap the bottom. Remove from tins and leave them to cool before cutting.
Exponential Growth
As part of the Exponential Growth project there will be a Bread Fair in Loughborough (UK), Town Hall on Saturday October 23rd. from 2/2/30 p.m. 'Culture caretakers' have been invited to this event to share their breads and to enter a competition in which breads will be judged on 'Regional specificity; Flavour; Appearance; Originality of recipe; Method of passing on the culture'.  
There are currently 93 caretakers but there is still time for more people to join! If you would like to have some of the Loughborough culture and/or attend this event please contact Rebecca on radar.info@lboro.ac.uk
As part of the wider project Rebecca is recording on world map how far the culture has travelled globally. It would be great if some TFLers felt that they could contribute to this part of the project. 
If you are interested please contact Rebecca asap on radar.info@lboro.ac.uk with a mailing address and she will send out a sample, postage paid. The bread baked can be your own recipe, or one that relates to this project in terms of geography and culture. It does not have to be the recipe given in this blog. Of course if you do bake, don't forget to share on TFL!