September 30, 2010 - 1:30pm
Rye Sourdough with Roasted Cracked Wheat - Take II
I'm working on this recipe.
My current state of the art is:
Evening of Day 0


1/4 cup WW flour


3 T water


1 T WW starter


(this approximates 100% hydration starter mix). Let rise overnight.
Morning of Day 1


starter from last night


another 1/4 cup WW flour


another 3 T water


Let rise until about noon (6 hours). Should be Quite Active at this point.
Noonish of Day 1
Toast 1/4 cup + 1 T cracked wheat in dry skillet until Dark Golden Brown, mix with 1/4 cup + 1 T boiling water. Let rest/soak/cool.


starter


1/2 cup rye flour


1/2 cup WW flour


1 cup + 1 tablespoon water


2 tsp salt


toasted cracked wheat mixture


sufficient bread flour to hit a moderately high hydration dough


Knead dough until it starts to develop. The dough will be moist and sticky, if you form it into a blob and grab one end you can lift the blob up off the working surface. Holding it there, it will sag, eventually pouring slowly out of your hands over a minute or two. It's as thick as a Very Thick muffin batter, and somewhat springy due to gluten development. Mine was starting to windowpane, weakly -- I didn't want to overdevelop since the ferment goes on a while.
Bulk ferment for 5 hours, S&F every hour.
Into the fridge around 6pm.
6 am Day 2
Remove from fridge, place somewhere warm. S&F after an hour. Form up a loaf after 2 hours. Proof until done (2 hours in this case). Bake at 450 with steam for 20 minutes, reduce heat to 425 for another 25 minutes. Results: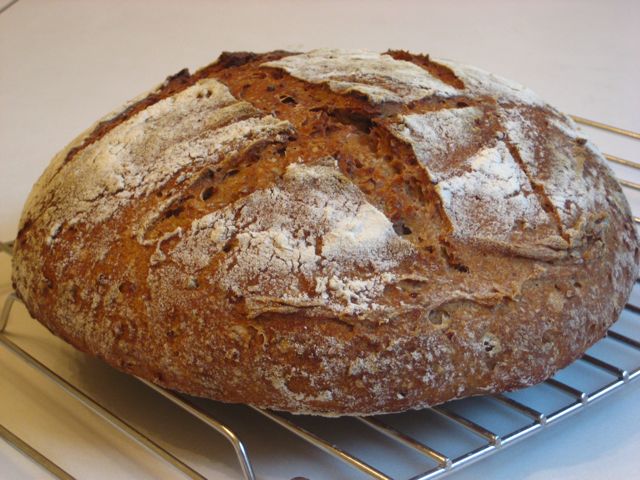 I had good development going in to the fridge in the evening, but it seems to have started to vanish by morning. I feel like the dough was starting to fall apart. The next test will be to follow the same pattern, but aim for mixing dough about 3-4 hours later, so there's only 8-9 hours in the fridge instead of 12. This experiment went off rather better than the previous run (the dough was less sticky, and much more willing to stand up, but the surface gluten network wasn't quite what I want it to be). The flavor and texture are very very similar to the previous result, and the loaf is more staisfying to me, but I feel I have more work to do.
Previous experiment is here: http://www.thefreshloaf.com/node/19856/rye-sourdough-roasted-cracked-wheat