September 27, 2010 - 9:54am
My Best Pizza Crust So Far!
Over the past few years I have tried countless pizza dough recipes on my quest for what I consider the perfect pizza crust. Two weeks ago I tried yet another recipe and although it was the closest one so far, it still was not "the one." Being that close only encouraged me more to continue my search which led me to The Fresh Loaf and more specifically to SylviaH, where I found a picture of exactly what I had in mind, her "Thin Crispy Crust on pizza." Interestingly enough, that particular pizza was made using the same recipe I used that got me the closest but the way I got to Sylvia's pizza was by googling, "bubbly thin crisp pizza crust" so I decided it was the meant to be recipe; however, I needed to perfect it. Since some of the ingredients in the recipe have different options (table salt or kosher salt; bread, all-purpose or high-gluten flour; sugar or honey; etc.), I wrote Sylvia to ask her which ingredients she used to make this particular crust. She promptly wrote me back and provided me with the information I wanted and so this past weekend I made pizzas and I finally got exactly what I have wanted!
These two pizza crusts were made using Neo-Neapolitan Pizza Dough recipe from PR American Pie book with the following ingredients: KAAP, clover honey, fine sea salt, IADY, olive oil and spring water. I mixed the dough by hand; however, during the second mix, I had to mix a little longer than 2 to 3 minutes as stated in the recipe directions. I mixed the dough until it passed the windowpane test. I immediately divided the dough into four balls, let them rest at room temperature for 15 minutes and then put two in the refrigerator and two in the freezer. The next day, I removed the dough from the refrigerator 2 hours before I planned on using it, heated oven to 550F and heated stone on the bottom rack for 1 hour. Rubbed the pizza peel with flour, shaped the dough as Sylvia stated in one of her posts, "…shaped between my two palms and flipped back and forth over my wrists and gently stretched in my hands…," placed dough on peel, topped, baked for 6 minutes, as suggested by Sylvia, placed them on cardboard when they were done and I also brushed the crowns with a little olive oil.
Pizza 1: brushed dough with garlic infused olive oil and topped with Italian blend cheese, provolone, parmesan, feta and pesto sauce. The Italian blend had provolone and parmesan but I had some extra so I put it on the pizza.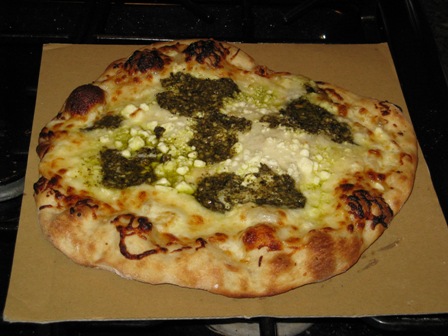 Pizza 2: a little tomato sauce and topped with sausage, Canadian bacon, pepperoni, onions, mushrooms, black olives and Italian blend cheese.
Thank you TFL and Sylvia for helping me achieve my goal of finding the perfect pizza dough recipe! And just in time! Now I can make and store dough in the freezer and concentrate my efforts on other things I usually make around this time of year such as tamales which can take most of a weekend and on some other breads I want to try.
Christi - Oklahoma City, Ok