September 25, 2010 - 11:27am
This weekend, I've tried my first bread from a totally native rye levain, and methinks I dropped the ball somewhere in the production stages.
Here's the 100 levain I made using just water and locally-grown and milled rye.  Based on the 1-2-3 recipe much discussed here, I came up with this formula:
AP unbleached     50
Dark rye                50
Water                 66.667
Levain                33.3333
and these weights for 1000g (2.2lbs) of bread:
AP unbleached   250 g
Dark rye     250 g
Water     333 g
Levain    167 g
Took my levain out of the fridge, fed it and left it at room temp for 11 hours.  Smelled fresh, with just a whiff of alcohol, so I thought it was good to go.  Took out 167g of levain, mixed it with the other ingredients and about 6g of salt, kneaded and left to proof.
After 7 hours, this is all the (alleged) proof I got (rubber band is where it started):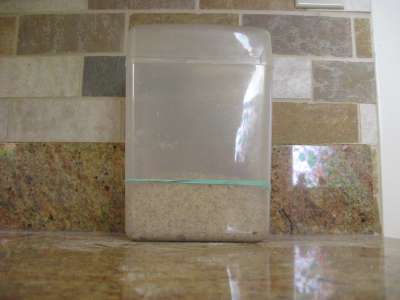 Can you tell what I did wrong based on what I've mentioned so far?  Should I be more patient?  Instinctively, I'm wondering if a bit more water in the dough might make the proofing easier for the levain. 
Any help greatly appreciated.