September 25, 2010 - 8:24am
9/23/10 - Tourte Auvergnate with Rye Sour
Hey all,
Just wanted to share with you this bake from 9/23/10.  It is a Tourte Auvergnate inspired by the recipe in Le pain, l'envers du décor by Frédéric Lalos.  His version is basically 80% rye, and the rest in white flour, which is made into a stiff levain.  I decided to make mine with 75% rye flour, and 25% AP flour.  I made the AP flour into a stiff levain, and then with some of the rye flour, I made a rye sour.  Here's the formula, process, and pictures.  Enjoy!
Overall Formula
750g Whole Rye Flour
250g AP
720g Water
18g Kosher Salt
1738g Total Dough Yield (approx)
Stiff Levain
250g AP
150g Water
50g Storage Sourdough Starter at 100% hydration
450g Total Stiff Levain
Rye Sour
150g Rye Flour
150g Water
8g Storage Sourdough Starter at 100% hydration
308g Rye Sour Total
Final Dough
600g Rye Flour
420g Water
18g Kosher Salt
450g Stiff Levain
308g Rye Sour
1796g Total Dough Yield Approx
Process:
9/22/10
6:30pm - Mix rye sour and stiff levain, cover and let rest on counter.
7:00pm - Put stiff levain into refrigerator.
9/23/10
9:00pm - Weigh out all ingredients, and place into large mixing bowl in the following order, water, levain, rye sour, rye flour, salt.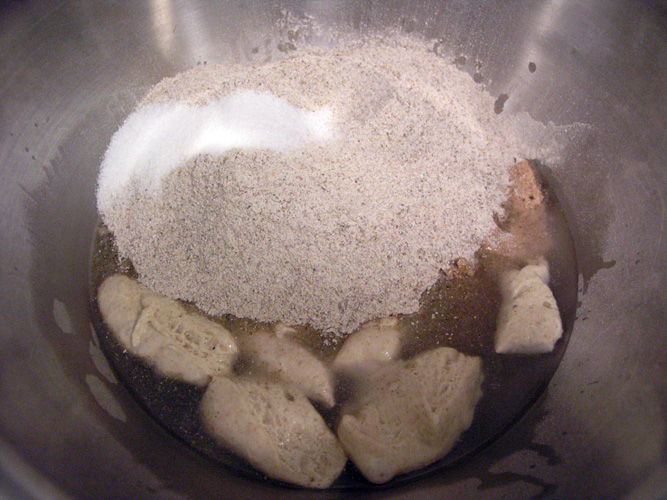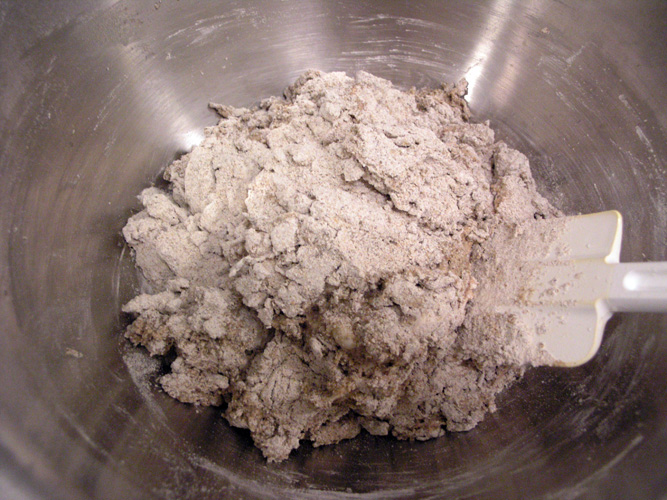 9:15pm - Mix for 5 minutes starting with a rubber spatula and switching to wet hands as the dough gets harder to stir.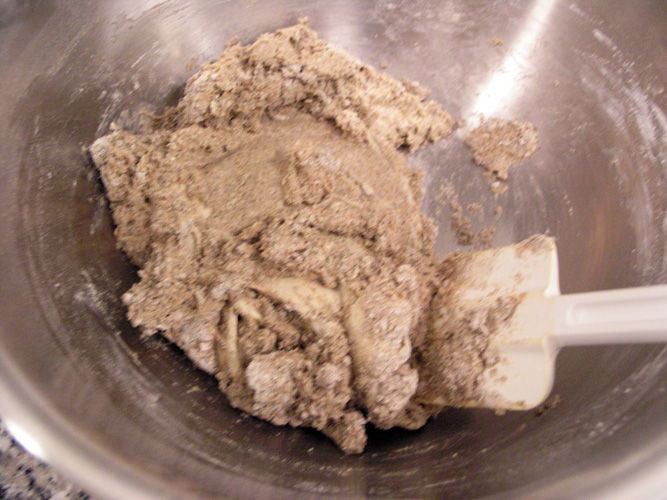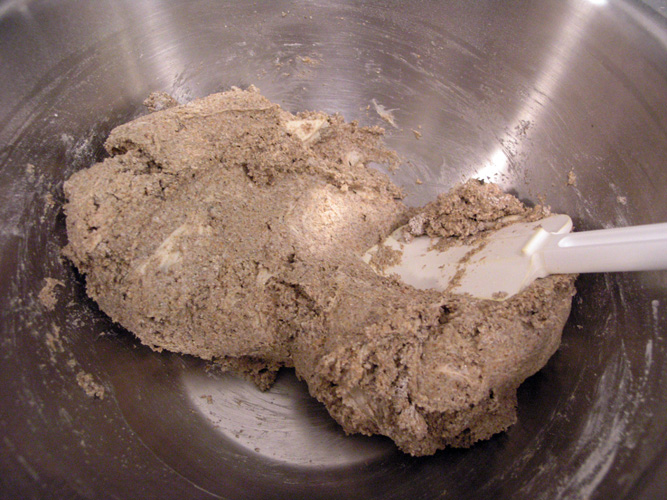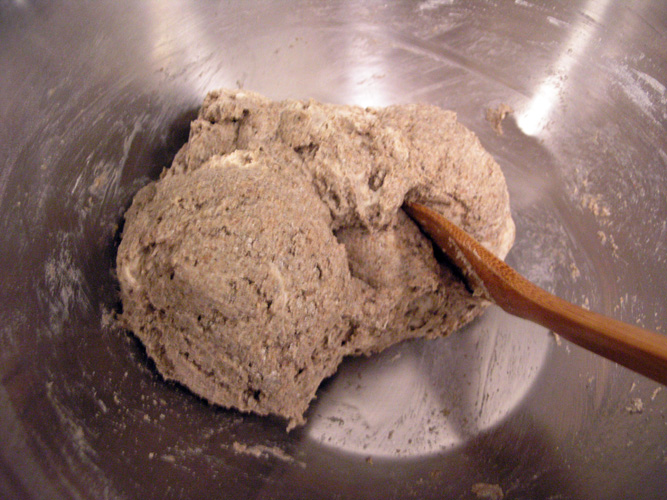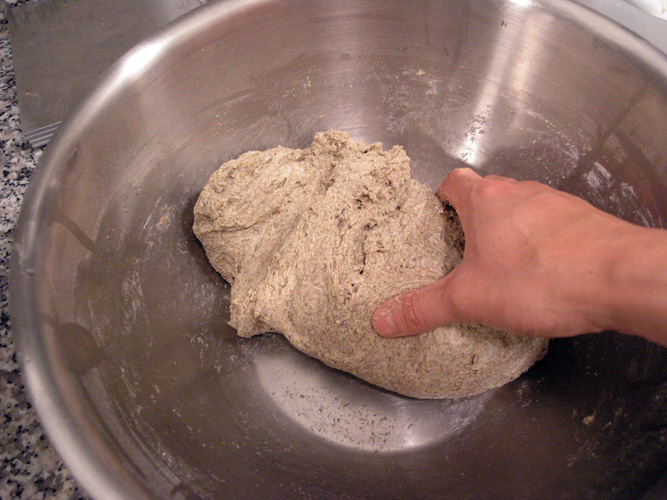 Switch to wet hands and knead dough.
9:20pm - After mixing and kneading, cover and let bulk ferment for 1:30...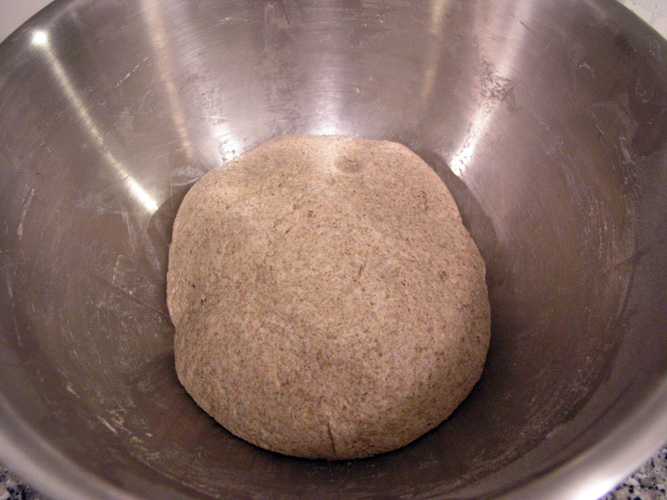 10:50pm - Dough after bulk ferment.  Notice the poke in the top part.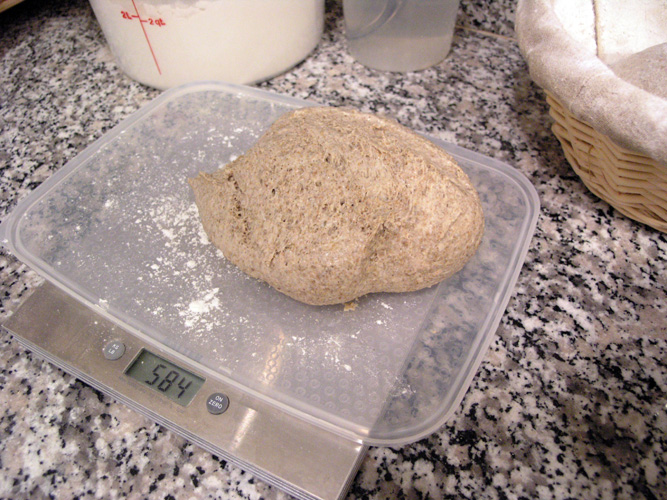 10:55pm - Divide and shape.  I made 3 relatively equal size boules.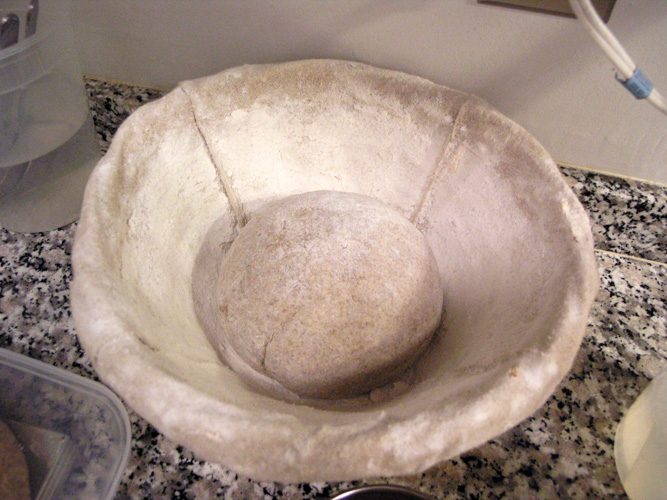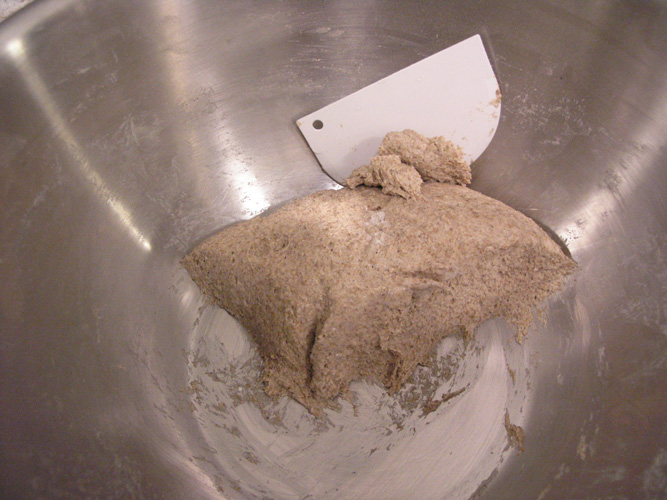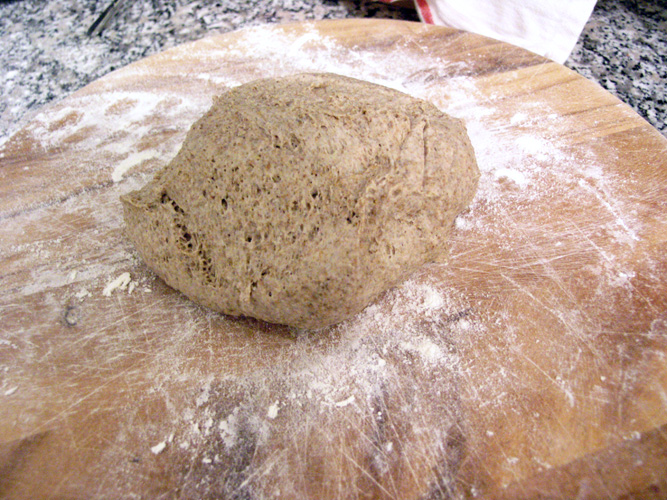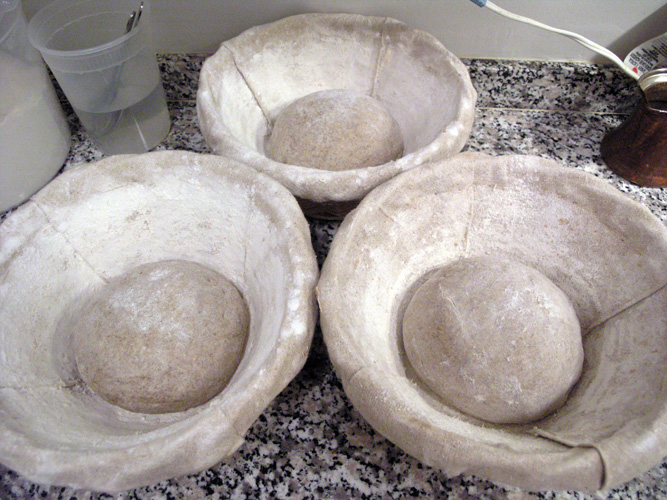 Place in floured bannetons seam side down.
Cover and let proof for 1 hour.  Place 2 baking stone/stones in oven with steam pan filled with lava rocks and water.  Preheat to 550F with convection.
11:55pm - Turn off convection. Turn boules on to floured peel/flipping board and place in oven directly on stone.  When last one is in, pour 1 more cup of water into steam pan, close door and turn oven down to 500F no convection.  Bake for 10 minutes at 500F.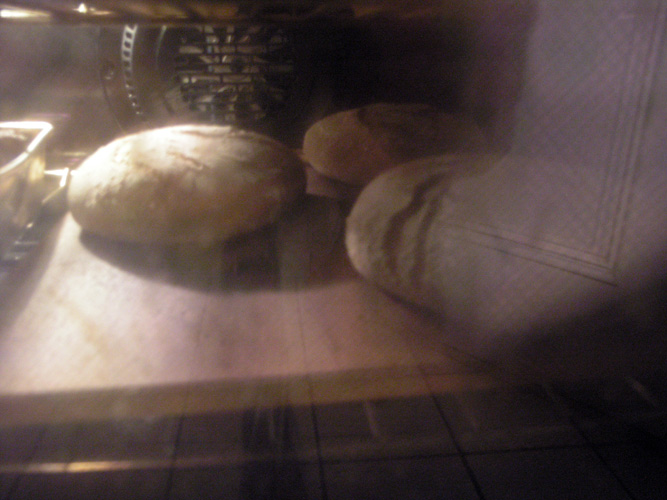 9/23/10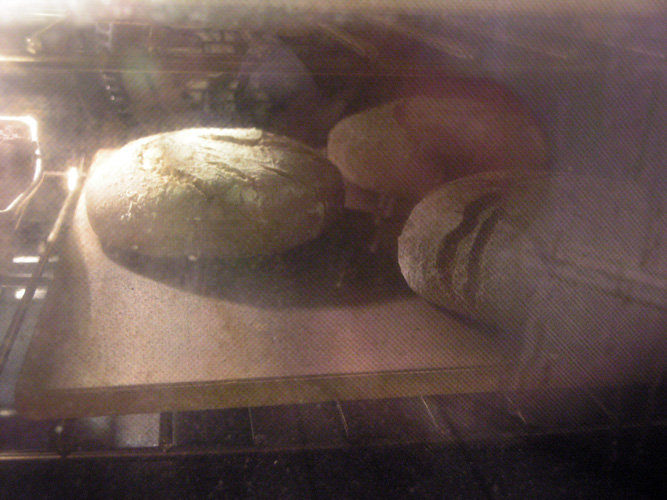 12:05am - Take out steam pan, turn oven down to 420F.  Bake for 20 minutes.
12:25am - Rotate loaves around, or between stones.  I am baking on 2 stones, starting them off on the bottom, transfering them to the top.  Bake for another 20 minutes.
12:45am - Take one loaf out to check weight and internal temp.  Should be at least 15% lighter than prebaked weight, and internal temp should be about 210F.  Turn oven off, and leave loaves in for another 10 minutes.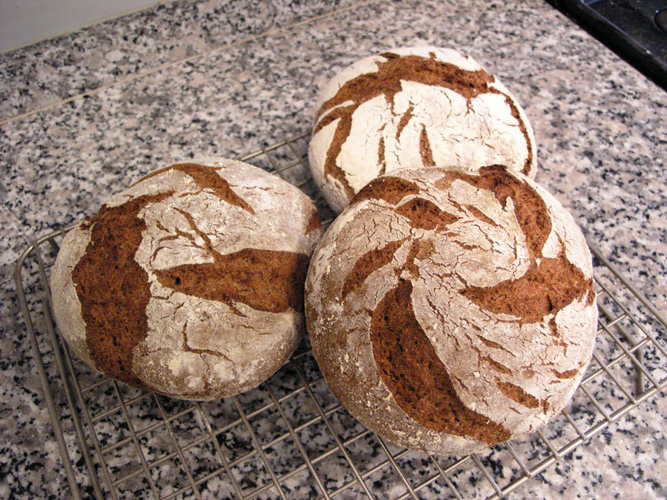 12:55pm - Take loaves out and let cool at least 24hrs before cutting and eating to let the crumb stabilize and dry out a little.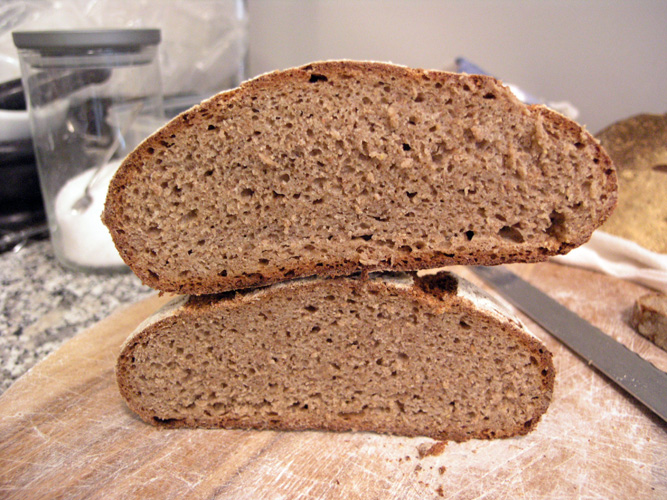 8:00am - I was a little impatient so I cut into one so I could see the crumb...  Slightly gummy as I had expected, but after a little toasting and butter, it was all good...  Enjoy!
Tim