September 17, 2010 - 11:48pm
Back after the long hot (not) summer
First I want to say hello to all of you again after being "away at my summer job".  I've missed you all, and have not even had much time to just lurk, let alone post.  I've purposely held back from posting knowing I could, at any time, be completely unable to follow up or hold up my end on a discussion.  The latest part of Spring and the main part of Summer are my very busiest times of the year, when weeks and even entire months can and do go by without a break.  I've had the liberty of rearranging my schedule some this year so I have had some daylight time off, as a trade for night time on, to get some things done around the house, where I work.  That's the only reason I've been able to continue baking at least, to keep my hand in and the store-bought bread out.
The juggling of my work and off time schedule comes at the price of sleep too often, but it has permitted me to accomplish some baking things I'm proud of.  The biggest one we celebrated just tonight, with:
First Fire!! Woohooo!  The WFO got lit for the first time tonight with a small drying fire.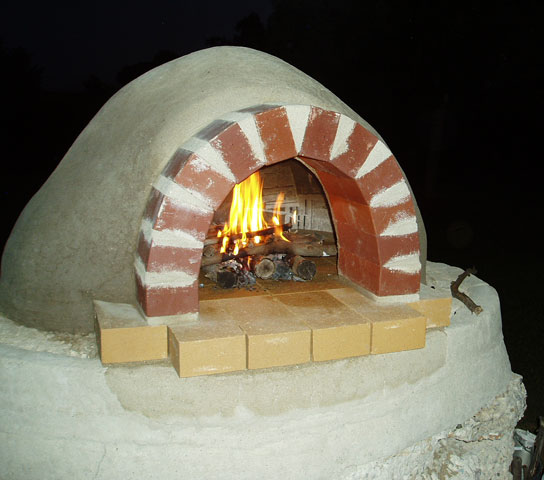 Thanks to a herculean effort the last couple of weeks, and the blessing of a wonderful neighbor who pitched in and helped, my earth oven is nearing completion.  Whenever I've been able to steal or swap for a couple of hours of daylight off duty time I've been working on this, since back in March originally.  Finally the rains quit and I could make some progress, then my "summer job" started and it has been pretty slow going.  I had to get it finished enough to use this winter before the rains come again!  I'm there, and will probably get it insulated in the next couple of weeks.  It must finish drying out first though, and this was just a small drying fire for less than a half hour to speed things along some.  It got things warmed up really well though.
This has been the highlight of my summer, without a doubt.  I've done some baking, of which this (back to front, RLB Beer Bread, RLB Sweet Potatoe bread as dinner rolls, and some of "my" sourdough) is my most recent highlight,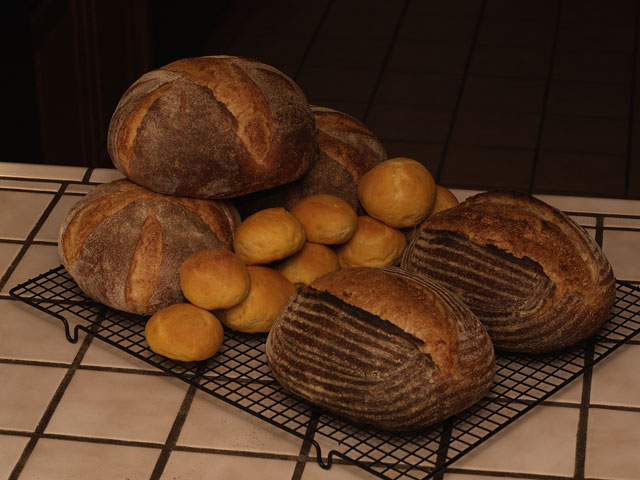 and I continue to explore the world of bread.  This oven will expand my horizons and challenge me even more.  I look forward to it with excitement.
I've many pictures of the entire building process from footing to, yes, first fire, thanks to the diligence and skill of my wife/photographer.  I plan on posting them somewhere (Flicker, or ...?) one of these days when summer is completely behind me and I have time to write the story.  Till then, well, we'll just take it as it comes.  It is starting to come easier as the harvest season here in The Valley heads into the home stretch.
It's good to be back on "The Loaf".  Thank's for stopping by for a visit.
OldWoodenSpoon