September 17, 2010 - 11:05pm
Quiche with the Crust That Won't Quit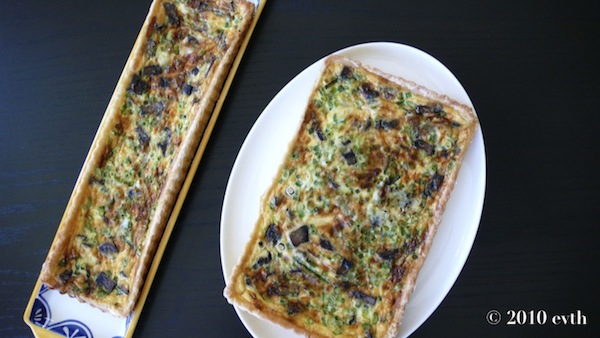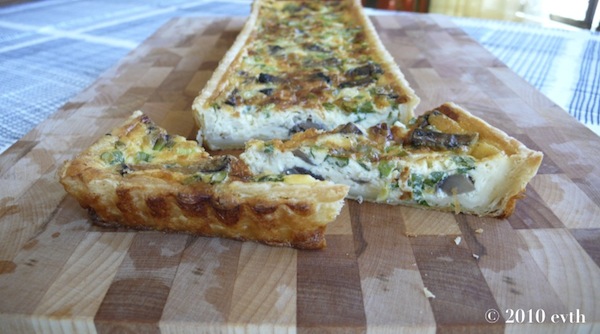 Yes, this is one adaptable pastry dough: genesis - empanadas, second form -  apple pie,  fin - quiche. I have worked this modified version of Cafe Azul's Pastry Dough (see my apple pie blog for the recipe) into so many baked goods. Versatility is the key to a good recipe in my baking heart. It is no wonder that this pastry dough and I were just meant to be.

Since this is a high-yield dough (it is enough for two double crust pies or singles), you can freeze what you don't use. After making the apple pie, I froze two mounds of dough that were left over. The night before I was ready to make the quiche, I thawed the mounds in the fridge and in the morning was able to quickly roll them out for my tart pans with relative ease. I sing praises to thee, my dough of wonder!

As for the quiche, it is a fairly simple recipe. Here is my own adapted set of instructions for the filling, but you can make it your own according to what you have on hand. For example, you can include bacon or ham, drained and chopped cooked spinach, sauteed peppers or onions, etc. Don't get carried away, though. Less is more, in my book.

1) Saute a package of sliced mushrooms (I use baby portabellos)
2) Chop a handful of green onions (3 or so stalks) 
3) 1/2 cup of shredded cheese - use more or less depending upon your fondness for fromage (I use Gruyere) 

For the custard, I like to use Michael Ruhlman's ratio of 3 eggs, 1/2 cup of cream and 1 cup of milk per tart. In a mixing bowl, whisk these together until smooth, salt and pepper to taste, and add a small grating of nutmeg.

After you roll out your dough, arrange the dough in a shallow tart pan. Scatter onto the crust the green onions, cheese and half of the mushrooms. Pour in half the custard, and layer the last of the mushrooms and green onions on top. Then add the rest of the custard, filling the pan up to about 3/4. Then sprinkle on the rest of the cheese. Carefully, place the pan on a baking sheet, and bake in a preheated oven of 400°F for 45-60 minutes, depending on your oven's temperature. When I made my quiche I forgot to use my trusty baking stone, and so the bottom crust came out a bit soft. I recommend that if you've got a stone, place it under your tart pan and baking sheet to ensure a crispy bottom crust. A golden and puffy quiche means that it's finished baking.

Voila!

evth