September 16, 2010 - 8:44pm
9/16/10 - 34 1/2 Hour Cold Bulk Retarded Dough Pain Au Levain
Hey All,
Me again.  This whole baking and blogging thing is a little nutty...  It's something one of those things that's fun, tedious and addictive...  Anyway, let's get on with this post...  How long can you cold bulk retard a dough and still have some good bread?  I've done 24 hours with good and bad results.  How about longer?  Why cold bulk retarding vs cold retarded proofing?  Well, from my experience, cold retarded proofing in a linen lined banneton seems to dry out the surface of the dough, so after baking, the crust becomes thick and tough...  This is my experience.  Also, I have a small under the counter refrigerator that has enough room to bulk retard maybe 4kg of dough in 2 X 4L plastic tubs.  So bulk retardation is my only option short of not sleeping if you've been following my baking schedule these days...
Here's my recipe:
Liquid Levain:
150g White Whole Wheat Flour
50g Rye Flour
50g Liquid Sourdough Storage Starter (100% hydration)
200g Water
450g Total Liquid Levain
Final Dough:
1000g AP
616g Water
30g Kosher Salt
450g Liquid Levain
2096g Approx Total Dough Yield
9/14/10
8:15pm - Mix liquid levain, cover and let rest on counter overnight.
9/15/10
8:00am - Mix final dough (in large mixing bowl put in water first, then levain, flour, salt).  Mix with rubber spatula until shaggy dough forms.  Cover and let rest 20 minutes.
8:25am - Knead for few minutes with wet hands until relatively smooth dough forms, transfer to lightly oiled container at least 4L, cover and let rest.
8:45am - Turn dough in container (stretch and fold), cover, place into refrigerator (40F), go to work.
9/16/10
6:30pm - Come home and take the dough out of the refrigerator and find that it was working on escaping the container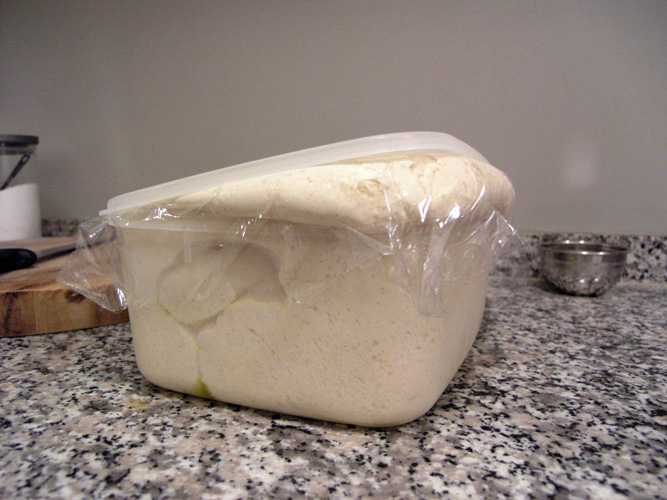 Divide into 2 equal pieces, shape into boules and place into linen lined bannetons and proof for 3 hours.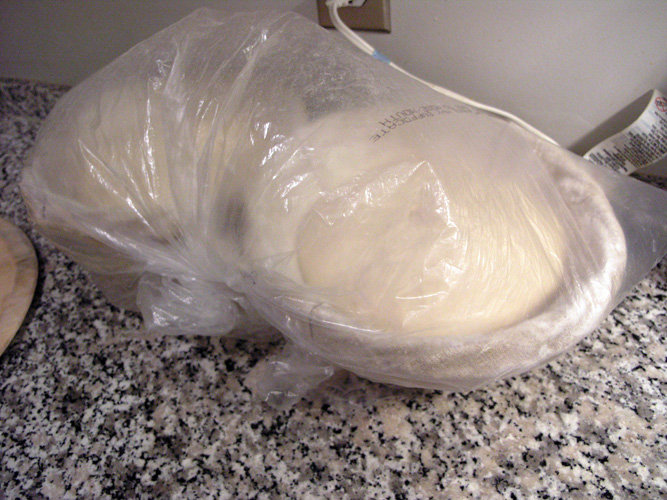 8:40pm - Arrange 2 baking stones on 2 levels, put steam pan in oven, preheat to 500F with convection.
9:45pm - Take bannetons out of plastic bag, lightly flour and give poke test...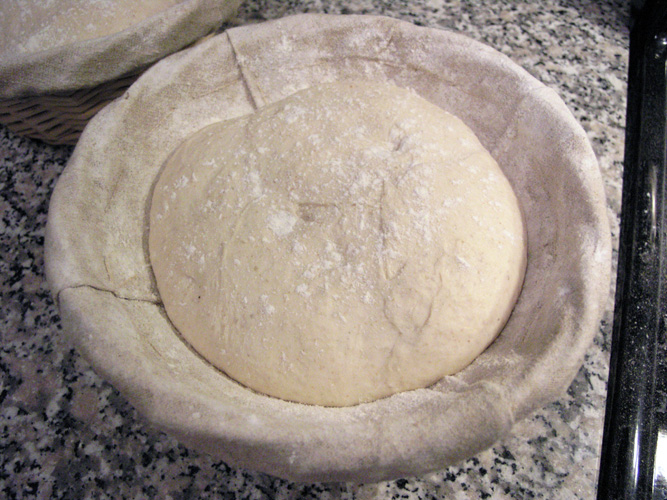 10:00pm - Turn off convection.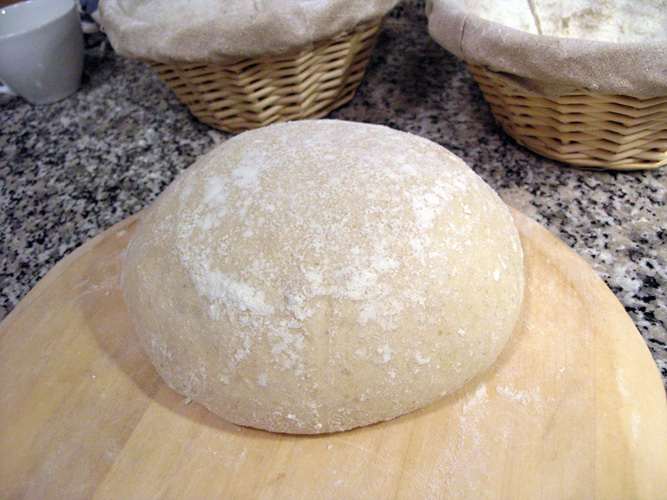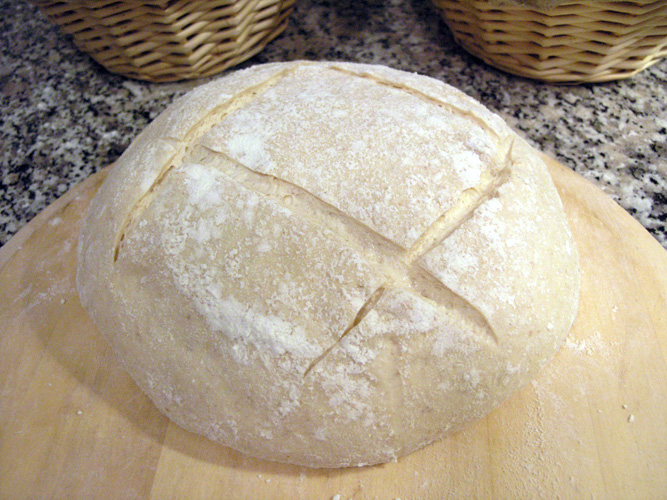 Turn boule out onto a lightly floured peel, slash as desired and place into oven directly onto stone.  When last loaf is in, pour 1 1/2 cups water into steam pan, close oven door.  Turn oven down to 450F and bake for 50 minutes, rotating between stones half way.  Then turn off oven and leave loaves in for another 10 minutes.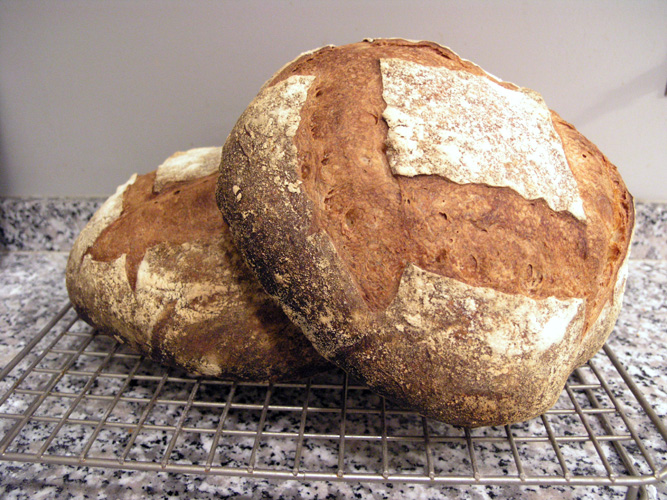 Loaves are done when the internal temp reaches 205F or higher (210F preferred), and they weigh at least 15% lighter than their prebaked weight.  Mine were 1050g before baking, and around 870g after, which is about a 17% weight loss...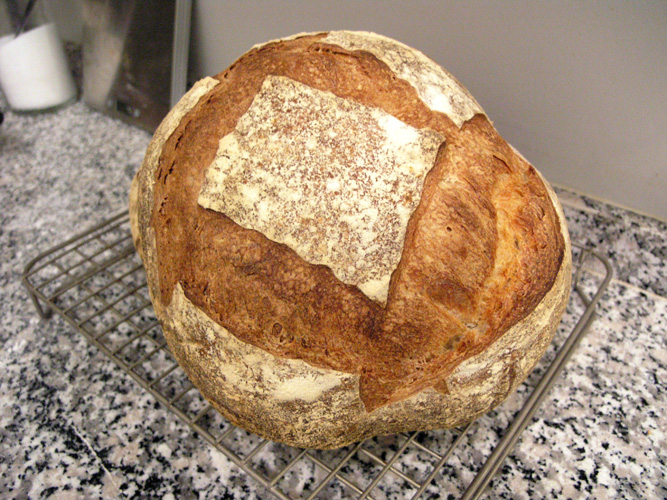 Cool completely before cutting and eating...  Crumbshots tomorrow morning...  I wonder it this is a less stressfull baking schedule...  You tell me...
Tim