September 9, 2010 - 10:33am
I have been baking bread regularly for about 4 years now, since I attended a course run by Richard Bertinet (RB) in Bath, UK.  I generally make white sandwich bread, focaccia and baguettes to RB's recipes and methods but the bread I bake most frequently is a spelt sourdough (200g wholemeal spelt, 200g white spelt, 200g of sourdough starter made to RB's methodology with 7g salt and 300g water as well as 5g ascorbic acid).  Here are a few pictures of my recent efforts.
Two of my spelt sourdough loaves from the same batch of dough, the one on the left was (over)proofed at room temperature (20C) for about 14 hours whilst the one on the right was cold retarded and spent 22 hours in my fridge and was baked straight from the fridge.  Views of the crumb of each loaf are shown below - the loaves are in the same position as the top picture.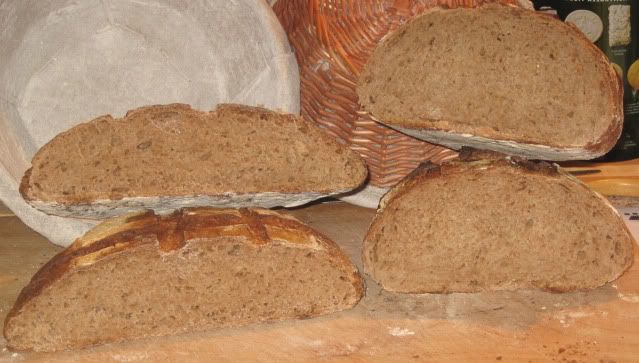 I also produced a loaf using 750g of white flour that I proofed in a new basket bought from a deli in Normandy for 5 euro!
Also, using RB's recipe for focaccia, I made a "pizza bread" for my children (14 & 17).  I don't dimple the top as you would for focaccia but prove it surrounded by a tea towel and spread tomato puree on the top after proving, topped with slices of our own tomatoes and, after 8 minutes in the oven, a good sprinkle of cheddar cheese, bake for another 4 mins then add a good sprinkle of parmesan and bake for another 3 to 4 mins.  The puree "caramelised" a bit more than I would have liked but I wanted it to keep the centre of the loaf moist without adding more oil.  Whatever, my daughters' "pizza bread" loaf was half devoured by my cousin and his wife who visited just as it was cool enough to eat!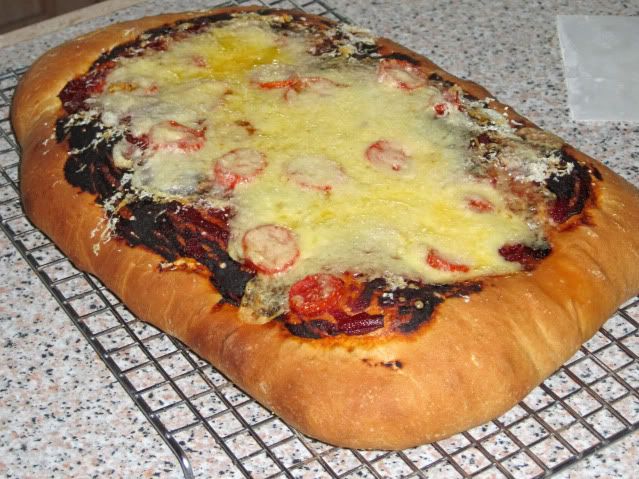 I placed the last two loaves side by side to show the crumb.
I used RB's method of working the dough (although I mix the ingredients in my Kenwood) but I added in a couple of S&Fs along the way.  Hydration on the white loaves was around the 65% level, rather than the 70% in RB's recipes and no cold retarding was used.
I plan to have another go at ciabatta next (again) to see if I can get the open crumb that I like.
Ruralidle