September 7, 2010 - 3:37pm
Cafe Azul's Empanadas Revised
Finally the first blog entry: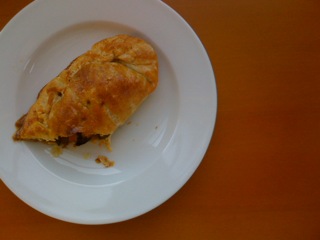 I made these empanadas for a potluck over the weekend and they are well worth the effort. Easy to follow directions and the recipe was flexible enough to be modified. Substituted sweet potatoes, regular 'ol button mushrooms and poblano peppers for the filling and left out the broth. Added some Latin spices too, e.g. oregano, cumin and cinnamon. I made extra filling to use up all the dough. Speaking of, I reduced the butter amount down to 3 sticks which still produced an unbelievably flaky, buttery and tender crust. This dough is fantastic--one of the most stress-free times I've ever endured while rolling out pie dough. Love this dough because it will definitely love being rolled out!!! Makes a great fruit pie too--just tried this, blog entry to come. Lightly brush the dough before baking with a beaten egg wash for a nice golden hue.
As they say in Spanish, Delicioso!
Here's the web address for the recipe:
http://www.epicurious.com/recipes/food/views/Mushroom-and-Butternut-Squash-Empanadas-107182
Bake well TFLers,
evth