September 2, 2010 - 9:08am
Richard Bertinet's Slap & Fold Sweet Dough
Yesterday, I decided to tackle Richard Bertinet's "slap and fold" method of hand kneading after watching his video on Gourmet Magazine's website.  I was extremely inspired.  His motions and his hands make it look easy and in fact, overall, I found that it wasn't difficult to master.
The only problem I encountered was watching the video a few times and then using Gourmets web link to the recipe.  This truly was user error, but I assumed the recipe was going to follow the dough video precisely, and the recipe on the website is modified from the video, so use caution.   In Richards video it shows him using 4 whole eggs, so before I began mixing, I cracked four eggs to let them come to room temperature as I gathered the remainder of my ingredients. 
As soon as I started mixing, I realized my dough was more like a very thick pancake batter, and even though in his video he warns that the dough is wet, it is NOT that wet!! So, unfortunately, I had to more flour in addition to the 3.5 cups that the recipe called for (and yes, I did weigh).  I'd approximate that I added nearly 1.5 cups, or about 7 ounces.
The result after about 15 minutes was nothing short of lovely.  The method of slapping and folding wasn't hard and once I got used to the sticky dough all over my hands that didn't seem to want to come off until the last few minutes of the knead, I was doing well.  It's been a long time since I've felt dough transform with my hands and it truly was a lovely experience.
The dough was great to work with.  I could tell when my dough was kneaded enough.  I noticed good sized bubbles began to appear under the surface, so I tightened up the dough and let it rise.  It rose beautifully after an hour.  I didn't have the fresh yeast his recipe called for, so I used Active Dry and warmed my milk in the mircrowave to around lukewarm.  Not as warm as suggested in the recipe.  Another oversight, but it had no effect on the outcome.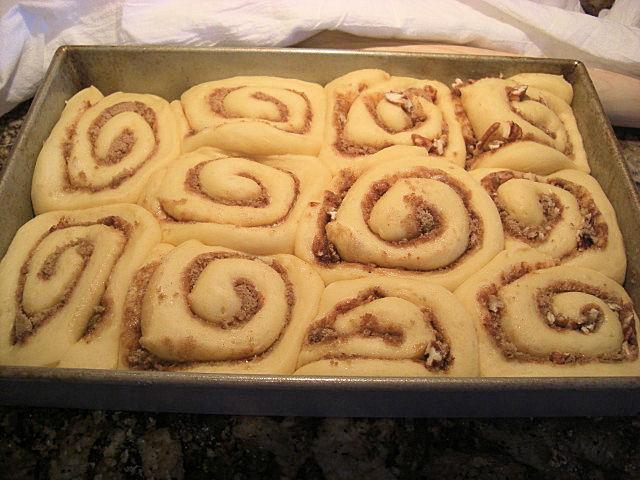 As you can see, I packed them in pretty good.  This was after about a 40 minute rise.  I gave them 20 more minutes as I preheated the oven to 375 F
I decided to make some cinnamon rolls.  We like them slightly gooey on the top, so I not only filled my rolls with butter, cinnamon and brown sugar, but I also melted butter and brown sugar together in the bottom of my pan before filling the pan with rolls.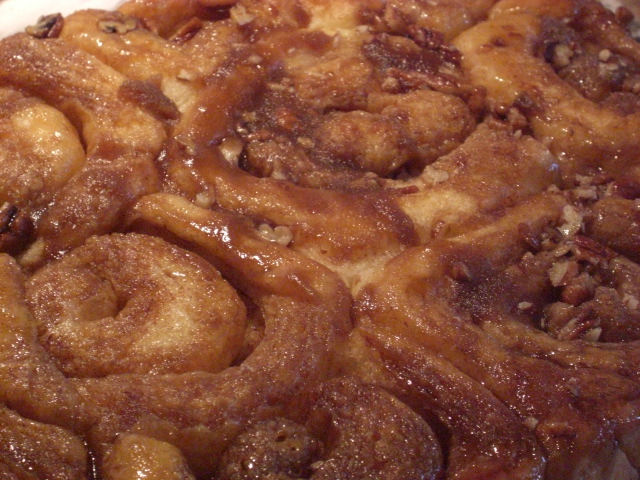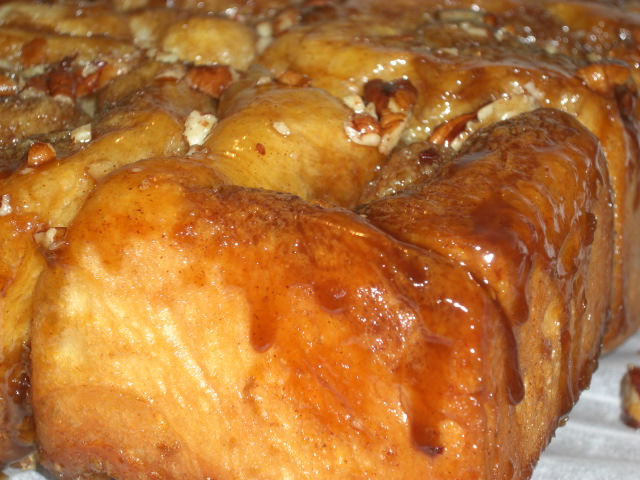 Buttery, carmelization that was slightly crispy, not wet or too gooey
The cinnamon rolls were AMAZING and absolutely breathtaking!  The crumb was feathery light, ethereal and by far, the very best cinnamon roll I have ever had.  I almost made doughnuts using this recipe and next time, I think I will - that is, when I have a crowd.  It makes ALOT of doughnuts, so you could do have in rolls or freeze it.  I was inspired by this blog and her doughnuts using this recipe.  Check them out!