August 26, 2010 - 11:34am
Love this blog and just wanted to share one of my latest creations.
This beautiful braided bread is made with a rich straight dough, layers of pesto and a generous sprinkle of Sumac. 
I made this bread a couple of months ago.  This bread is tender, rich, nutty, salty (evoo, toasted pine nuts and parmesan) and a little sour (Sumac).  This bread requires moderate braiding skills, time and attention.
I have been baking for quite some time now.  I love bread making.  I will gladly post the recipe if someone will show any interest.  I need to translate the recipe into English.
*******************************************************************************
I hope I did a good job translating.  I will be making this bread again in about two weeks.  I will take notes and improve on my writing if needed.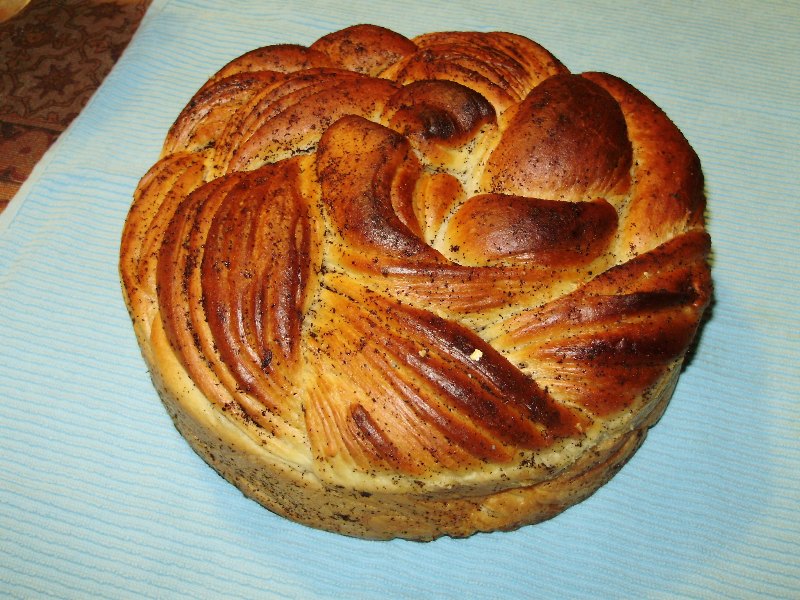 1 loaf
Set oven to 210c (410F)
Prep:
Baking Pan - 26cm (10") springform (no bottom), take a piece of parchment paper and crimp tightly around the bottom of the springform, oil the sides.  Place on top of a baking sheet.  Set aside.
Pesto - I use evoo, basil, toasted pine nuts, parmesan (consistency should be not too thin and not too thick). Keep refrigerated until needed.
Sumac - for sprinkling
Dough ingredients:
AP Flour 600g (21oz)
Fresh Yeast 28g (1oz)
Sugar 10g (0.35oz)
Salt 10g (0.35oz)
Canola Oil 50cc (1.7 fl oz)
White Vinegar 1 tbls
Water 300cc (10 fl oz) this is approximate
Add all ingredients to a mixing bowl, add the water carefully as you start mixing.  Use the
dough hook 2-3 mins. on low speed and 2-3 mins. on medium speed.  Dough should be
supple and not sticky to the touch.  Add water or flour if dough is too stiff or too loose
(respectively).
When dough is ready, spray a bowl with oil and gently put the dough in the bowl.  Spray a
little more oil on top and cover.  Let rise (80%).  My kitchen was at about 22c (72F), 35-45%
humidity and proofing was about 40 minutes.
Lightly flour a work bench or a large table.  Put the dough on top and flatten gently with
your hands.  Use a floured rolling pin to roll out the dough to a very thin circle, as thin as you
can.  When rolling out the dough, try not to lift and move it too much.  You can try and
gently pull the dough to stretch it thin (like bakers do with Strudel dough), this requires some skill.
Apply a thin layer of pesto on top of the dough (leave the edge clear 1/4").  Sprinkle Sumac
generously on top of the layer of pesto.
Slowly, tightly and very gently roll the dough into a roulade (pinwheel ).  You will now have a
very long roulade .  Take a sharp chef's knife (not a serrated knife) and cut (not saw) the
roulade lengthwise trying to keep the knife in the middle so you end up with two equal parts
(you can cut down from the seam but it is not make or break).
Place the two halves crossing each other (open roulade layers facing up) to create and X
shape.  Gently pick up the two ends of the bottom half, cross them over the top half, and
place them back down.  Continue this process, taking the two bottom ends and crossing
them over the top until all the roulade has been used.  You now have a two strand rope
shape.  If for some reason some of the open roulade layers are pointing down or sideways,
carefully turn them so they are facing up.  Gently pinch the ends to seal.
Look at the braid.  If one end looks a little thinner make that your starting point.  If not, just
start from either end.  Slowly and very gently, roll the braid sideways (horizontally) without
lifting your hands from the table.  You should keep those open roulade layers facing up.
Pinch the end delicately.  The end result should look like a giant snail shell or a very large
cinnamon bun.
Lightly sprinkle Sumac on top of the braided loaf.
Carefully pick up the braid and place in the prepared springform.  Keep it flat on the parchment.  The
 bottom of the braid should set nicely.  Cover.
Let rise until the braid hits three quarters the way up the springform.  In my kitchen conditions it
proofed for a little over 30 mins.
Bake at 210c (410F) for 5-10 mins., lower oven to 180c (355F) and bake for another 20-30 mins.
Their should be a decent amount of oven spring.  The bread should rise above the springform edge.
When the bread is out of the oven lightly brush evoo on top and sides.  Let cool on a rack.