Tried to improve crust and crumb and flavour and feel I hit paydirt with this one. It is basically a BBA L'Ancienne with some Bertinet folding, then 3 bouts of S&F spaced 20 min apart,before cold fermenting for 15 hours. Next day, noticed considerable rise in fridge,which I attribute to the S&F-ing, but it still took 4 more hours to warm up and continue fermenting, at which point I divided and stretched into 6 baguettes and one pot bread and proofed baguettes on parchment. 45 min later, slipped onto hot stone. Now here was the radical (for me) departure: I steamed with lava rocks and 3 spritzes, per usual, but used a cupful of room temperature (not boiling) water twice --- right away, and after 3 minutes. The water was stlll there 24 minutes later when I pulled them out of oven, after 1/2 convection, and one-half regular oven, at 455 degrees --- 20 degrees cooler than usual.
Crust was thin and just right amount of chewiness, and though appropriately red wine-dark, very similar in texture to Parisian traditonal baguette. To this point my crust had been a bit too firm and thick. Flavour fit for the gods, thanks to long cold ferment.
It is difficult to see how these could be improved, but of course, there is always tomorrow. Damn, I love this hobby!
ADDENDUM Aug 18: By the way, although it LOOKS like the crust is burned in some spots (in bottom picture), trust me it wasn't. Just a quirk of the dark shadows thrown from my blue-grey cabinet in the early morning light. In fact, here is picture of crust, top view, with blue cheese smothered on. And yes, sometimes I like flouring tops of my rustic baguettes!
I know they say don't spritz-steam while top-floured bread is in oven, but what the hell.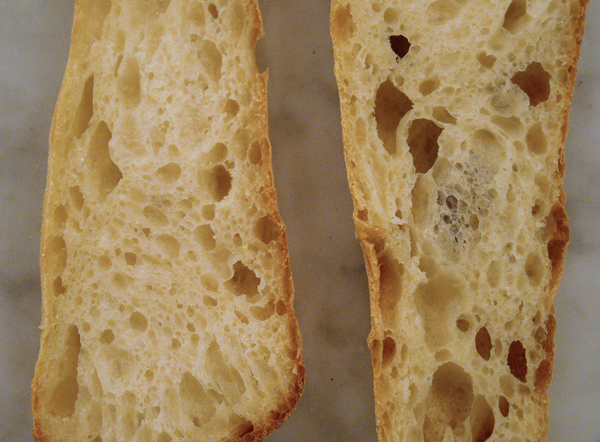 Please, dear Lord, let me duplicate these results at least once before I die.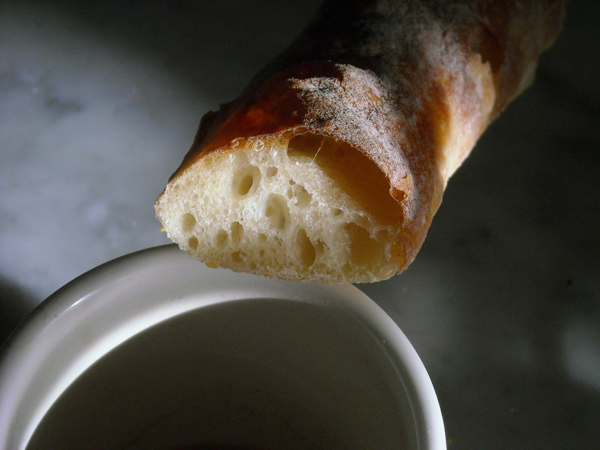 Coffee and baguette: mutually-reinforcing vices