Amy's Bread - Chewy Pumpernickel
Here is the second recipe I've made from Amy's Bread, and my first pumpernickel ever! After having been burned by modifying the methods for the 100% spelt bread recipe (mine ended up VERY sour) in the same book and not knowing what to expect from pumpernickel flour I stayed very close to the original recipe. However, when I put together the final dough, it was absolutely nothing like the description! There is some sort of disconnect here and I'm not sure what it is. The recipe describes a dough that may need to have water added to it a tablespoon at a time if it is too difficult to knead. It describes a dough that should be very easy to handle when it comes time to shape it. My dough was very, very wet and although manageable I would not describe it as easy to handle. I thought that perhaps I measured something wrong, but the final dough weight was in the ballpark of what I expected it to it be after all ingredients were accounted for. My suspicion is that the course pumpernickel flour should have been put in a soaker the night before, as prescribed for the sunflower pumpernickel bread in BBA. My inclination was to make a soaker but I did not because it was not in the recipe as written and I was trying to stay close to the recipe.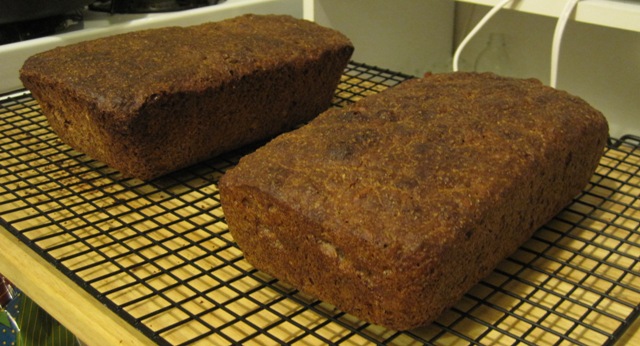 These concerns aside, the bread tastes great! The recipe contains a good portion of sunflower seeds and it really seems to go well with the pumpernickel flour. It has a smooth and nutty flavor (duh!) with a pleasingly chewy crumb and a very crunchy crust. I felt like it would have been great with some butter, but I never actually ate it that way... instead preferring to eat the slices plain but lightly toasted. The crunchy crust was undoubtedly helped along because I brushed one loaf with oil and the other with melted butter because I could not fit both loaf pans under my foil pan. This was the suggestion given in Amy's Bread to achieve even coloration if insufficient steam was causing white streaks on your breads. It certainly worked to get a nice even color on top of the loaves, and I did enjoy the crunch imparted on the crust, but at the same time it made the bread a little "oily" like it had been lightly fried or something like that. I'm not sure I'm so keen on that, so I may not use that technique in the future. Perhaps I'll try an egg wash instead?
Also, the loaves were a bit flat because I over proofed them. It's been quite some time since I've made bread with commercial yeast, and being accustomed to sourdough time tables I wasn't keeping a proper eye on the dough. Before I knew it, they were ready for the oven... but it wasn't even pre-heated yet!! Oh well... the taste was still very nice and that is what is important. My next pumpernickel bread will be from BBA so I can compare the two recipes.