Pierre Nury's Rye as Stick and Boule
| | |
| --- | --- |
| | |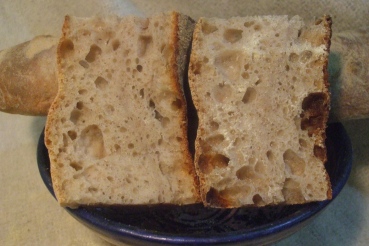 I decided to attempt this bread, which Daniel Leader records in Local Breads, after seeing the beautiful pictures on Zolablue's blog.

After working so hard to shape and steam the barm bread I also wanted to relax about shaping and concentrate on opening up the crumb of the next loaf I made. Made with white flour the barm bread can be open, but I had chosen to make it with quite a high amount of rye for a denser crumb and that much-loved rye flavour. Nury's rye with its rustic shape and lower rye content seemed an ideal bread to make next.

Maybe it's true that we can learn as much from what goes wrong as well as what goes right, even if it's not always so enjoyable? Certainly with my first two sourdough breads there were a lot of obstacles to overcome in order to get good loaves out of the oven!  Looking back, the story of making these breads reads a little like this - baker attempts sourdough bread, baker seems to be losing bread, baker rescues bread - eventual happy ending (phew). Can any other novice bakers relate to this? In comparison baking Pierre Nury's rye was much more straightforward.

The only adaptation I made to the formula was to use dark rye in place of light rye. Since starting to bake sourdough in May I've had to get up to speed fast with the different flours and grains used in artisan baking but wasn't yet aware of the range of rye flours. According to historian E.J.T. Collins, prior to 1800 rye bread was eaten widely in Britain and only 4% of bread was made of white wheat only. However breads made with rye flour are not so common now. Pumpernickel is available in some shops but is generally imported.

So, unused to a range of ryes, I have to admit to my chagrin that my first thought was that 'light rye' meant 'light on the rye', as in 'light on the mustard' or 'hold the mayo'.  Even when I realized that light rye was a type of rye flour I couldn't find any locally, not even at our local whole food cooperative, which carries a very good range of flours. I now realize I will have to look online. In the meantime, having scheduled time for baking, I pressed on with the darker rye. Zolablue notes on her blog that a stick made with darker rye is a different loaf from the original Pierre Nury's Light Rye. I have to agree but it was still delicious and I have baked with the darker rye a second time and again loved the flavour, although  I suspect the loaf may not rise as much. The flours used were from the Dove's Farm organic range; Strong White Bread Flour, Wholemeal and Wholemeal Rye.

I have to attribute success with this bread to Nury's beautiful formula. Although wet the dough handled well. The resulting loaf had a wonderful crunchy walnut crust and an open crumb. The flavour was fantastic! Tardis-like it seemed to have more rye flavour on the inside than might be guessed from a quick glance at the formula. Several bakers have posted on this being part of the attraction of the bread. I'm currently experimenting with different sourdough recipes but when the experimentation calms down I'm sure we could go for this as our weekly or even daily bread. Put it this way I baked two of these sticks in the evening and by the early next morning both were gone...

This was also one of only two sourdough formulae that I have been able to get through a long retardation without the dough losing elasticity. The other is a sourdough adaptation of Jan Hedh's lemon bread.  With a high concentration of sourdough in the initial mix my starters can get going like kittens in the wool box and reduce a nice tight ball to a much looser scattering of chewed gluten strands in a relatively short time. However in the case of both formulae mentioned here the amount of sourdough in the preferment is relatively low.

I haven't included the formula and method as it is given in full on Zolablue's blog and I followed that more or less to the letter. Thanks Zola.

I have just one main reflection on method. Several people on TFL have pondered how to hand mix a dough that calls for 12-14 minutes of initial development by machine until smooth and very stretchy. I obtained a well-developed dough with 20 minutes of continuous S&F on the bench, 10 minutes rest then another 10 minutes S&F, although this can be achieved in a variety of ways as other TFL bakers show.

I have since adapted Nury's formula to make a boule. I read Janedo's inspiring blog on her development of a boule from this formula and was encouraged by that. However I chose to start with a lower hydration dough. Following welcome advice from Andy/Ananda I  kept the hydration percentage in the 60s so I could work on my shaping skills with a lower hydration dough. Nevertheless, writing up the formula for the chart I think it could have gone up as far as 69%. I was also working with re-strengthened starters, which had previously been too acidic and were rendering wetter doughs too elastic to be shaped easily. In fact they were turning some boules into Dalí-like clock faces! This was another reason for trying a less wet dough. Obviously more experienced bakers who prefer to work with higher hydration dough can adjust the formula accordingly but it may suit those wishing to start with lower hydrations. I will also continue to experiment with this formula.

The final crumb was less open than in the unshaped sticks but it was even and still moist. I found I could shape and slash the bread more effectively with a lower hydration dough yet the crust was still well-coloured and crisp. The flours used were Marriage's Organic Strong White Bread Flour and Organic Whole Wheat with Dove's Farm Organic Wholemeal Rye. The Marriage's flour performed particularly well, yielding a nicely-developed, well-flavoured bread.

The process of mixing used was as for the sticks, following the information for initial autloyse, mixing and S&F from Leader as described by Zolablue, with the substitution of hand mixing for machine mixing.

The bread was baked on a stone with steam in the first 10 minutes of baking. I had been using an iron pan which I wet with half a cup of water before baking. However my domestic oven was struggling to get both this and the stone up to temperature. Since I replaced this with two much smaller fajita pans, one on each side of the oven, the steaming has been great.

The rye formed a slightly lower percentage of the overall flour in this formula and the rye taste was less prevalent than in the original sticks. However the mellower taste suited the boule and the bread was still extremely flavoursome.
Crust and Crumb

The formula below is for a 845g boule at approximately 69%  hydration once flour and water from the levain are accounted for. (I hope this is correct. As said below, any maths corrections accepted gladly. I have left in some of the 'working out' in the last column'. I've been enjoying doing the maths but it's testing me!)
Total Formula

Weight


Weight

Marriages organic white strong bread flour


449g


 (397 + 7 + 45)

Marriages 0rganic wholemeal flour


37g

Dove's Farm organic wholemeal rye flour


10g


 (7 + 3)

Water


342g

 (310 + 8 + 24)
Salt


7g


Total

845g

 
I estimate the hydration at 342/496 = 69% once the levain is factored in

| | | |
| --- | --- | --- |
| Levain | Weight  | Weight |
| Original stiff levain | 34g (approx. 11 water, 12 white flour, 11 wheat flour) | 23g (7, 8, 7 in final 94g) |
| Marriages organic strong white bread flour | 71g |  45g |
| Marriages 0rganic wholemeal flour | 4g |  2g |
| Water | 37g |  24g |
| Total | 146g | 94g |
Final Dough


Weight

                     


Marriages organic strong white bread flour

397g


 
Dove's Farm wholemeal rye flour


37g


 
Water


310g

Salt


7g

Levain


94g


 
Total

845g