I heart Macarons (updated 3rd July 2011 with Rosewater Buttercream Macarons)
My recent obsession with Macarons. No actually, I've been obsessed with Macarons for quite sometimes...but my first attempt at making macarons was a total disaster. So much so that I dreaded making them again. It took me another year to come up with enough courage to give it another try.

I still remember the first time I bit into my very first macarons. It's from a french patiserrie in The Rocks, Sydney. It's passionfruit macarons...and it just taste sublime and so heavenly....umm macarons, my new best friend.

My first attempt making hem was absolute disaster. The batter was too runny. They weren't cooked. They stuck to the paper. They were all broken. It simply put me off making them almost forever.

Somehow, I regained my urge to try making them again....this time around with better luck, better tools, better educated. I must say that macarons are not that difficult to make.

I found some similarities between making bread and macarons. Both are consisted of basic ingredientsthat always presents in them. Bread --- flour, water and salt. Macarons --- almond meal, egg whites and sugar. Both start with the basic and you can improvise and let your creativity guide you...to develop flavours that you like.
 
Both are quite technical..that if you get the basic technique right....you can almost always get the predictable result. Both taste sublime and both are my two favorite things in baking arena. And my life would be miserable without both of them:)
My journey so far.....

First attempt (second attempt actaully, after the very first disastous one)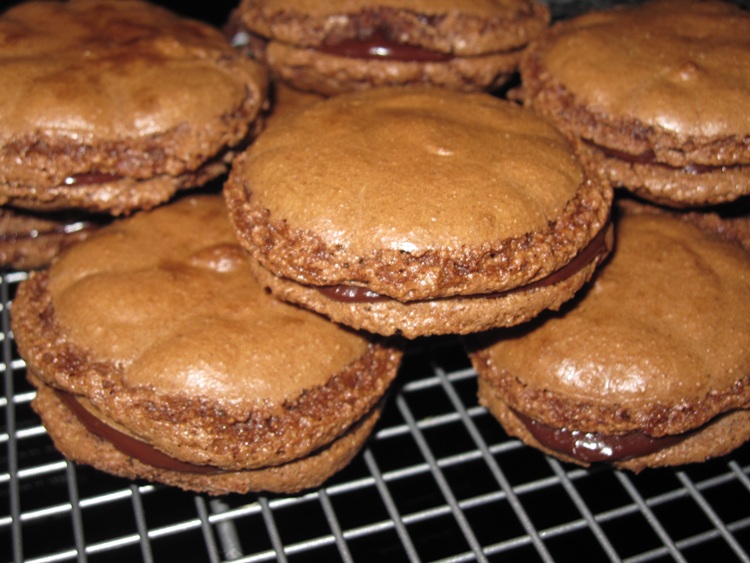 Second attempt....lemon macarons with lemon curd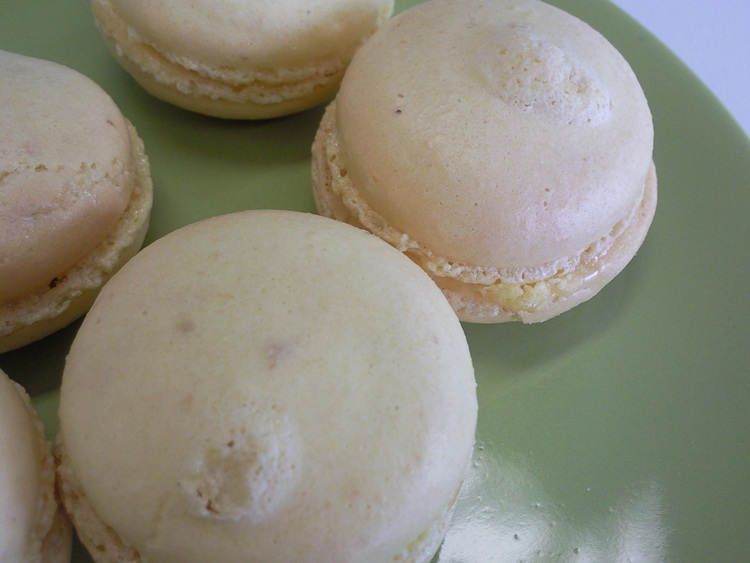 Third attempt....rosewater macarons with white chocolate ganache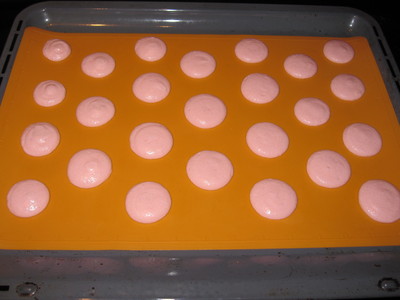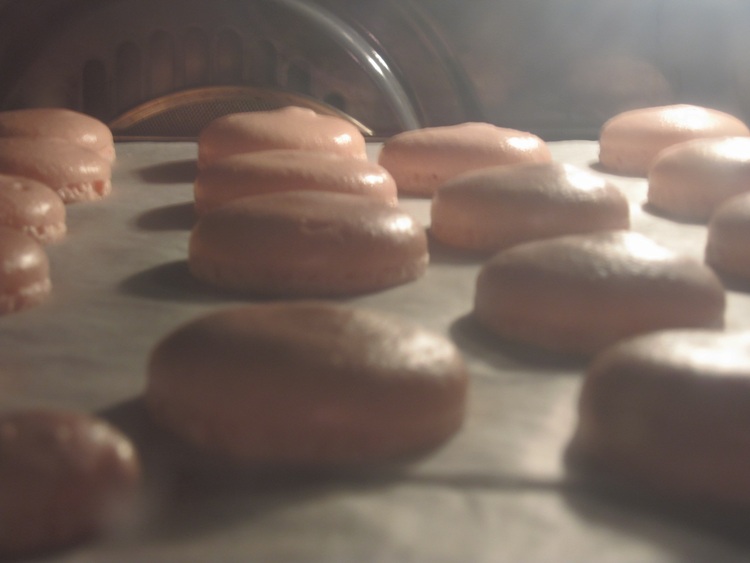 slowly rising and the feet slowly appearing
 resting before being sandwiched together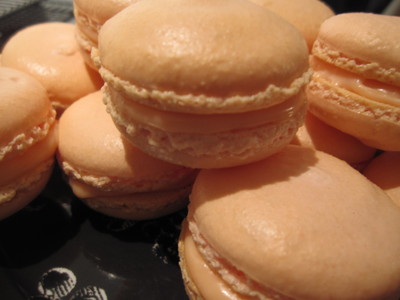 and say hello to my little friends:)
Update 12/11/2010
For more information and reading about Macarons you can visit my three posts below:
- Basic Macaron Recipe using French meringue technique - a simpler French meringue technique where sugar is gradually mixed into whipping egg white.
- Basic Macaron Recipe using Italian meringue technique - a little more complex method where cooked sugar syrup is gradually poured into whipping egg white. More tools and processed involved, but the result is more predictable and give shinier crust.
- I heart Macarons - my  macaron adventure & journey and love affair with Macarons
Latest concoctions: updated 3-July-11
Rosewater Buttercream Macaron - Macarons with rosewater Swiss buttercream (made with egg white). It was light, delicate and very fragant.
Recipe and full post is here.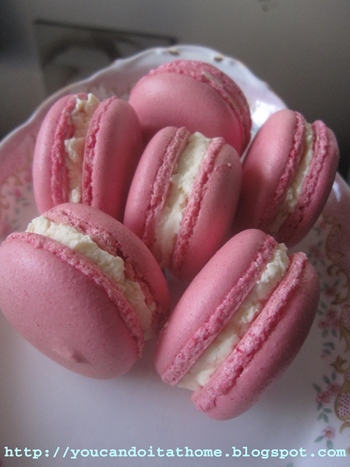 Toasted Coconut Pandan Macaron - French macaron with Asian flair - macaron with toasted coconut pandan chocolate ganache filling
Recipe and full post is here.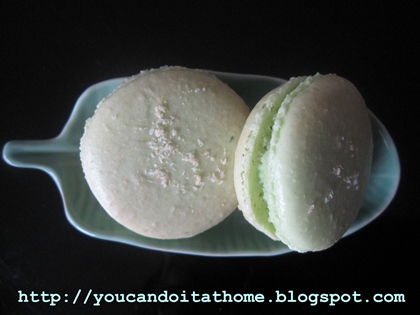 Lemon Cheesecake Macaron - Macaronwith slight tart lemon curd and cream cheese filling.
Recipe and full post is here.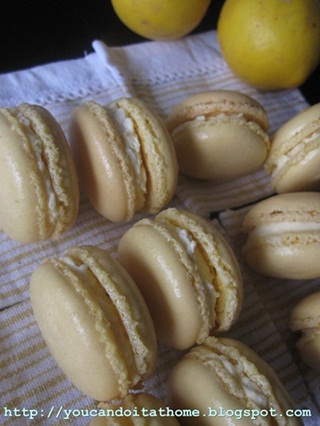 Pistachio Buttercream Macaron - A French classic flavour with ground pistachio macaron shell and pistachio buttercream filling. 
Recipe and full post is here.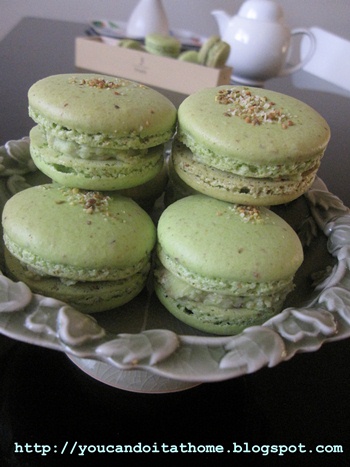 Passionfruit Macaron - Pairing coconut and passionfruit together, with coconut in macaron shell and passionfruit milk chocolate ganache. The sweet & toasty flavour from coconut matches well with subtle flavour of passionfruit. It was the first macaron I ever tasted, passionfruit macarons. Another bite of this macaron made me relive that special moment. 
The full post and recipe is here.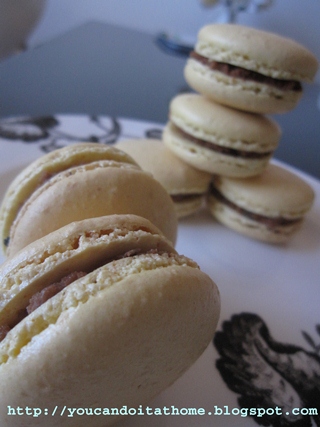 Blueberry Cheesecake Macaron - Combining two of my greatest loves in one bite, Cheesecake & Macarons, nothing can go wrong (for me anyway). The macarons are filled with blueberry cream cheese filling. It's heavenly...my mouth is still watering thinking about it:) The full blog post and recipe is here.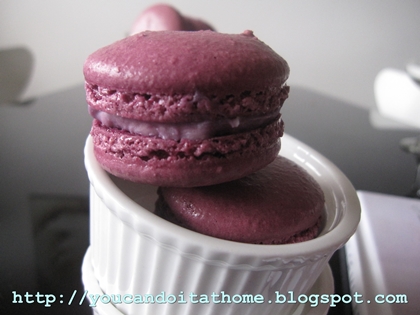 Cherry Ripe Macaron - Macaron with coconut in shell and the cherry-coconut-chocolate ganache as a filling. Coconut smells heavenly when baked and bitten. The recipe and more photos are here.
Black Sesame Macaron - One of the yummiest macaron I made so far. The shells were made with mixture of almond meal and ground black sesame seeds, which provides fantastic aroma and the nuttiness of sesame seeds. The filling was also made from ground black sesame seed mixed with white chocolate ganache. Recipes and more details is here.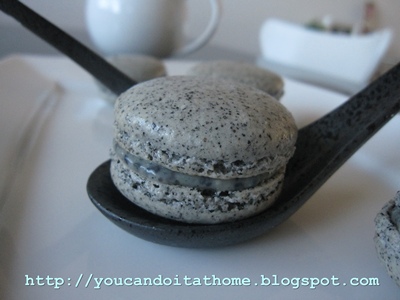 Salted Caramel Macarons - Really what can go wrong with caramel, that heavenly caramelised sugar with cream and butter. And with a little bit of salt, sandwiching the almond meringue cookie together. It's pure heaven! Recipes and more details is here.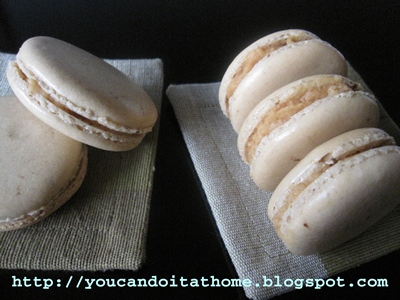 Raspberry Chocolate Macarons with hearts - macarons with raspberry chocolate ganache fillings, chocolatey with subtle raspberry flavours. The shells were sprinkle with sugar-hearts (cup cake decorations). They'll make a perfect treat for your Valentine's.
http://youcandoitathome.blogspot.com/2011/02/raspberry-chocolate-macarons-with-heart.html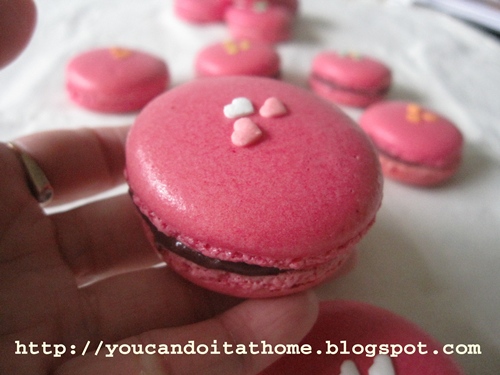 Heart Macarons with Strawberry Buttercream - First time I tried making macarons into other shape. Instead of the usual round macarons, I did them in heart-shape and fill it with strawberry buttercream filling to celebrate the upcoming Valentine's Day. But well, we ate them all a week before the day. I guess everyday is a Valentine's Day:), everyday day is a macaron day! For recipe and how you can make a heart shape macaron, you can follow below link:
http://youcandoitathome.blogspot.com/2011/02/heart-macarons-filled-with-strawberry.html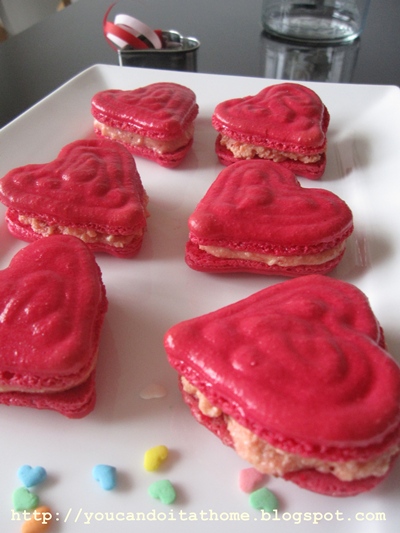 Orange Macarsons - Red macarons filled with orange cream filling to celebrate Chinese New Year.  Combining two auspecious things together (Orange for wealth and Red colour for good luck), I was hoping to get into the Chinese New Year spirit and welcome good fortune into the new year:) For recipes you can follow the link below:
http://youcandoitathome.blogspot.com/2011/01/orange-macarons-filled-with-wealths-and.html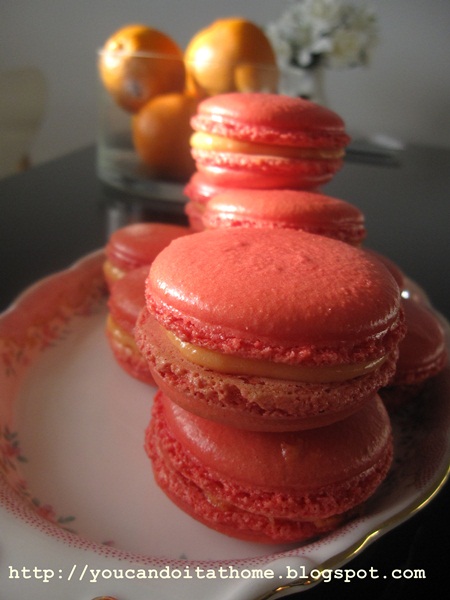 Rosewater Macarsons - Rosewater is simply a beautiful flavour and it matches the delicate texture of macarons perfectly well. I found floral flavour to work really well with macarons and rosewater is no exception. For recipes and more photos, you can follow the links below.
http://youcandoitathome.blogspot.com/2011/01/rosewater-macaron-seriously-beautiful.html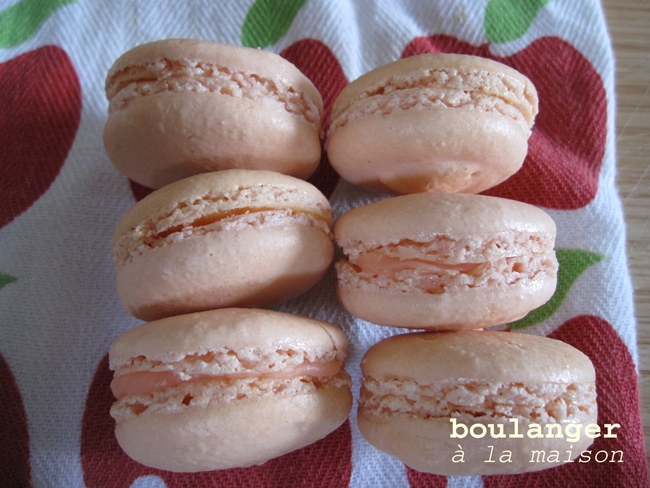 Red - Raspberry buttercream macarons - another macaron follow-up for Christmas series macarons, RED with raspberry buttercream filling. It is so delicious and has now become my most favorite! You can find more details and recipe by following the link below:
http://youcandoitathome.blogspot.com/2010/11/christmas-series-macaron-red-raspberry.html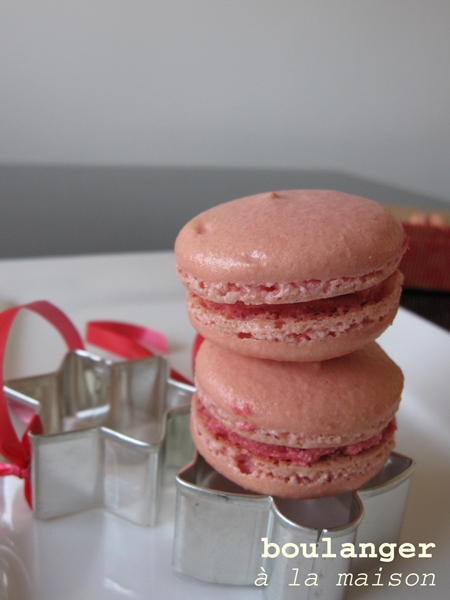 Orange blossom macarons  - macaron filled with orange blossom white chocolate ganache. It has a sweet and distinctive aroma from orange blossom. I find the floral flavour works quite well with macarons. You can find more details and recipe following the link below:
http://youcandoitathome.blogspot.com/2010/11/evoke-your-senses-with-orange-blossom.html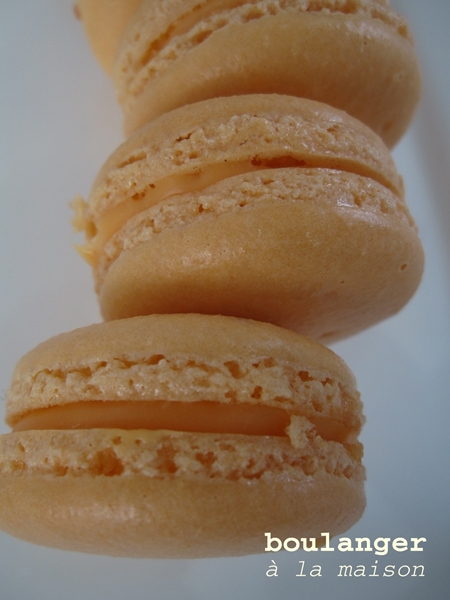 Dark chocolate mint macarons - Let's get festive with candy cane macarons filled with dark chocolate mint ganahe and crushed candy cane sprinkle. It has a strong minty flavour that is perfect for aftermeal treat. For recipe, you can visit http://youcandoitathome.blogspot.com/2010/11/christmas-macarons-chocolate-mint.html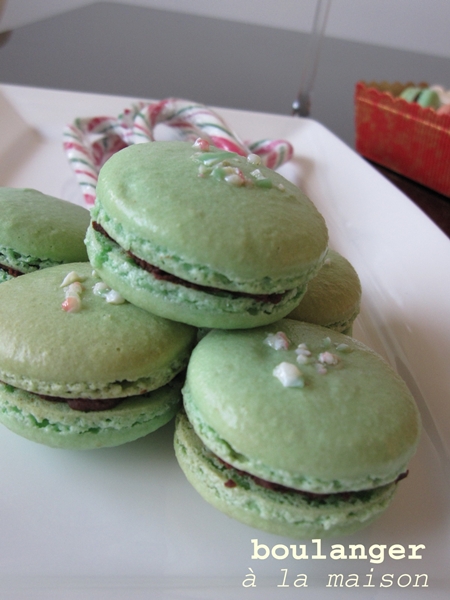 Jaffa macarons: macarons with orange dark chocolate ganache - macarons filled with my favorite chocolate flavour, dark chocolate and orange. This is one of my favorite. The bittersweet orange marmalade works really well with chocolate, as well as the macaron shells. I mix my homemade marmalade through chocolate ganache for the filling.
You can find the recipe here ... http://youcandoitathome.blogspot.com/2010/11/jaffa-macarons-with-orange-dark.html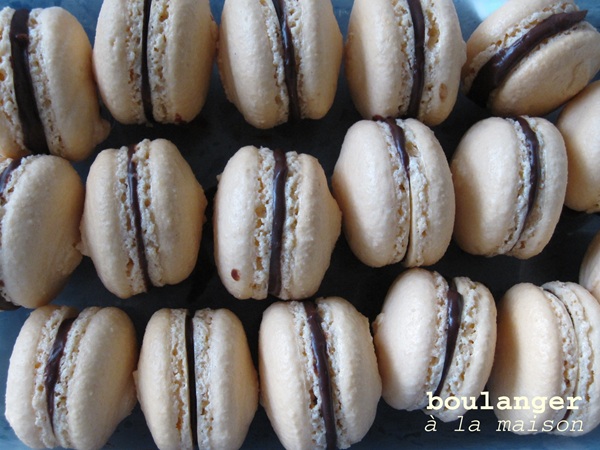 Chocolate macarons - though simple, but never boring. I guess we all understand why chocolate is one of the most loved food. These macarons are perfect for chocolate lovers.
You can find the recipe here .. http://youcandoitathome.blogspot.com/2010/11/chocolate-macaronsbest-for-chocoholics.html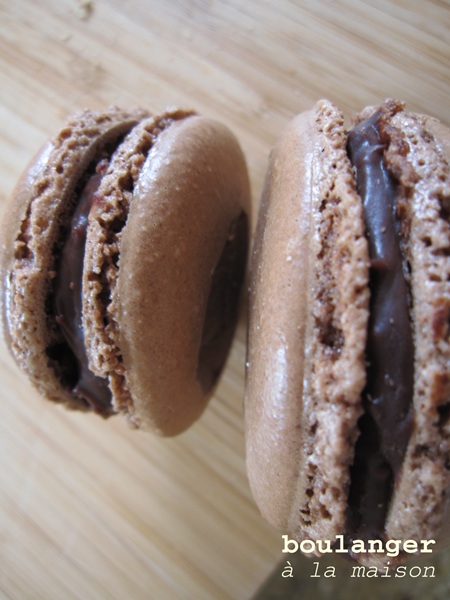 Lavender macarons - infuse the cream with lavender before making the ganache filling. My place was very aromatic when they were being baked...lavender smells wonderful.
You can find the recipe here:
http://youcandoitathome.blogspot.com/2010/10/lavender-macarons.html
Y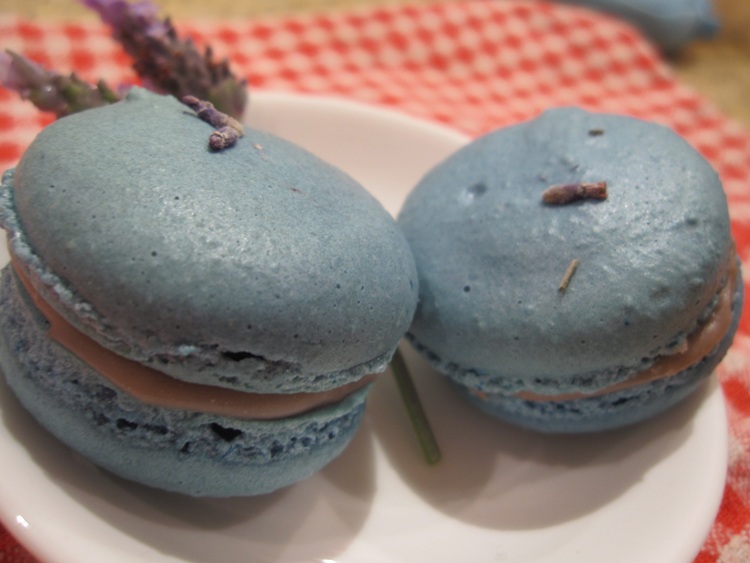 The crumb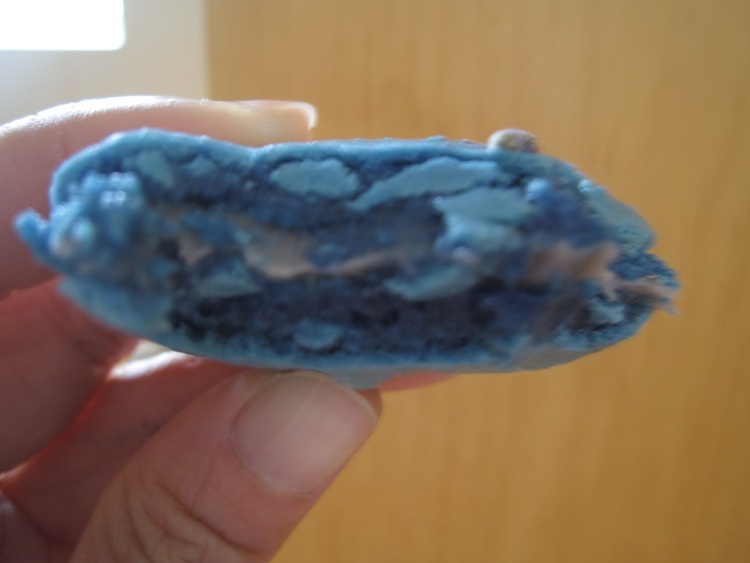 Caramel peanut macarons - I included ground peanut into the shell mixture and peanut praline into the caramel filling.
Full recipe is here:
http://youcandoitathome.blogspot.com/2010/10/snickers-macarons-heavenly-caramel.html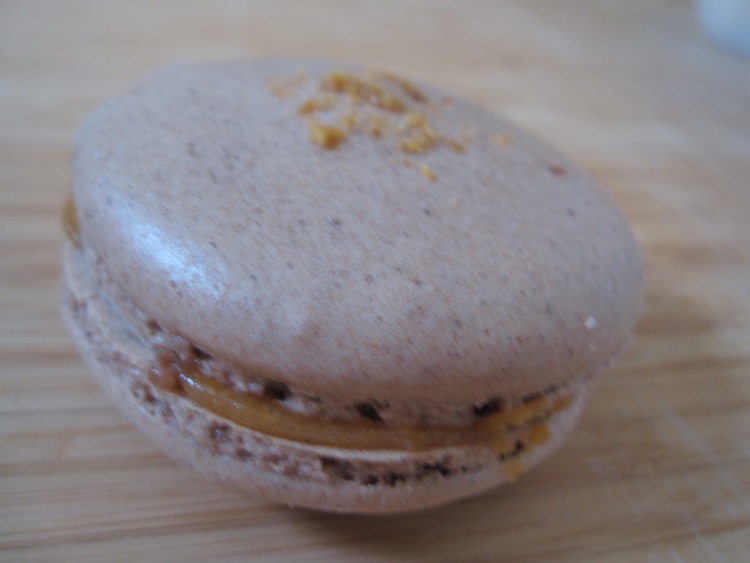 Green tea macarons....my favorites..
full recipe is here: http://youcandoitathome.blogspot.com/2010/10/green-tea-macarons.html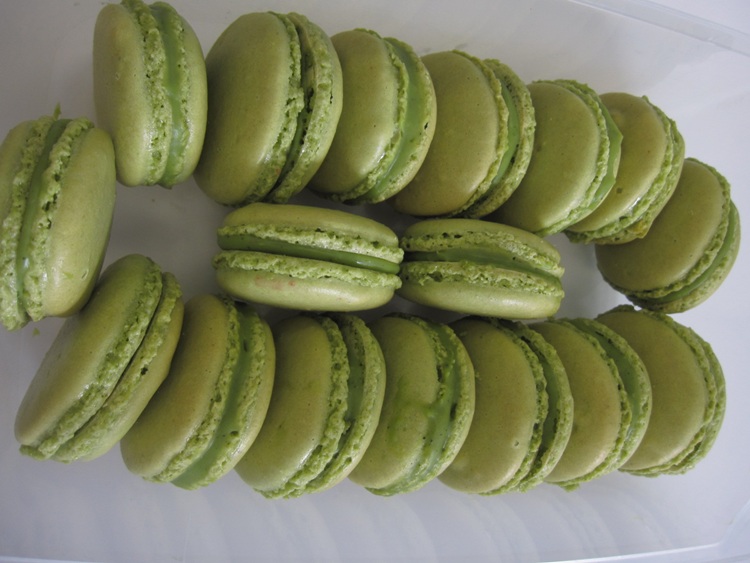 For more details, you can visit my blog, http://youcandoitathome.blogspot.com/
Sue