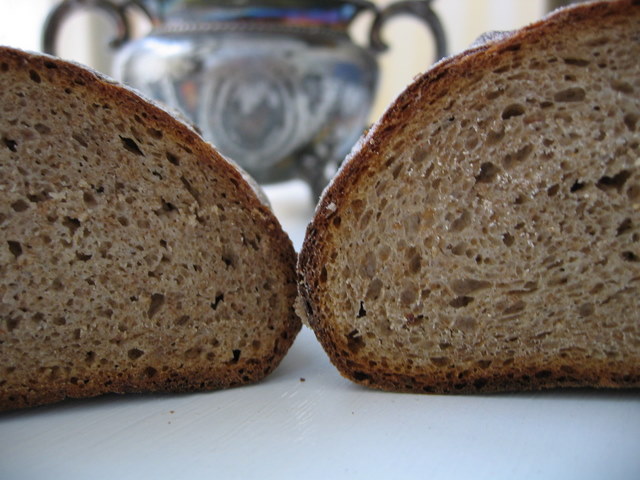 Now that we've had a brief respite from oppressive heat here in the Washington, DC area I've turned my oven on again to take advantage of this fleeting opportunity.  It's been awhile since I've baked some ryes, so this seemed a good time to get my hands sticky again.
I decided on Hamelman's 80% Rye with a rye soaker; but my curiosity got me to wondering what that recipe might be like if I reduced the percentage of rye to 60%, but held the other ingredients constant.  So began an experiment in rye profiles.
Hamelman's 80% rye with soaker has a hydration of 78%, and the rye levain is 37% of the overall dough weight, while the soaker constitutes 22% of dough weight.  His soaker is equal parts rye and boiling water, so you immediately find yourself struggling to mix a thick, thick, paste.
In addition to the levain, he calls for 1.5% yeast.
I mixed both the levain and soaker about 10 hours before I did my final dough mix, because respite or not, my kitchen tends to stay around 76° - 78°F in the summer, so things happen sooner rather than later.
The next morning my rye sour was definitely ready - you could hear noises below the rye-floured surface as it worked.  The soaker had the wonderful aroma of a rye mash, which is one of the attractions of this bread - its wonderful sweetness.
The mix was for about 10 minutes total, all on speed one of my Hamilton Beach.  It resembled mud and was even stickier, as per usual.  The bulk fermentation is only 30 minutes, followed by air-shaping and a final proof of a little over 50 minutes.  (On my last pas de deux with this rye I went for a longer fermentation and was rewarded with a collapsed loaf that had an air pocket beween the crust and crumb that miners could crawl through.  Chastened I decided underproofed was a better bet.)
I air-shaped one loaf as a batârd and the other as a boule.  I heavily rice floured both my couche and banneton, and followed that with a heavy dusting of rye flour.  Despite my efforts, the boule found a minor sanctuary in a part of the banneton's cloth.  While I slashed the batârd I decided to go au naturel with the boule and bake it seam side up.
Both were baked with steam (such as my gas stove will retain) at 460° F for 15 minutes, after which I reduced the temperature to 425° F for another 30 minutes.
I left both loaves to cool and wrapped them in linen overnight.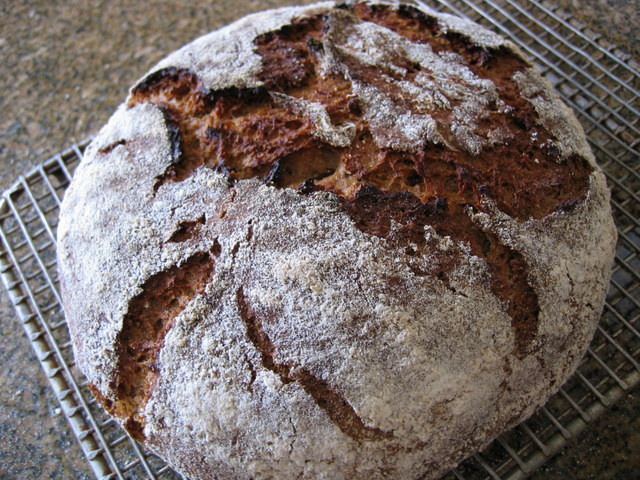 The boule showed its cracks from the dough's seams, along with it's bald spot from becoming too attached to the banneton.  Oh well.   I don't have a shot of the uncut batârd because I seem to have attacked it prematurely.  In any event, the crumb seems to me to have the profile typical of my bakes of 80% ryes.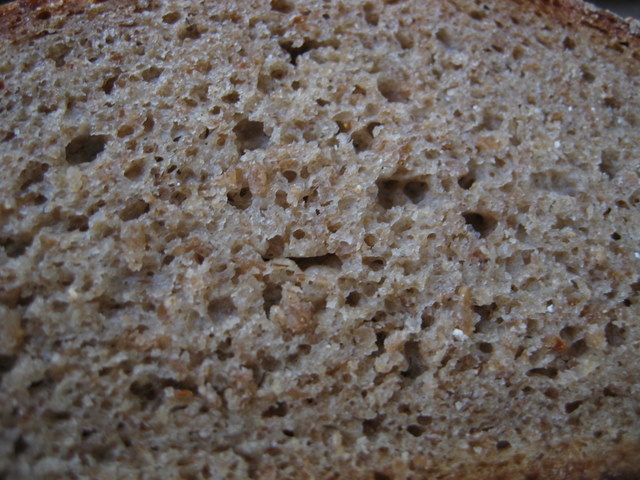 Definitely a cocktail bread and one I particularly enjoy with a good goat's cheese.
The next day, I decided to replicate the previous bake, but this time decreasing the percentage of rye to 60%.  The other departure was my decision to step down the hydration slightly, to 75% from 78%.  In all other repects the procedure was the same - both the levain and soaker were identical.  The only difference was in the final mix where the percentage of bread flour was higher, that of rye correspondingly lower, and the hydration stepped down just a bit.  The mix time was about 9 minutes, 5 on speed 1 and 4 on speed 2.  There was evidence of gluten formation at the end of the mix.
The bulk fermentation in this case was extended to 45 minutes.  Shaping took place on my counter, and while the dough coming out of my mixer felt as sticky as the previous day's dough, it was much easier to shape after its fermentation.  I again created one boule and one batârd  and let them do a final proof of 60 minutes.  Bake temperatures and times were the same.
Here's a shot of them out of the oven.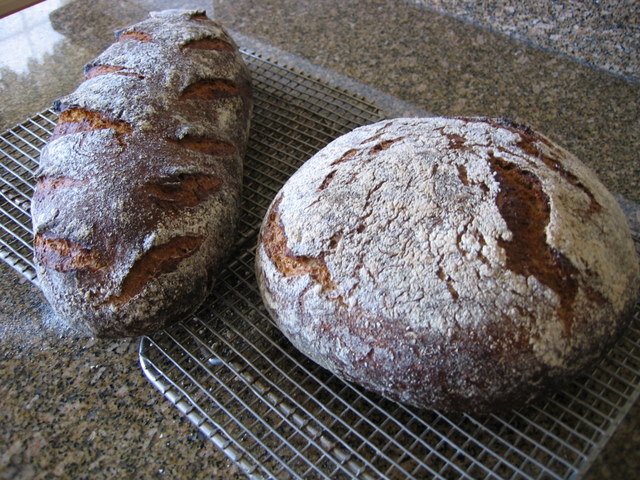 And one of the crumb.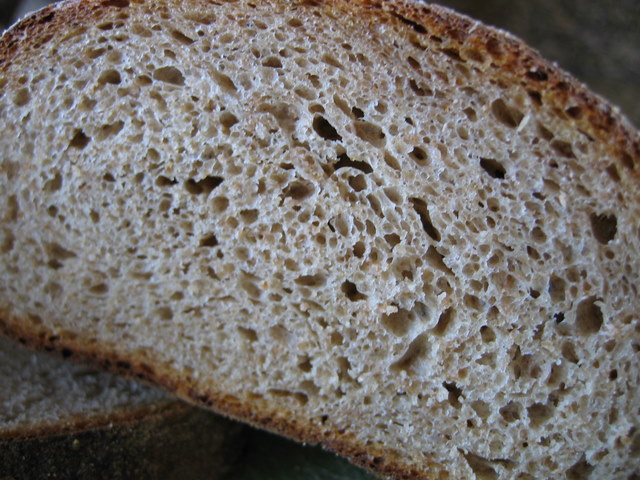 Ok, so to the profiles, which not surprisingly, would seem to reflect the differences in the overall proportions of rye - 80% vs. 60%.
Here are a couple shots of the boules side-by-side, along with slices taken from the respective batârds.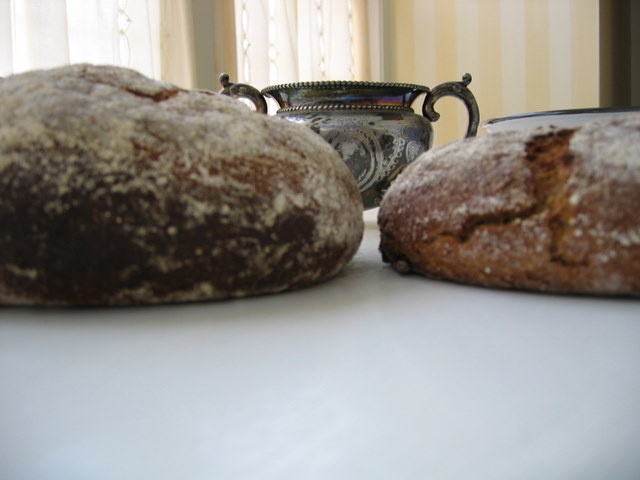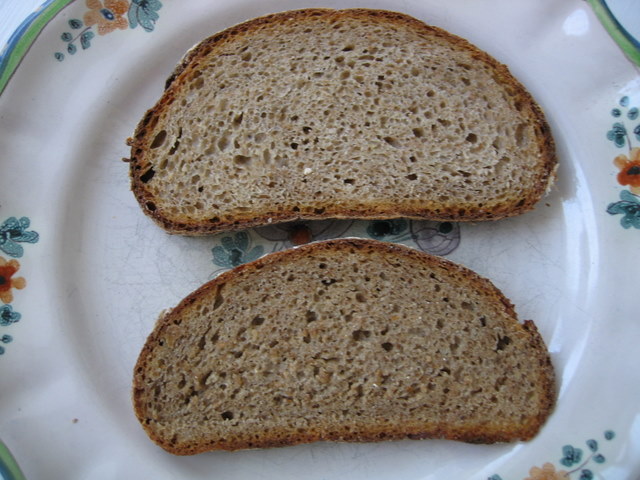 Both, for my taste, are cocktail type rye breads.  I think even the 60% is a bit heavy as a sandwich bread except for a dyed in the wool rye bread aficionado.  And I find myself favoring the 60% in terms of tenderness of the crumb.  With both, however, the sweetness imparted by the soaker makes them truly flavorful breads.