Tamarind Date Sourdough with Walnuts
I have to give a shout out to Dan Lepard for the inspiration on this bread. You see, I really like tamarind so I've been kicking around the idea in the back of my head that I would like to make some bread with tamarind in it. However, I wasn't taking the thought too seriously given the tartness of tamarind fruit. Then the other day, I happened to be randomly perusing Dan Lepard's website, danlepard.com, and I came across his recipe for a tamarind date cake. I thought, oooh, that sounds delicious... and then lightning struck! Of course! Dates are the perfect complement to tamarind, and I felt that the addition of dates would make my elusive tamarind bread idea reasonable. Dan Lepard's cake also included walnuts, and I thought that was a great idea, so I included them in my bread as well. Here are the results of my first formulation: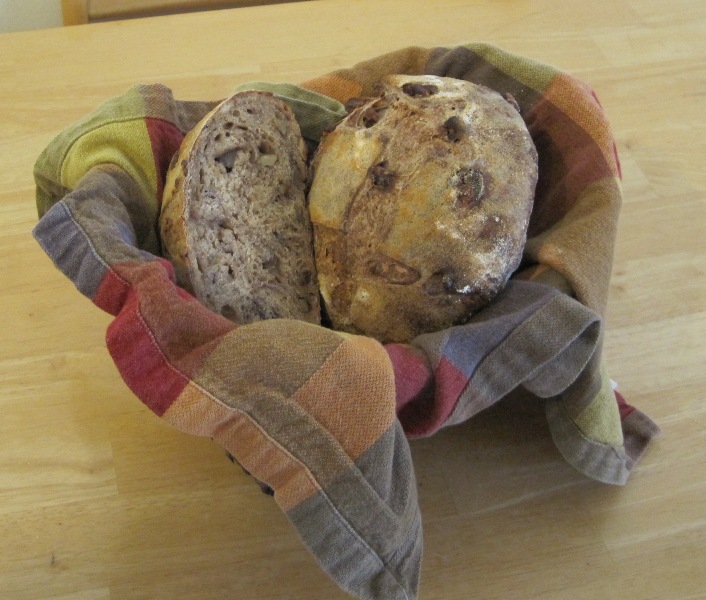 The boules were wrapped in floured cloth inside mixing bowls for proofing, so there is a bit of flour on the crust, but the crust is STILL being whitened due to insufficient steam. This is the second time I've baked bread and been aware of what the most probable cause of the whitening is. As such I made one final adjustment to my steaming method (on top of my adjustments from last week) and went for it. Usually, after shutting the oven door I immediately go and set the timer. This time I watched the oven and sure enough, as soon as I closed the door, I was able to see a bunch of steam rise out from the top of the "closed" door. Within 5 seconds it was gone. Argh!! BTW, I'm a renter, so short of buying a new oven for the landlord, my last hope rests in the covered "self-steaming" method.
But enough about crust whitening! This bread is delicious! It is fairly sweet with a wonderful taste and texture imparted by the walnuts. The taste of the tamarind is more subtle than I was going for, so I will be making adjustments to the recipe. Also, I wanted the bread to be a bit crustier, so I'll probably give it a longer bake next time. I was fooled by the gorgeous dark, reddish brown crust that I saw near the bottom of the boules (since the top was whitened) and took them out of the oven a little sooner than I should have. All in all, I'm fairly pleased with the results (whitening aside) given that it is my first attempt and I was not following a recipe.