Farmstead Sourdough Bread
These sourdough loaves are from Beth Hensperger's 'The Bread Bible'.  There are two different books titled 'The Bread Bible'.  Rose Levy Beranbaum's 'the bread bible' is one of my favorite books. 
This  sourdough bread recipe was designed to bake in loaf pans.  It makes a very nice tasting basic sourdough bread for everyday use for sandwiches and toast.  It was my first attempt at making it and I changed a few things.... next time I will omit the yeast and give the loaves an  overnight in the frig. 
Makes two 9X5 inch loaves
B.H. Recipe
1 1/2 cups warm water 105F to 115F - I used 168g cool water
1 Tablespoon - l pkg. active dry yeast - "  " 1 teaspoon IADY
1 Tablespoon Sugar -                          "  " 1 TBsp. Honey
1 Cup Classic Sourdough Starter            "  " 180 gms - sourdough
8 Tablespoons unsalted melted butter   - ( 1 stick )
1 Tablespoon salt                                "  " 1 Tbsp. sea salt
5 1/2 to 6 cups unbleached all purpose flour or bread flour  -  125 g per cup of Gold Medal Bread Flour
Baked at 350F oven preheated  -  35 to 40 Minutes
You can add 1 to 2 cups of raisins or dried blueberries, or 1 cup of granola to the dough.
I mixed my dough with the paddle in my KA just until shaggy and let it sit covered for 25 min. added salt and with the kneader blade kneaded for until the dough came together and cleared the sides of the bowl and was smooth for about 3 minutes.  Removed and placed it into a greased bowl and did Stretch and Flolds until the gluten was developed.  Divided into 2 pre-shaped loaves rested for 15 min., shaped and placed in pans for final proof.  Baked in a pre-heated convection oven 400 and adjusted heat as loaves browned. 
                                       Pictures taken under kitchen lights so they have yellow cast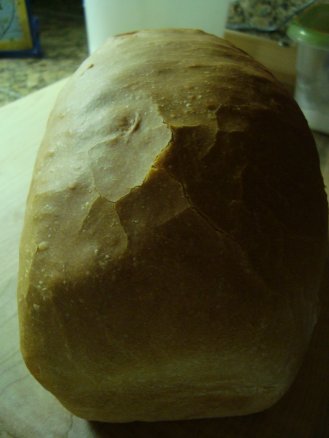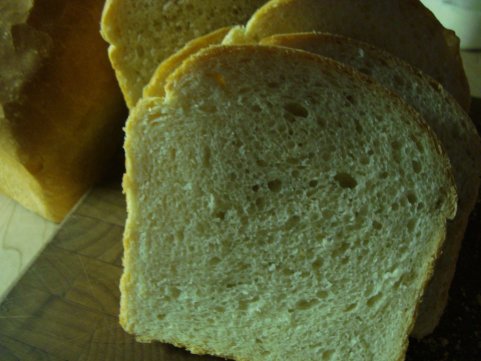 Sylvia