With a new baking job I've been overwhelmed to the point of hardly having time to enjoy posts on TFL let alone contribute.  But as the 4th has approached I found a day off to recharge my batteries, revisit some breads I love to bake, and try an experiment in dinner rolls involving ciabatta dough.
First, revisiting old friends - in this case Hamelman's mixed starter pain au levain, and, fougasse. 
Over time I've found that the subtle flavors that are imparted by a mixed starter of my everyday levain and rye levain, combined with a small introduction of whole wheat flour to the final dough, make this pain au levain my go-to bread of choice.  There is noticeable sourness in the baked loaf, yet not so overwhelming that it obscures the other flavors imparted by the mixture of grains and starters.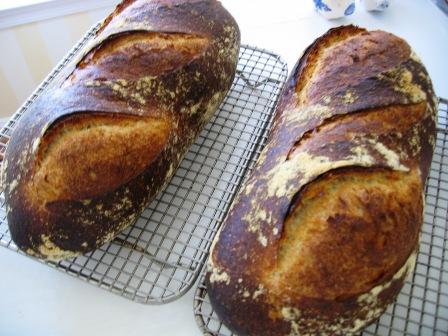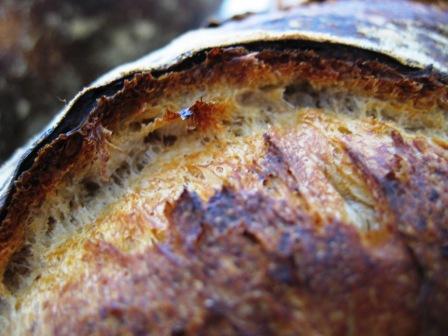 (A little crackly crust for David S here)
.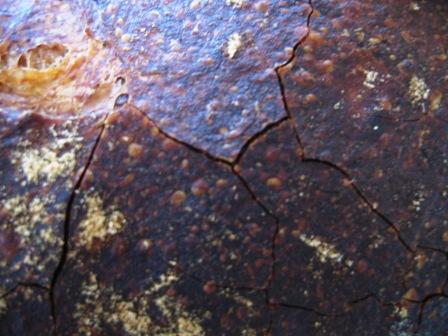 Plus, I have to admit, it's just plain fun to be able to use both starters simultaneously in constructing one dough.  Usually I find myself grabbing one or the other starters out of the fridge (now that it's unbearable summer here in D.C.) and staring somewhat ruefully at the one which goes unused.  So Hamelman's mixed starter sourdough not only satisfies my taste buds, but assuages any sense of guilt over favoring one levain over the other.
The fougasse I haven't baked in some time, but I had promised compatriots at my favorite pub that on Saturday I would appear with snacks in hand.  And what better way to share than with a niçoise olive and sea salt fougasse!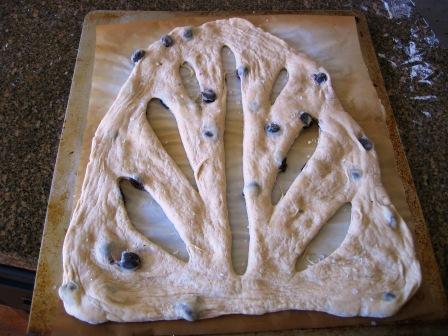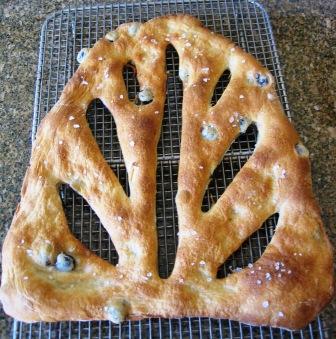 The beautiful leaf shape was shortly admired and much more rapidly dismantled by my fellow pub mates!  I've tried these with a variety of additions - roasted garlic, sun-dried tomatoes, and traditional anchovies.  In any incarnation, I find them quickly devoured.  And let's face it, they are a 'fun' bread because of their distinctive shape.
My third bake on Saturday was with a traditional ciabatta dough of 72% hydration.  But instead of creating the usual 1 lb. loaves I decided to cut the dough into 1.5 oz increments and bake dinner rolls with them - ciabattinis as I like to call them.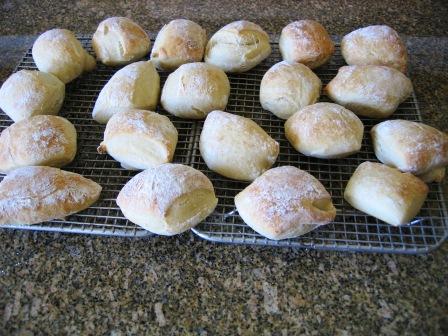 The dough makes for a quick and easy dinner roll that can be bagged and frozen once cooled, ready to be pulled out and thawed as needed.  Most of my dinner rolls contain healthy doses of butter, so I find this very simple roll - just flour, water, salt and yeast - to be a nice change and a wonderful sop for any dish that contains oils or juices.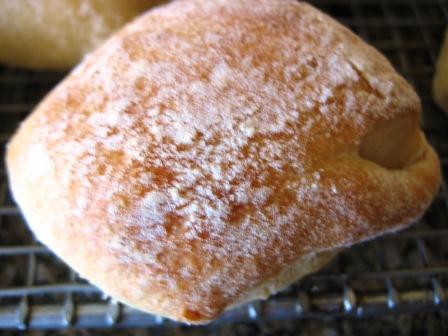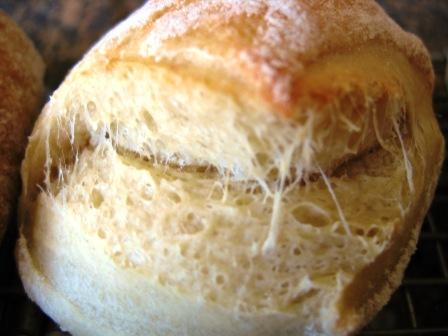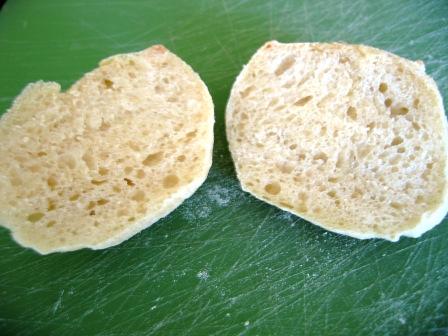 The other eventful recent occurrence was a delightful 2-day workshop at King Arthur Flour in mid-June on wood-fired oven baking, taught by Dan Wing who, with Alan Scott, wrote the 'bible' on wfo's - The Bread Builders.  It was an eye-opener for me in that my conceptions of wfo's as mainly pizza makers were thrown out the window as we not only baked wonderful breads, but cooked equally wonderful meals on them. Those who are interested in reading more about my second 'excellent adventure at KAF' can find my recounting here.
Happy baking and Happy 4th of July to all!
Larry