As a Briton I have been encouraged by TFL posts in which British foods from Bermaline to barm bread, scones to muffins to malt loaf appear as objects of desire rather than derision!  Having been teased for years by European friends about the state of food in Britain this is a strange position to be in. Please do keep the cake love coming - it helps to heal the scars!
Surely memories of tea time treats prompt a wish to recreate certain breads and cakes among those who have lived in Britain for a spell. However I'm sure we also have ambassadors like Nigel Slater and Dan Lepard to thank for spreading British cake love abroad. Although not chauvinistic in their tastes they've given the best of British baked goods a positive press. I'm with Nigel when he states that while they lack the finesse of French and Austrian patisserie and viennoisserie, there is something about the heartiness of British cakes and sweets that appeals.

And yet, while I consider good tea and cake a top treat when out and about, I rarely bake sweet goods at home. One bag of sugar can last literally years in our house. Occasionally someone calls who has sugar in their tea. We take the sugar out of the back of the cupboard, shake the crystals off, dole out a couple of teaspoons and then put it back again for months. Thank goodness sugar doesn't go off!

This is a long term thing. Sugar used to last a long time in my family home too. My mother baked little as my father much preferred savoury foods. I do remember some cake baking sessions in which I eagerly stirred the pots in anticipation of licking 'em afterwards. I took in some of the method but also remember pleading for more to be left in the bowl for the small assistant to lick. It was a precious time but it wasn't a comprehensive introduction to baking.

However in the spirit of thinking positively about British baking I decided to bake a malt loaf. This is a cake I do remember eating as a child. Although it was never baked at home I remember friends and neighbours making it. The version they made was moistened with tea, which is why I chose the adaptation of a Gary Rhodes recipe , also flagged up on this thread. The formula is also high in malt which I think is vital to reproducing a good, malty loaf. chunkeyman has also posted a very similar recipe, inherited from his grandparents on this thread.
The recipe worked extremely well. The gooey batter was very easy to mix and the cake baked well. I didn't have whole wheat self raising flour, which is what the recipe calls for, so added two teaspoons of baking powder and .75 of a teaspoon of salt to 175g of whole wheat flour. The loaf didn't rise much in the tin so I may add more baking powder next time. However, as I remember it this type of loaf doesn't normally have much oven spring and has a flat top. I used Lady Grey tea to add the extra flavours of citrus and bergamot. As this type of tea can brew quite slowly when made with tea bags I used two bags to add strength. I imagine it would be even more aromatic if made with leaf tea. The baking time was around 1.25 hours. I'm not sure how well such a sticky cake would freeze but I think if it does freeze it would be more economic to batch bake this recipe. As the oven was only required to hold the heat at Gas Mark 1(250F, 120C), I didn't use the oven stone for this bake.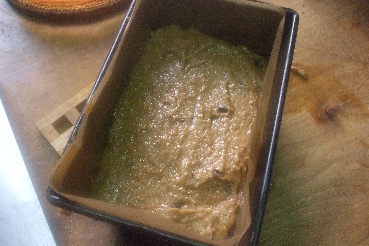 The loaf emerged from the oven well cooked and beautifully golden. It was hard not to dive into it straight away. However it definitely improved when kept for a couple of days before eating, wrapped up and in an airtight container,  After being stored the texture of the loaf had changed and all of it was suffused with a malty gooeyness which was delicious. The crumb was dense, moist and malty with a hint of spice and a good distribution of fruit. It was lovely with a cup of tea and a slick of unsalted butter.