Dan Lepard's Barm Bread: My Second Sourdough
Since I started reading about artisan breads I've been really attracted to the idea of making barm bread and I've come across some lovely examples of Dan Lepard's barm bread made by both home and commercial bakers. You may have seen the stellar example on Shiao-Ping's blog. I also love the way the Loaf, Crich bakes this bread for regular sale and for celebrations, baking it with 9 different beers for a local festival.
I'm attracted to barm bread because I remember phrases like 'barm cake' and 'barm pot' from my childhood. Also, for me, the evocation of 'barm', when it refers to raising bread with the still yeasted froth left over from beer making, is one place where traces of traditional British baking practices still linger. It feels good to see these being revived and adapted. When barm breads are baked again they cease to be a sort of ghostly 'leftover' of what was once a rich tradition.
I set off to make Dan's barm bread armed with some lovely Dove's Farm white and rye flours, a bottle of cask-conditioned Nutty Black, my rye and wheat starters and an oat soaker. The mix of grains I used, in proportions based on Dan's formula, is included at the end of this post. I have to say at this point that I had not made any other sourdough with my wheat starter. The barm bread was my second only bread using sourdough in any form. Looking back it would have been better to have baked with the wheat starter before adding barm to my repertoire, but I was so keen to bake this bread I pressed on.

There has been some debate on blogs and bread boards about how long fermentation of the barm can take in this recipe. The initial aim is to ferment the barm overnight. However in some conditions and with particular beers the fermentation can take as long as 30 hours. I have to admit that my barm did not ferment overnight. Also I was still trying to work out how to fit bread baking into an uncertain schedule where most baking had to be done in the evenings and where I could be unexpectedly away from the dough for up to 16 hours, something I was faced with at that point. Again I should have thought this through but the desire to make the bread prevailed!

I thought about leaving the barm until I could return to it but became prone to fears of over fermentation. This was for a number of reasons. Firstly I had a basic newbie fear that I was culturing something not quite right in my untested white starter. My main fear was that if there was something malign lurking in my starter then in the absence of alcohol (which had been burned off the beer), and the presence of sugar, it could multiply at a rate of knots. I have since realized that this fear of producing a mutant starter is a widespread one. Bread sites ring with new sourdough bakers asking questions such as 'does my taster smell right?', 'does it taste right?','will I poison my family and friends with it?'

I know now that my starters are fine but they are feisty. Once my rye starter (Rosie) gets going she can quadruple dough during refrigeration. So, the fear that if left for 16 hours Rosie and Sydney (the wheat starter), might have got bored of sitting bubbling in the barm and redistributed it around the breakfast room was a more realistic one. However I also fear over-fermentation for more personal reasons....

Does anyone remember when instead of worrying in general about people being overweight, the main worry was about people being too skinny? If my mother or any of her neighbours in the predominantly rural county in which I grew up saw someone thin, they didn't think them an ideal size 8 (4) or a supermodel in the making. They simply thought  - there is someone who needs feeding up. (I wonder if this is a general thing in farming communities or just Cumbria?)

This feeding up was great when it came in the form of baked goods. As a teenager I once lost weight so quickly due to a viral infection that I was hospitalized. When I was discharged, the farming community's Auntie Annie invited my mother and me to a 'farmhouse tea'.  By farmhouse tea I don't mean a couple of dry scones and a wan piece of malt loaf.  There were beautiful scones, lemon curd tarts, fruitcake and other delicious cakes, malted loaves, muffins, breads and homemade jams. If you had leant on a chair with your eyes at the level of the table, there would have been baked goods as far as the eye could see. No sentimentalities were exchanged, but it was an act of care and concern, spelt out with cakes and breads.

Feeding up with fresh food was great, then; raw food less so. Another ruse used by Cumbrian mothers on people they thought were not feeding themselves enough was to give them raw food to take away. My friend's mother did this to one of my friend's skinny boyfriends. She gave him a whole raw fish to take home on the bus with him.  Embarrassed, he hid it under his jacket. As more passengers got on and the bus heated up, he started to emit warm, fishy smells...

My mother did a similar number on me with stewing steak. She gave it to me In a plastic bag to take on a 4 hour train journey. It would never have been safe to eat after that. On the good side I didn't eat it; on the bad side, young, foolish and in a jelly-brained state of mental exhaustion in my first year of teaching, I absentmindedly filed the bag with the books on educational theory I had been reading. I then forgot about it for a while. I will say no more about it but it was a quick and ugly introduction to the dangers of over-fermentation.

In the end I decided not to risk losing the barm through over-fermentation and didn't leave it any longer. To compensate for the fact that there would be less fermentation in the beer mixture I did what I have read other bakers do when the barm fermentation time is limited, which was to cut the initial mix with more starter and mix up the whole dough. My apologies are due to Dan for diverging from the recipe at this point because of my newbie fears. I do very much hope to make the bread again according to the original instructions.
I mixed the dough for around 8 minutes using continuous S&F on the board and popped it in the refrigerator. At that point I wasn't familiar with how my starter acts during retardation and I thought naively that the dough would go into a sort of cryogenic suspension of activity. However the 16 hour overnight retardation (which I have since learned is roughly equivalent to 2 hours on the bench), acted as the first proof. In fact when warming up time was allowed for there was a risk of the dough getting close to over proof. This time, however, I was better prepared than when I baked my first sourdough and I got the oven ready quickly. Some of my aims for this loaf were to improve my shaping, scoring and peeling. The dough hydration was 69%. It was a beautiful consistency and took the shaping and scoring well. I also managed to peel and add steam quickly during transfer to the oven.
There is an entry on Madrid tiene miga in which artisan baker QJones talks about watching the oven door sometimes being better than watching the television screen. The light on our oven is broken so I find it hard to see the loaves in process. I had no real idea how this loaf was baking until I cracked the door open after about 10 minutes to let out the steam. When I saw the loaf's small, domed  head quivering in the steam and got some measure of how it had risen, I was so elated I actually started trembling a little. Please forgive me; this was only my second sourdough, although I hope you experienced bakers out there still get some similar moments!

The bread came out beautifully. The crust was golden and crisp, the scored and split top opening over gently rounded sides marked by banneton rings. The inside was moist and tangy, redolent of rye and hops and with a decent crumb for a bread with around 30% rye. The bread ate well and kept well. I attribute these qualities to Dan's formula as the Loaf bakers also get these great characteristics when they bake this bread. However it was also a happy occasion on which things came together well in my own kitchen, even the shaping, which is still often a struggle.

This loaf has been much photographed, like a prize pet as my husband noted!
One of my aims for this loaf was to improve scoring. As it was when taking photographs, I got so taken with the aesthetics of the ripped side I took hardly any photos of the neater slash. Here it is for the record!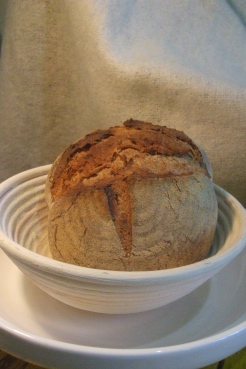 I am sending details of this post to
Susan at Yeastspotting while the going good, in case never manage to make quite such a lovely looking loaf again.
This is a beautiful bread and Dan offers lots of ways to be creative with it, from using white flour or mixed grains, choosing different beers to adding soakers. I'm including a chart of my flour mix and final dough plus notes on beer and flours for reference but think it preferable to use Dan's method, as elaborated in The Handmade Loaf. Please note that the amounts of water and flour in the final dough are adjusted to maintain a hydration of 69% in the total formula after the addition of the oat soaker and extra starter. Without these additions the amounts are 250g water and 500g flour with 150g barm in the final dough. Salt remains the same.

Adaption of Dan Lepard Barm Bread (With Oat Soaker and Additional Starter)

Total Formula                                        


Weight

Bakers %

White organic bread flour

435g

Rye organic flour

156g


 
Oats

25g

Water

237g


 
Beer (inc. 10g from soaker)


136g

 
Salt


10 grams

Total

920 g

 
| | | |
| --- | --- | --- |
| Soaker | Weight  | Bakers % |
| Oats (soaked in beer overnight, drained) | 25g |   |
| Beer (absorbed by oats) | 12g |   |
| Total | 35g |   |
| | | |
| --- | --- | --- |
| Barm                                                       | Weight   | Bakers % |
| Starter 1: rye | 12g |   |
| Starter2: whole wheat | 12g |   |
| Beer: Nutty Black | 126g |   |
| Total                                                           | 150g |   |
| | | |
| --- | --- | --- |
| Additional Starter                                 | Weight  | Bakers % |
| Rye organic flour | 50g |   |
| Water | 50g |   |
| Total | 100g |   |
Final Dough                                           


Weight

Bakers %

White organic bread flour

350


Rye organic flour

100g


 
Oat soaker


35g

Additional rye starter


100g

Water

237g


 
Beer


126g

 
Salt


10 grams

Total

920 g

 

69% Hydration dough with 100% Hydration Rye and White Wheat Starters
Flours: Dove's Farm white organic bread flour and rye flour.
Cask conditioned beer: Nutty Black