Weird "Crack" Inside Loaf
Hello. :)
I've made the Tassaraja Egg White Bread recipe twice now, and both times I've gotten this kind of weird "crack" (for lack of a better term) inside the loaf. It's not a tunnel as I know it, I took some pictures tonight after cutting into the fresh loaf I made today: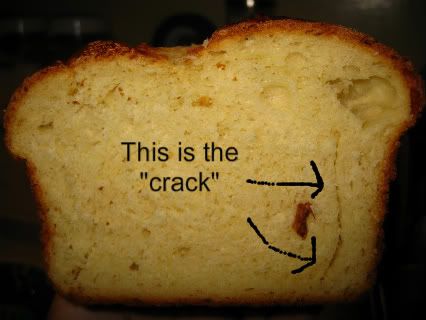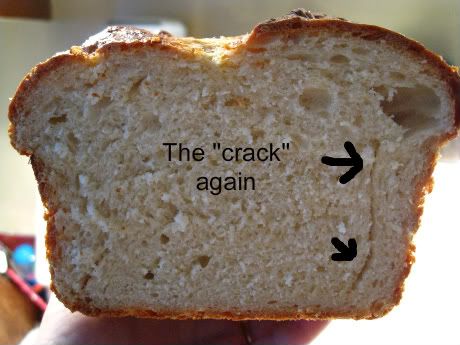 The first time I made it, the side of the top ripped and  had a huge backward "J" shaped crack that started in the centre of the bread and went up to the side on the top of the loaf. So this time I used less flour to shape it, the dough was slightly sticky when I put it into the pan for the final rise and let it rise 10 minutes longer than I usually let the dough rise. This time I also skipped the second rising after punching down, just went on to shape it and let it rise in the pan (I don't know all the technical terms for these various steps, I'm a newbie. :)).
Both times I slashed the top and used an egg wash. I roll my dough before I put it in the pan as I would for Cinnamon Rolls, pressing down on the dough in the pan to flatten it and making sure that it's all smooshy. After the first loaf of this bread where the cracking was severe, this time I *definitely* made sure I sealed the seam. Both sides of the crack are smooth, so they haven't ripped when coming out of the pan.
I haven't had this problem with any of the other recipes I've made, only with this particular recipe. I'm very frustrated, I don't know what I'm doing wrong so I can't learn from this and not happen again. It's a big problem when I slice it and it breaks apart at that point.
I'm sorry if this post is scattered, I'm fending off my kids trying to involve me in their lives while I gather my thoughts. I hate that. :)
Thanks so much for reading!