It was exciting to make this first sourdough after all the work that had gone into nurturing my starters. I thought I'd lost the loaf at several stages but I learned so much through making it. There are many things I need to work on but it tasted delicious!
I'd like to thank TFL members for their encouragement and also QJones at Madrid tiene miga [Madrid's Got Crumb] for the wonderful recipe for Hogaza integral (con masa madre de centeno 100%) [Whole grain loaf (with 100% rye starter)]. As you can see on the latter website, in the hands of an accomplished baker, this is a beautiful loaf . An English translation of the formula and method for this bread is included in the chart at the bottom of this blog, with notes on my own attempt.
Like others here I arrived at TFL via SourdoLady's instructions on how to cultivate a starter, found on Google. I would like to thank you all for your help at every stage - welcome, answers to queries, encouragement to start my first loaf and also specialist advice via live posts and messages and the archives. Many people have helped me but I would particularly like to thank Ananda (Andy) for his specialist guidance and feedback.
I've lurked on several bread boards now but what really made TFL stand out for me was its strong building of mutually supportive networks across baking levels, which is mentioned by so many new participants. Thanks Floyd and Dorota for building this place!
While waiting for my starters to develop I read TFL archives,  baked several yeasted breads, including Jason's ciabatta and Floyd's hot cross buns from TFL and bollos preñaos from Madrid tiene miga. I also added to my baking equipment. I started with the 'hogaza integral' because it just sang out to me as a sourdough but also because I could bake it with the small selection of equipment I had at the start, which did not allow me to proof batards or safely cover loaves during baking.
One of the key things of this first foray into sourdough baking was getting to know how my rye starter, Rosie, worked to raise a loaf. As it happened she whipped through a projected 4 hour second proof in 1.5 hours. This meant that when the dough and Rosie were ripe and ready to go the oven was stone cold. I'd not wanted to preheat it for 3 hours. Mercifully as advised by Ananda and Andrew Whitley's Bread Matters, as well as many members of TFL, I was watching the dough intently through the second proof. I put in back in the fridge briefly then removed it to heat up in preparation for baking. Time was of the essence at that point as I could see that the skin was growing tighter. It became important to transfer it to the oven quickly. Previous to this I had developed some good shaping and peeling skills working on rounded Swedish rye breads. However I lost them in the stress and excitement of the moment.
The banneton, which had been a focus of interest in our household, supported and released the dough well. It was looking good - a nice, tight boule. By the time I'd slashed it weakly, taken an photograph of it, mis-peeled for first time ever, got the dough back onto board for a random reshape and re-peeled it, it was a teardrop miche shape with no evident slashing...Now I know that 30 seconds to get the dough into the oven means just that.
Another key thing about this bake was getting to know my oven. I had assumed from a temperature reading taken near the bottom of oven that it was under heating. When I baked my second loaf I took the temperature higher up at my DH' s suggestion and it was off the scale. Unknowingly, I put this first loaf into a really hot zone. It cracked into Maillard caramelization early then darkened. It also cooked more quickly than predicted by the recipe. I didn't think to use a probe on this first loaf so I had no idea what was happening in its interior. At this point I fully expected to be paving the patio with it. I thought I had nurtured a starter and worked for 1.5 days in order to produce a brick. I tried to be philosophical but it would have been a big disappointment not to have gained a loaf after all the labour. At that point I was just hoping for something edible.
When the loaf emerged from the oven its exterior was crackled, with a sort of dappled look due to the yellow maize flour dusting. I thought at first that the crackling was a flaw and do think it arose in some part due to the tightening of the dough while waiting for the oven to heat. I didn't like to look at it at first, as I was hoping for even and golden. However I was comforted by reading in Andrew Whitley's Bread Matters that crackling can occur anyway on loaves and can be attractive; also by looking at the lovely loaves in Jan Hedh's Artisan Bread, many of which have a pronounced crackle.
By the next day, I'd decided to embrace my crackled loaf, as a lovely thing. To convince myself in the first photograph I paired it with the melon that had just arrived in the organic box - telling myself these were two good, round, crackled yellowish things together! 
We had a wonderful surprise when I cut into the loaf. The interior was not rock hard. It was dense with the rye and I know that I need to work on creating more open textures through kneading. but no way was it inedible. I've been finding with some of my loaves that the outsides tend to have a more open crumb than the middles. As I get to know my dough and oven better this is changing. However the shot above in front of the bread bin is through the middle of the loaf and my knife isn't brilliant so it tore it somewhat. I wanted to keep the shot of the bread bin, as it sets the loaf in the context of our kitchen. However, this shot of a more 'cake like' slice gives a much better idea of the crumb in the loaf as a whole.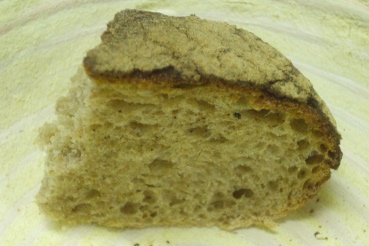 The crust was very crackly as you can probably see from the shot above. However, having been introduced to sourdoughs via Moro sourdough, this is how we like it! (Thankfully I'm blessed with a DH who loves crackly crusts. The idea that they would be softer the next day doesn't appeal to him).
And the taste? Well I've been frank about the flaws in my bread making, so let's be honest about the good points. The taste was delicious. I can attribute part of our reaction to tasting the bread to our general excitement at eating our own sourdough for the first time. Maybe all home baked sourdough tastes like this? Well, after baking two more sourdough loaves I can say that it doesn't. All the loaves have tasted good and some of the milder loaves would be more to other people's taste. But we really like strong flavours and the bread really delivered on this front. I think this is due to the recipe. QJones notes how it really foregrounds the rye. The nutty notes of the rye mixed with sour were delicious. After all that cultivation Rosie had done a really good job of delivering a satisfying tang. And the flavour was complex. Like a good wine it coated the inside of your mouth and continued to deliver complex tastes long after the first bite of the bread.
I asked my husband whether he wanted anything with his first slice and his response was that a bread that tasted so good didn't need anything with it. For the crackle and taste reminded him of Moro's bread at its best (Wow - though they also have phenomenal gluten development [no rye]) My DH is no unbiased taster, obviously. However I can tell when he's faking it. If unsure of something I've offered him he cautiously says it's 'tasty'. Not so this time. As many have noted on TFL, it's a joy to share a good bread with friends and family.
After the first slices we tried it with Beenleigh Blue cheese and a green virgin olive oil. These foods are so strong in flavour they will see milder ingredients off the plate. The rye went well with them. I can see why rye is traditionally paired with cured meats and fish.
And yes, I confess, we ate the bread warm. I know there are reasons to avoid this but how many poets have romanticized about bread cold from the oven? That and the fact that the other half was more bulbous is the reason that there is only half a loaf in the pictures!
Well a lot learned there and lots to work on in the future but it was a good end to the first adventure. Thanks again.
(More technical information follows. I tried hard with the maths but it's not my strongest point. Any corrections welcome).
| | | |
| --- | --- | --- |
| Total Formula | Weight | Bakers % |
| White organic bread flour | 400 grams | 66.67% |
| Rye organic flour | 100 grams | 16.67% |
| Whole wheat organic flour | 100 grams | 16.67% |
| Water | 370 grams | 61.67% |
| Salt | 10 grams | 1.67% |
| Total | 980 grams | 163.33% |
| | | |
| --- | --- | --- |
| Rye Starter                    | Weight | Bakers % |
| Rye organic flour | 100 grams | 100% |
| Water | 100 grams | 100% |
| Total | 200 grams | 200% |
| | | |
| --- | --- | --- |
| Final Dough | Weight | Bakers % |
| White organic bread flour | 400 grams | 80% |
| Whole wheat organic flour | 100 grams | 20% |
| Water | 270 grams | 54% |
| Salt | 10 grams | 2% |
| Rye starter | 200 grams | 40% |
| Total | 980 grams | 196% |
62% Hydration dough with 100% Hydration Rye Starter
Flours: Dove's Farm white organic bread flour, whole wheat and rye flour, Dove's Farm rye flour in starter.
Process

Weight

Notes

Starter

Mix 12 hours in advance. Leave at room temperature

Mixing


Mix all ingredients of final dough, except salt, to a mass.

Leave 30 minutes before continuing mix.

Mix Dan Lepard technique, short bursts with rests.


Dan Lepard 10,10.20,30,

1 hr 3 hrs = 5 hrs. 

1 hr = at the one hour mark i.e.

leave 30 mins., not leave 1 hr.

DDT


@C20


Perhaps raise to C21?

First Proof

5-5.5 hours


Fold and Shape

Shape and place in banneton

First use of banneton went well

Retard
Retard covered in fridge 4.5 hours

Note: this was to accommodate baker's schedule.

Not normally so long, although retardation does take place.

I retarded for 2 hours

DDT


@24C


Second proof

3 hours in proofing bath/box

With my rye starter, second proof

was over in 1.5 hours.

Not expected so oven not heated

Bake


10 minutes at 240C on a preheated metal tray

in a preheated oven with initial steam,

35 minutes at 200C then

10 minutes with oven off and door ajar.

My own loaf cooked more quickly.

Oven had probably heated higher than 230C
General notes
Difficult to coordinate proof and oven: thanks to advice was monitoring second proof closely. Skin was tightening by time oven fully heated.  Could have been a brick but mercifully wasn't!
See above in notes column.
Notes on loaf
Loaf emerged with crackly, stippled crust. Miche shaped with some but not high oven spring.
Given the circumstances the crumb came out well. Some compaction in middle, which I would like to get rid of. However more even holes in cross section – see 'cake' shot.
Loaf suffered from being cut with a poor knife – need to get better one!
Flavour exceptional - a complex mix of rye, nutty overtones and sour, which lingered on the palate.
Focus for next time: slashing and transfer to oven.
Pre-heating of oven and use of stone.