Can this--should this--marriage be saved?
My love affair with my 50 year old GE Hotpoint 40" range has been, literally, on and off these past few weeks.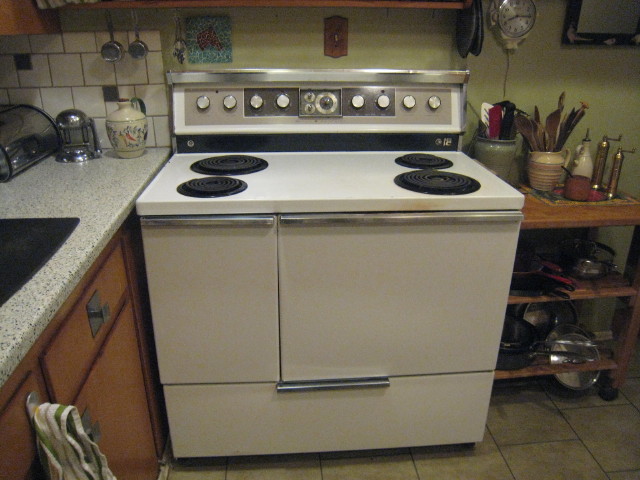 I was so excited to get a new 20 inch Fibrament stone (no more stubby baquettes!) but then my bottom element burned up.  So I replaced it (doing the wiring myself) and was back in love again. But then I started noticing that the bottoms of my loaves were not browning up and I wasn't getting good oven spring. And I had been making such nice progress on my bread too. I was so distraought...was it my shaping?  Was the dough too slack?  Could it be  the baking stone???

It finally occurred to me to toss a bit of water on the bottom element. Dead. All the oven heat was coming from the top element (which I thought only came on if set to broil).  What an idiot! What a relief!  I trewired again. Plugged it in, turned it on and POP! The entire range dead. I finally realized it was time to call a professional.  Except for the indicator light it's working again. 

But I'm wondering....should I keep this baby or finally get a new stove.  Are the stoves on the market right now that good?  I was told by a repairman once that they stopped making good stoves around 1960. Is that still true?

Here's what I love about this stove:  Working space between the two burners. Two ovens of useful size. Temps are spot on.  Never have to worry about steam messing with electronic sensors or breaking glass. I can (usually) replace elements and such myself. No hood interfering with my highly needed over the stove cabinet. As vintage as me and my kitchen. 

On the other hand, I could wire gas to the stove for a dual fuel stove (don't want gas oven). I could get convection. Or I could try induction (if it works with Al-clad and cast iron pots). Smaller oven footprint in my small kitchen.  I don't want really want to spend more than 2000 for a stove btw.  

So, TFL'rs thanks for reading this long post.  I'd be very interested in your thoughts. Do you feel passionate about your stoves?  Am I stuck in the 50s?