I was preparing to make a couple of loaves of French Bread this weekend when I noticed we had some pesto sauce in the fridge that I needed to use up.  I went ahead and dumped it into the mixer to see what would happen.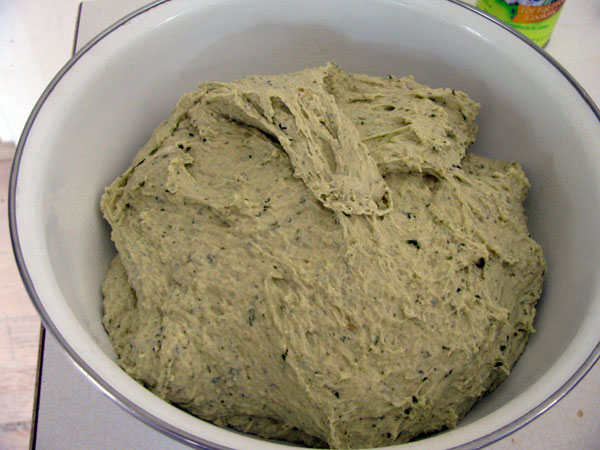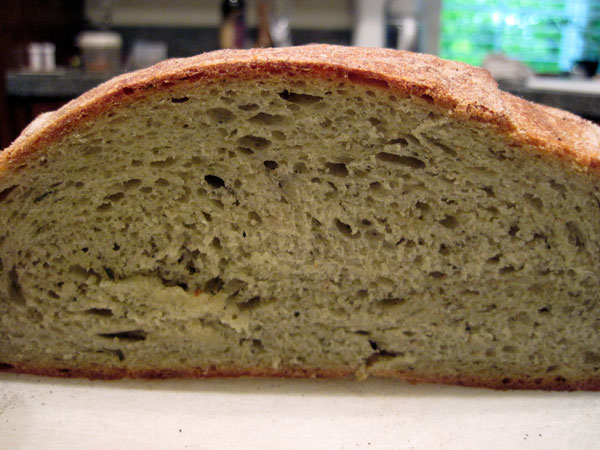 Well, it definitely turned green.  The flavor?  Not bad, but not as compelling as I'd hoped.  It  seems like something is missing... maybe bits of sun-dried tomatoes?  Or cubes of mozzarella and salami mixed in?  Or parmesan cheese melted and browned on top?  I'm not sure.  It is worth further experimentation with this, but I don't feel like I've struck gold yet. 
My formula (or at least my notes, since this was one of those "measuring everything by the handful" kinds of recipes).
Preferment:
1 cup AP flour
1 cup water
1/8 teaspoon instant yeast
Final dough:
All the Preferment
16 oz AP flour
10 oz water
1 teaspoon salt (less than normal since I figured there was quite a bit in the pesto)
1 teaspoon instant yeast
1 cup pesto sauce
Enough additional flour to make the ingredients bind together properly (which in my case was nearly 1 1/2 more cups, but it would be less if your pesto was less runny).