A Sunday Carboholic Brunch
I love fresh bagels and croissants, but being a household of one, these present a challenge: I can't (and more important, shouldn't) sit down and eat my way through a half dozen at a time.  The other side of the challenge is the impracticality of making up either dough for just a couple bagels or croissants.
The solution that sort of forced itself upon me, but which I like more and more, involves making each dough up and then freezing it and taking out what I need the night before, where I allow both to thaw in my refrigerator.  An early attempt at freezing fully proofed croissants and pains au chocolat that I wrote about failed because I tried baking them without allowing much thawing at all.  I found that fully proofed croissants will rise nicely if they're given a hour or two at room temperature after being thawed in the 'fridge, but this won't work for pains au chocolat which lack enough yeast power to rise around the chocolate batons. 
So I've taken to shaping croissants and pains au chocolat and then freezing them immediately.  The only drawback is that they need close to 3 hours at room temperature after being taken out of the refrigerator before they've risen sufficiently.
Bagels, on the other hand, are easy.  You simply shape them, allow them to fully proof, and then freeze.  The day before I want some, I just take a couple out of the freezer and put them into the refrigerator where I allow them to stay until I'm ready to boil them.
So, today I decided that a carboholic brunch was in order - why not some of each?
The bagels were boiled in water with some honey for their sheen and a little salt.  A 45 second boil on each side and then topped with sesame and poppy seeds and allowed to dry for about 5 minutes.  Then into a hot oven (about 480 F) for 15 minutes and voilà!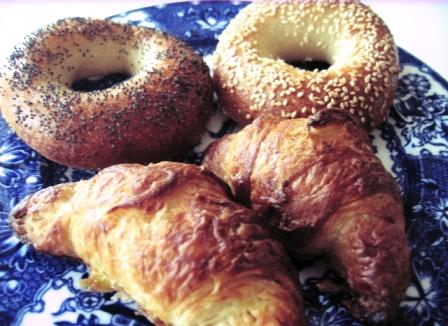 The 3 hours the croissants needed were perfect for brunch-time.  As you can see, the shaping of the croissants is pug-ugly (apologies to pug owners), but the lamination looked pretty good to me.  And they are deliciously decadent - no need for butter!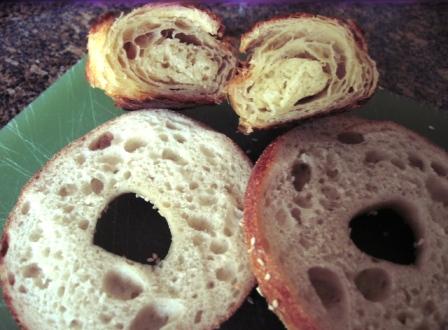 Mimosas are my usual brunch drink of choice, but I picked up a wonderful bottle of a pear 'port' from a local vineyard (Fabbioli Vineyards) that they made blending their own pear wine with pear brandy that my friends at Catoctin Creek Distillery made for them using Fabbioli's pear wine. (I can't wait to try the brandy!).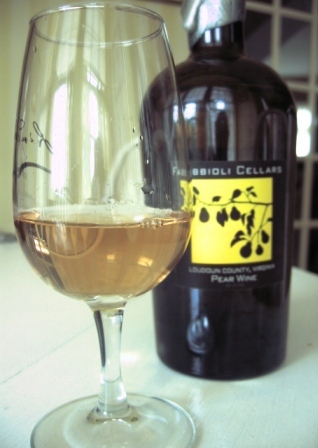 Who says port has to be an après dîner affair? 
All in all a splendid brunch that has me carbo-loaded for the day.