Apple and Oat Loaf and Sourdough boule's
My first attempt at some loaves from my 'bourke street bakery' book.  A bakery in Australia and their book was discussed in Shiao-Ping's blog posting.  It's a beautiful book filled with lovely color photos and recipes from this Australian bakery.  My first attempt at the 3 sourdough boule's and one large Apple and Oak battard, listed in the derivative breads chapter.
  My husband was very happy with the flavor and crumb of the boule and I loved the Apple and Oat with cream cheese for a nice breakfast toast.
Ingredients for the plain sourdough boule's
405 g (14 1/4 oz) white starter
765 g 91 lb 11 oz) organic plain flour - I use KAAP
400 ml (14 fl oz) water
20 g (3/4 oz/2 Tablespoons) sea salt
                    Mix the dough in the afternoon and retard in the refrigerator through the night.  Placed the loaves in warm humid place for 1-4 hours and bake to have fresh bread for lunch/ in our case early dinner.  Baked and steamed in a hot pre-heated oven on stones for 30minutes.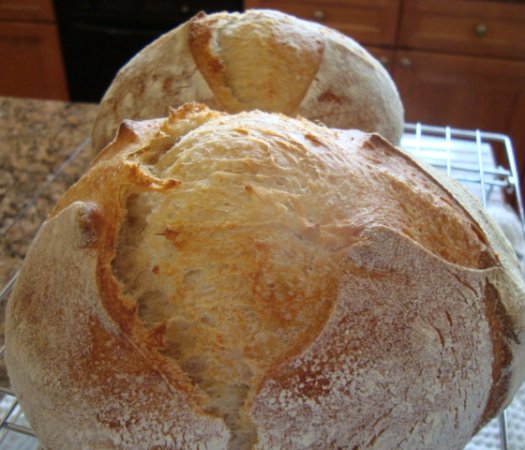 Three nice little sourdough boules
Apple and Oat loaf  -  I experimented ' because we were going out for the evening and I had no time left for bread making'  with this loaf by mixing and bulk retarding the dough and shaping the loaf the next morning before baking.  All in all it turned out tasting very good.  The stones were pre-heated at 500F before the temperature was reduced for steaming and baking. They were a little to hot for the loaves as the bottom was browned a bit dark.
If you wish, you can play around with the ratio of oats to dough in this loaf and change its texture.  Reducing the quantity of oats will mean it will not be as dense and can be cooked for a little less time.
Ingredients
70g (21/2oz) organic rolled oats
40 ml (1 1/4 fl oz water) This water is to soak the oats in for about 5 minutes.
715 g ( 1 lb 9 oz) sourdough  dough
185 g (6 1/2 oz) apples, peeled, cored and cut into 2-3 cm (3/4-1 1/2inch) pieces
Alternately, you can place the loaves on a baking tray lined with baking paper, seam side down.  Place in the refrigerator loosely covered with a plastic bag for 8-12 hours.
   Baked on stones in a pre-heated steamed oven 450F reduced to 425F for 35 minutes for two loaves.  I baked a little longer for the single battard.  For not getting all the attention this recipe deserved it turned out pretty tasty.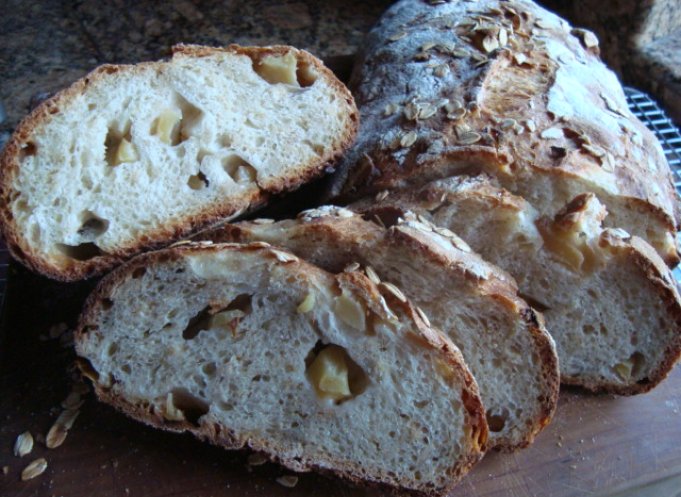 Sylvia