Croissants....well...not quite
This weekend I decided to have a second go at croissants and pains au chocolat.  I used a recipe that Julia Child had featured with a guest on her show, and which DonD helpfully included in his blog here (it appears as a two-part video).  The written recipe sans video can be found here.
I also benefited from a nice explanation and accompanying video of the lamination process that ananda posted here .
I found that the process of laminating the dough seemed to go smoother this time - less hesitation which causes the dough and butter to warm.  I used what I have come to understand from ananda as the British method (vs. the French method) to initially incorporate butter into the dough (which had retarded for 24 hours), by rolling out the buttter to a rectangle 2/3'ds the length of the rectangle of dough. You then execute a letter fold by thirds, beginning with folding the dough not covered with butter over the butter.  Aside from it being an easier method, I like the fact that the it yields a dough that now has two layers of butter prior to your intial folds/turns.
I followed this with three folds with 2 hour intervals between each where the dough was wrapped tightly in plastic and placed in the refrigerator.  While some prefer to do a series of 4 letter folds, I followed Child's recipe which uses a letter fold for the first two folds, and then executes what's called a wallet or a book fold for the third and final 'turn.'
After completing the three folds, the dough was refrigerated overnight.  Next morning I cut it into 2 pieces, returned one to the refrigerator (it would become pains au chocolat), and began rolling out the other piece to create croissants.  Julia's recipe will produce about 14 croissants that are 4 1/2" wide and 7" in height.
Forming the croissants, as I'm discovering, is much like learning to shape baguettes: it takes a lot of repetition to get it right.  Crucial to achieving many layers is a stretching of the croissant triangle after it's cut.  The base is stretched out by about 1",  and the height is stretched considerably.  I've read that a well-formed croissant should have at least 6 visible layers.  I managed to achieve this on about 1/3 of the croissants I rolled - the others came out at 5 layers. 
After the croissants were shaped I eggwashed and proofed them for three hours, and began shaping the pains au chocolat.  I used two chocolat batons (I use the less expensive Callebaut, rather than the Valrhona DonD prefers - I figure I'm on training wheels here, so I'll work up to the really good chocolate) per pain, and also allowed them to proof for 3 hours after an eggwash.  At the end of the proof I proceeded to freeze both batches (see below).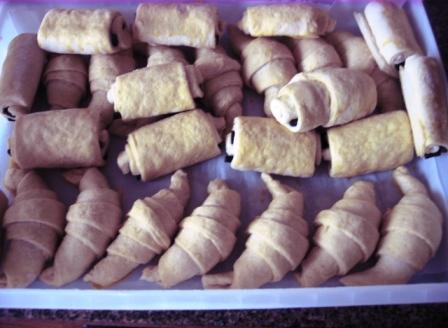 Today I pulled out a couple of each, preheated my oven to 350° F, and applied a second coat of eggwash.  Total bake time was 20 minutes.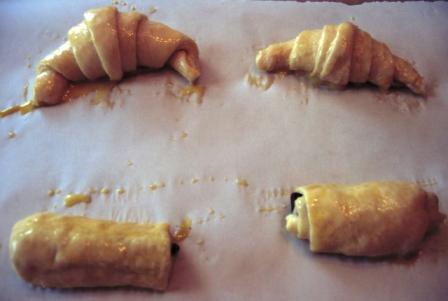 Both looked nice immediately after the bake - good color and nice puffiness.
After letting them cool I cut them, and uh....well...the pictures speak for themselves.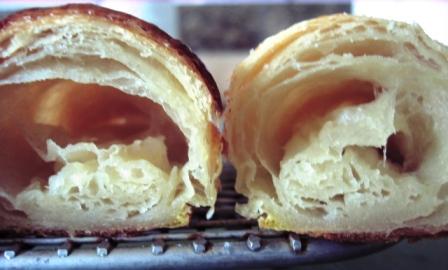 Obviously I have a BIG problem with the layers not rising.  Not sure what the potential causes were, so I'm looking for any and all feedback (jump in Don and Andy!).  I did pay particular attention during the lamination process to not letting the dough get warm, and placing it back in the refrigerator as needed to allow it to relax before rolling out further.  So I don't think that's the issue.  Could this be a yeast problem?
In any event, I have approximately 325 Callebaut chocolate batons stored in a cool place, so plenty of practice ammunition!  In the meantime, I need some pointers!
Larry