4/30/10 - Malted Tourte de Meule
Hey All,
Just wanted to share with you a potentially successful bake.  This is my variation of Eric Kayser's Tourte de Meule.  I was inspired by Don D's bake here: http://www.thefreshloaf.com/node/14445/eric-kayser039s-la-tourte-de-meule
I will post a crumb shot tomorrow.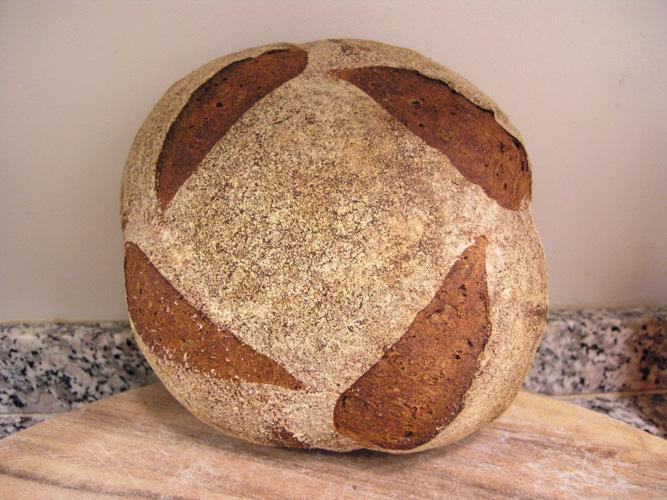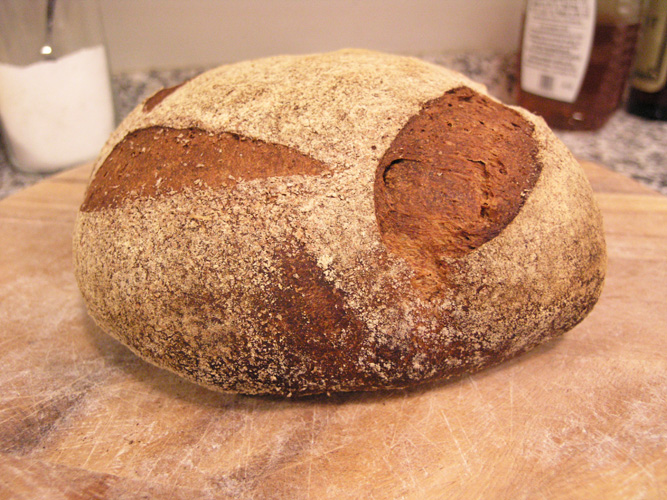 Ingredients
300g WW
130g AP
50g Malted Barley Flour
350g Water
12g Kosher Salt
1/8 tsp ADY
962g Total Dough Yield
Directions:
9:00am – Mix all ingredients in large mixing bowl, autolyse covered for 30 minutes.
9:30am – Knead 3 minutes in bowl with wet hands.  Do not add any extra flour.  Rest 30 mins.
10:00am – Knead 1 minute, rest for 1 hr.
11:00am – Turn dough, rest 1 hr.
12:00pm – Shape dough into boule, place in floured linen lined banneton/basket, proof for 2 hrs.
1:00pm – Arrange baking stone and steam pan in oven.  Preheat 550F.
2:00pm – Turn dough out onto lightly floured peel, slash as desired, place in oven directly on stone, pour 1 1/2 cups water into steam tray.  Bake 15 mins at 450F.  Rotate, bake for another 40 minutes at 425F.  Loaf is done when internal temp reaches 210F.  Cool completely before cutting.